Alpinestars Bionic Pro Neck Support
Item # : 163439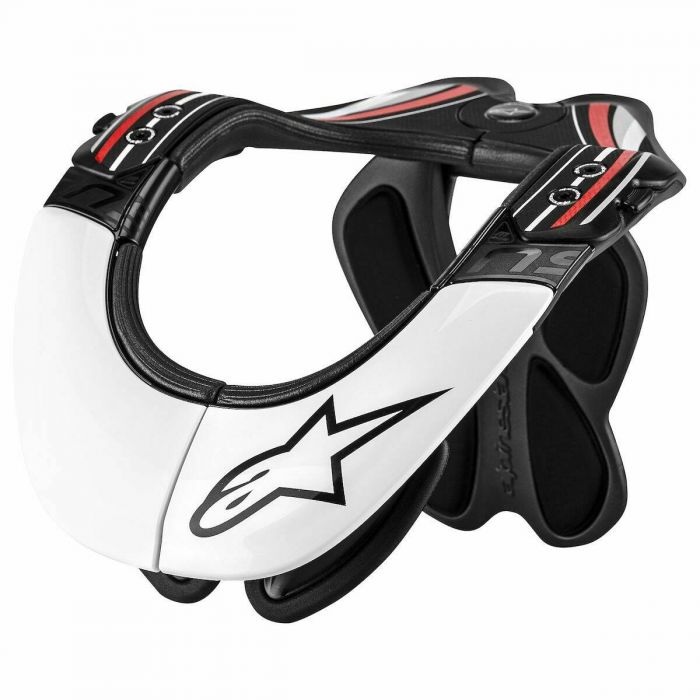 Alpinestars Bionic Pro Neck Support
Item # 163439
Description
Alpinestars BNS Neck Support Pro
The BNS Pro is designed to help prevent injury in a crash situation by dissipating and diverting impact forces away from the neck and spine. The BNS Pro functions when the rider's helmet makes contact with the frame at the moment of a crash, thus providing a clean, solid surface which instantly channels damaging, compressive impact energy away from the neck and on to the BNS. Primarily for use in motocross and off-road riding this protection device offers a highly personalized and stable fit while incorporating innovative new features such as a new quick release locking system. Thanks to its advanced material construction the BNS Pro is lightweight and strong.
Advanced, high-performance fiberglass polymer compound
Structural integrity and frame strength against heavy impact energies during crash
Lightweight performance and comfort while riding.
Resilience to low temperatures, below 0°C.
A highly customizable, secure and personalized fit
SAS (size adapter system) for a versatile fitment in size ranges XS-M and L-XL.
Lycra-laminated foam padding kits: adaptable and interchangeable EVA foam pads allow which also aid compatibility with other body protection systems.
Strap System: Allows a small, light strap worn over or under the jersey.
Bio-organic engineering design for superb ergonomics
Rear stabilizer promotes PFR (Progressive Force Relief) and dissipates extreme energy loads by transmitting them across the back and shoulders and away from spine (thoracic vertebrae), and is connected to the frames via a pivot key for convenient dismantling.
Frame construction promotes improved contact with helmet during impact and instantaneous load channeling - including rear support edge that fits closer to the body, extra width to account for different helmet sizes and raised chest to avoid hyper-flexion injuries.
Innovative quick-release locking closure system for rapid and efficient fitting/removal offers highly secure and convenient attachment.
Compressed EVA foam compound padding to distribute the impact force over the widest area, yet remain lightweight.
Reviews
Rated

3

out of

5
by
florin
from
Good quality but not for everyone
I bought it a month ago and used it on a couple long trips. I also paid for the A-strap upgrade ($50 in Canada). While quality is very good, this product is not for everyone. I have an average length neck and wear a Scorpion T1200 full face helmet; I ride a 2016 Vulcan S cruiser hence low, riding in upright position. I am doing city and hwy rides. No dirt biking for me. Looking over the shoulder is very difficult, it take effort to look over the shoulder and every time it rubs on the helmet which is annoying. The A-Strap snapped the very first day I used it. A button simply severed in two ( oxidized inside !!) and the elastic strap snapped my visor. It was really unexpected, I was riding at over 100km/h .. it could have turned into a very bad day. Long story cut short, I think this product may be good for dirt biking or specific helmets or guys with long necks. As for the A-Strap, I would not recommend it to anyone. For $50 you get a piece of elastic with some buttons that well, I have to say it.. Chinese quality does not justify the price at all. I would not recommend it to anyone. The risk of snapping in your face while riding is not acceptable regardless the price. I would recommend the brace but wear it on with your helmet and sit on a bike to really see if it fits you, before buying. Canada"s Motorcycle has issued a return, no issues, great service. 5 stars for them. For the product, a three star only.
Date published: 2016-08-16
Rated

5

out of

5
by
Chris
from
True Alpinestars quality!
Very happy with fit and quality of construction. Bought one for my wife at the same time I bought mine. *Only negative is if you have an upright seating position (my bike is a Yamaha FJ 09) and have a passenger, rear fin on neck brace is too close to passengers visor. This would not be a problem with more aggressive type positions sport bikes. Of course if you ride alone, this won't matter at all.
Date published: 2015-10-19
Rated

5

out of

5
by
Dusty77
from
Awesome product
Great price , lightweight , fully adjustable to fit multiple sizes of riders
Date published: 2018-05-09
Rated

4

out of

5
by
AndyB
from
Great Safety Addition for ADV
I bought this after an off-road dump on my 700GS where I landed on my melon-head and had a little neck injury. I bought the large (I'm 6'-1, 200 lbs and 46" chest) and found that it's pretty large fitting - so beware. Had I been in-store, I wonder if I would have sized-down. I needed to add the thicker pads and I'm wearing with a Rev'it vented jacket with a D3O back-protector which bolsters the back plate - without that, it would be too big for sure. The sizing chart does put me on the small-side of large (unusual) - something to think about. I wear a Nolan N44 bucket and there's more than the recommended 40mm of gap between side and collar but not by much. This could be a function of my shoulders, the collar and the lid - but there you go. I don't have a problem (thanks to the looser fitment I suspect) turning my head and it is comfortable to wear - no problems at all. Quality is excellent, latch is positive - it's a decent piece of kit. I do feel a little like a doofus being the only guy wearing it in the ADV pack but whatever, I prefer to look silly than be injured and ATGATT is fine I guess. For guys/gals wanting to mitigate as much potential injury as possible - I can't see where you would go wrong. Spending $1,000 on a lid or $600 plus one of these, I know what I will (did) do.
Date published: 2017-10-24