Biltwell Gringo ECE Helmet
Item # : 657660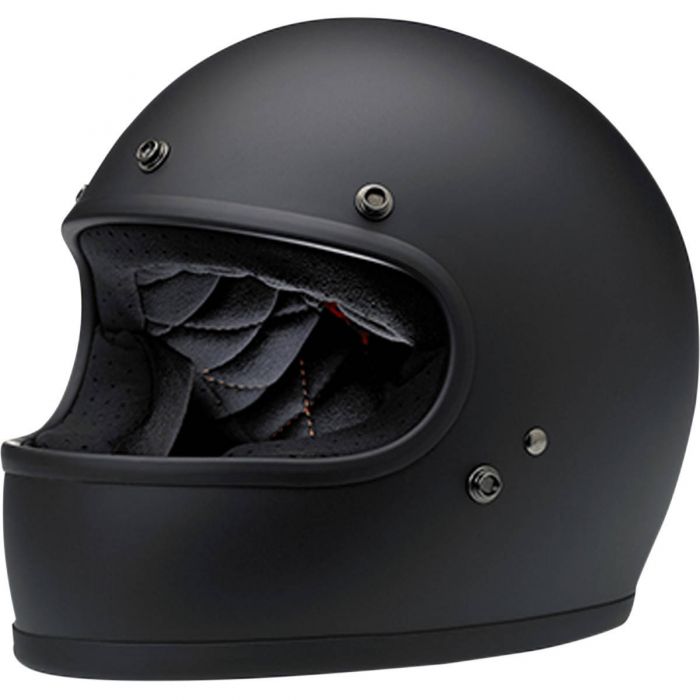 Biltwell Gringo ECE Helmet
Item # 657660
Description
Biltwell Gringo ECE Helmet
Seamless injection-molded ABS outer shell, shock-absorbing EPS inner shell and a removable, hand-stitched removable comfort liner with open-cell foam and brushed Lycra construction. The chinstrap is adorned with brushed Lycra material on touch points and features a flat D-ring fastener with an adjustable snap end retainer. Five snaps around the Gringo's eye port facilitate easy installation of a Biltwell bubble shield or Blast shield (sold separately.)
Features:
Injection-molded ABS outer shell with hand-painted finish
Expanded polystyrene inner shell
Hand-sewn removable brushed Lycra liner with diamond-stitched quilted open-cell foam padding
Internal BioFoam chin pad with hand-sewn contrast stitching
Meets ECE & DOT safety standards
Reviews
Rated

5

out of

5
by
Linx
from
Confortable , la taille est exacte , style parfait
J'ai reçus aujourd'hui même mon casque , je doit dire que je le trouve beau , il vas bien avec tout style de moto , très confortable , intérieur doux et capitonner , plus léger de ceux que je possède , j'ai suivit le guide des tailles , et la taille est exactement de la bonne dimension , en plus ce casque ne nous fait pas un look de bobble-head "rare dans mon cas" , l'ajout de lunette Biltwell est un bon atout , elle s'encastre parfaitement au casque , le surplus de la sangle s'attache à un bouton poussoir "snap" glissant sur la sangle , les anneau d'attache de la sangle fonctionne bien "les anneau s'emmêle pas" , une protection vient dessous la sangle qui évite la friction sur le cou , non ventilé donc oui un peut chaud , mais je n'ai pas encore tester sur la route , en gros , je suis très satisfait de mon achat .
Date published: 2017-03-21
Rated

5

out of

5
by
Rumman
from
simply perfect
great basic helmet, nice padding and exterior, strap works well.
Date published: 2015-10-17
Rated

5

out of

5
by
LikeABenny
from
Excellent purchase, thoroughly recommended!
I bought this helmet about 3 months ago and have been enjoying it very much ever since! Canada's Motorcycle shipping was very fast and the package in which it came was appropriate. As of the helmet itself, the design is very classy and retro, people have been asking about its provenance when I ride in town with it. It's very comfortable and the fit is great, although you should definitely go one size smaller than the chart tells you. I know this has been said before but I can't stress this enough. This helmet is surprisingly light! The padding inside is removable which is good for cleaning. The shape of the said padding is very well though too. You feel safe with this helmet on. The shape doesn't give you a big head either which is nice, particularly when riding a small bike. It fits really well in a regular-sized locker too, which I couldn't say of my old "superbike" helmet. Sure, the fact it doesn't have a visor can be challenging, but you'll learn to wear glasses or goggles soon enough. The price might seem steep, but ask yourself how much your chin is worth and it's easily justifiable! There are very few retro looking full face helmets under 250$, and this is the best. Forget that "cool" open-face helmet, this is the new cool! Buy this, enjoy the looks and class of riding with the nicest cool helmet in town!
Date published: 2015-09-08
Rated

4

out of

5
by
islandgrl
from
Great Helmet!
I love my new helmet, only worn it a few times, but it is awesome. Fits great (but be sure to read sizing info). Lining is very soft with lots of padding. And the helmet is so light compared to my other full faced helmet which weighed me down. Overall very happy with the purchase.
Date published: 2015-08-08
Rated

5

out of

5
by
coot
from
Happy wife, Happy life!
My wife purchase this helmet last month and she's very happy with it!
Date published: 2017-06-24
Rated

5

out of

5
by
Drock77
from
Great basic helmet
Very comfortable helmet. Great padding, good strap, good visibility.
Date published: 2016-05-06
Rated

5

out of

5
by
Hog_chick
from
Totally worth it
Bought this helmet about a month ago. It's suprising light weight and the padding is very comfortable. I definitely suggest buying a size smaller than you'd normally wear. Shipping was excellent, came two days earlier than expected. I also bought the green fade bubble shield. It's the perfect tint for sun protection and doesn't fog.
Date published: 2016-05-05
Rated

4

out of

5
by
Grayillustration
from
Rare combo of simple, inexpensive, and effective.
Fits 100% Barstow Classic goggles and looks great with the Biltwell 3-snap flat visor (I'm referring to their relatively hard to find motocross-style peak visor, not the blast or bubble shields) as seen in the photo. My tall oblong head means that I get the mildest of hot spots on top but also means my jaw pokes out well below the chin bar of the helmet unless I completely close my mouth. Otherwise it's a good snug fit and the padding is substantial, durable, and luxurious-feeling given the price point of the Gringo. It's one of the rare times where I've sought the simplest most tasteful version of something and it didn't cost more than comparatively full featured competitors.
Date published: 2016-05-05
Questions
Does the Biltwell Gringo have the speaker cutouts if I want to add a communication system like the Gringo S?
Yes, this helmet does have room for mounting speakers
Date published: 2019-05-31
Does this helmet comes with visor or is it sold separately?
No visor. Could add the bubble shield or the blast shield. I sport mine with goggles.
Date published: 2017-10-04