Bridgestone Battlax T30 EVO Front Tire
Item # : 477978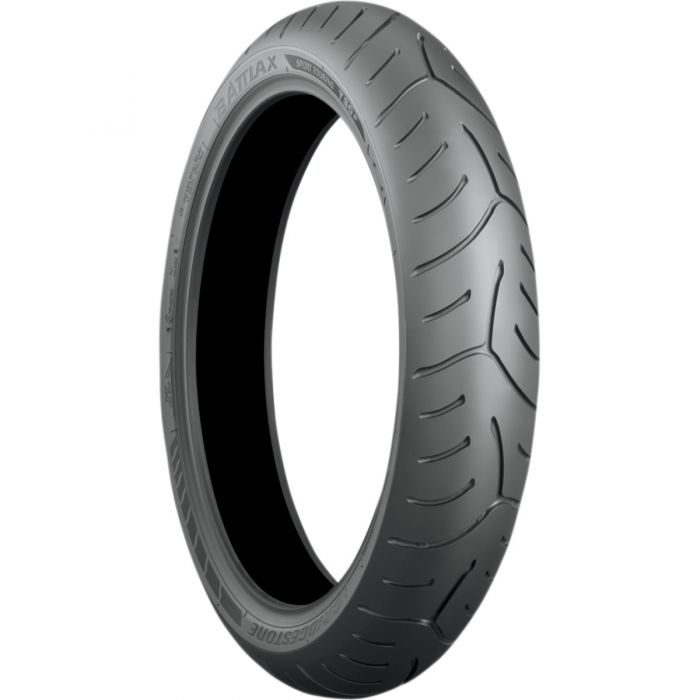 Bridgestone Battlax T30 EVO Front Tire
Item # 477978
Description
Bridgestone Battlax T30 EVO Front Tire
The sports touring radial which achieves the ultimate combination of fun, safety, and easy to ride. T30's light handling is retained, and straight-line stability and grip on wet surfaces, which is essential for touring tires, has been improved by optimizing the newly developed tread compound and pattern of the rear tire.
Click here to see an overview of Bridgestone's Battlax lineup.
Bridgenstone Battlax Lineup
The T30 EVO is an updated version of the T30 sport touring radial
Building on the response and stability of the T30, the EVO delivers more traction and control, especially on wet surfaces, by using new rubber compounds and re-engineered designs
Tread grooves (rear) are modified to increase water channeling and to provide greater tread stiffness
Contact area (rear) increases with lean angle, for increased grip when cornering
Newly developed front and rear rubber compounds improve wet grip in a wider operating range
T30 EVO also provides shorter wet braking distances
"GT" Spec available in several sizes (front has modified tread pattern) to suit heavy-weight motorcycles
Tubeless (TL)
(W)-rated for speeds of 270 km/h (168 mph)
Reviews
Rated

5

out of

5
by
EdmRider
from
I cannot say enough good things about this tire
I put these tires front and back on 2 of my bikes and love them. I take them right to the edge on corners so they offer a very good grip considering they are sport touring. They are more sport than touring. I do push them to the limit and find that they give you a warning as they start to slide and you can ride the slide through the entire corner and exit. Plus you get so much mileage out of them. Compared to Q3s which I've also used, the Q3s are crazy sticky but overkill for non track riding and considering they last 40% as long as these do, it is a big drawback with the Q3s. For anyone who is not going to push their bike much around corners these will give you more grip than you'll ever need so don't waste your money on sport tires that will wear out in no time.
Date published: 2016-10-19
Rated

5

out of

5
by
djcmx49
from
T30 Rear Tire
This is my second T30 rear. First one lasted over 13000km. I just put this new T30 EVO on and it sticks great. I even did a track day and had no issues using all the the side's right to the edge !!! Great tire for all around sport riding...
Date published: 2016-08-04
Rated

5

out of

5
by
Nelder17
from
7000+KM Incl Track
A second review of these tires now that I have 7000+ KM on them and a track day and a half. Outstanding tire! The rear is finally squared off a little (I run low pressure on the street, mind you...) but the front is still great. Put 200 track KM on them a couple weeks ago and they performed very well for sport touring tires. Running 29-30 PSI rear and 31 PSI front (cold, no warmers) they stuck like glue at a low intermediate pace. Honestly, if you're out-riding these tires on the street, you really need to take it to the track. Great job Bridgestone.
Date published: 2016-09-05
Rated

5

out of

5
by
Bushx
from
Great grip wet or dry, great value!
Had run the S20's on one bike, and the T30's on another, both now needing new rubber, I opted for the T30 evo's, as I never had any issues with grip running these, and they lasted longer than the S20 obviously. Just finished a 1800km road trip, both bikes had the T30's, and the second day consisted of ~500km of very wet, very twisty roads in southern BC, and these tires exceeded my expectations.
Date published: 2016-06-28
Rated

5

out of

5
by
Dan650r
from
Love them
I bought these babies at the start for the season. Was on the bto23 prior. Great improvement. If you want a spot touring tire with an emphasis on sport but still a great touring tire and amazing in water. These are for you. Have about 3500km on them now and they are wearing perfectly.
Date published: 2016-08-18
Rated

5

out of

5
by
Duedain
from
For the price this is the best tire on the market.
About 1200 KM on this tire now and it has worn evenly even as a daily driver/commuter. Great traction in the dry and confident in West Coast Vancouver Island rain, which is fairly frequent. I had these on my DRZ and they were minty. On my FJ-09 they feel a bit soft in a turn under acceleration. This may be due to the FJ-09 being a heavier and much more powerful bike. The only other tire I would consider for my climate would be the Michelin Pilot Road 4's as they are the best "wet" tire out there, with an additional $50 price tag. I plan to add the front tire when the stock one runs down a bit and I have heard that the BT front tires are softer than they ever were before. Like 1 to 1 wear ratio compared to the 2 to 1 I am used to; front tire usually lasts two rears, but now they wear about the same for the BT's. All in all its a 4.5/5 for me.
Date published: 2017-05-04
Rated

5

out of

5
by
MrCanoehead
from
Great GT Tire
I put these on immediately before a 6500km trip to California. I was riding a fully loaded FJR, so I got the GT model. They were a bear to mount (especially the rear) because they are very stiff but they balanced easily. I rode through temps from 4c and wet to 42c and they handled it all perfectly. The rear is starting to square off now with well over 7000km but I expect the it is good for another 3-4k. I would definitely buy these again.
Date published: 2016-09-05
Rated

5

out of

5
by
JohnnyDangerous
from
Great tire
I bought a set of these T30s to replace the Michelin PR4s on my ZRX1200. The Bridgestone T30 is definitely superior to the Michelin PR4s. Cornering feel and confidence is far better than Michelin. The price is somewhat lower than Michelins as well. I will purchase these Bridgestones again.
Date published: 2016-07-14
Questions
What's the difference between normal and GT ? Thanks
The GT EVO is designed differently to thread more water in wet conditions by making certain groove patterns longer. Suppose to be an improvement to riding in wet weather and also a new formula compound to improve handling. There is a great write on the Bridgestone tire review for this tire on the Super Bike website. http://www.superbike.co.uk/product-reviews/bridgestone-t30-evo-tyre-review/ Hope this helps, I have that tire on my ST1300. No complaints.
Date published: 2017-05-29