Bridgestone S11 Spitfire Sport Touring Rear Tire
Item # : 64089
$168.99 - $175.99
$90.99 - $95.99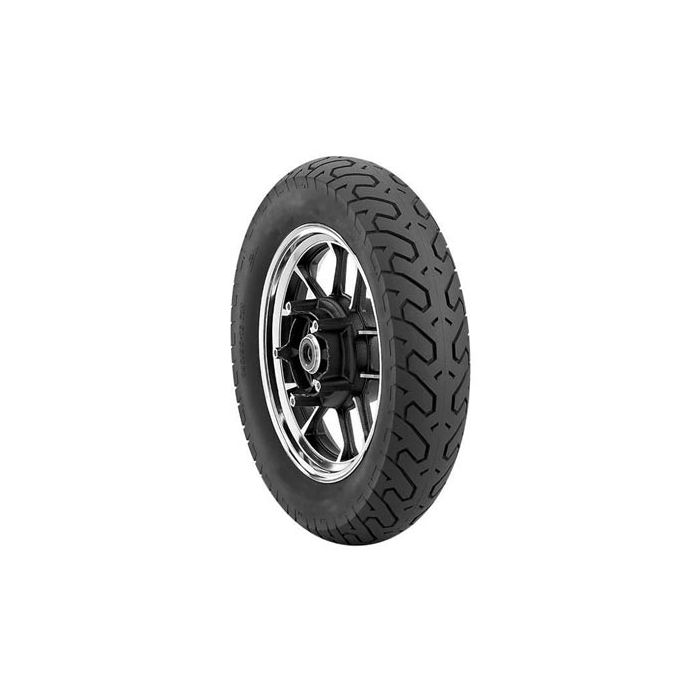 Bridgestone S11 Spitfire Sport Touring Rear Tire
Item # 64089
Description
Bridgestone S11 Spitfire Sport Touring Blackwall Rear Tire
Sport touring bias-ply tire
New sizes for large, late model cruisers
Excellent tire for bikes of the 1970s and 1980s
Also available with raised white lettering
H-rated for speeds up to 130 mph
Reviews
Rated

5

out of

5
by
keyjockey11
from
Exellent Quality Tire
I have been using this tire for the past 15 years, I tried other brands previously but none compare to the "Spitfire 11" in all areas. these tires are a perfect match for my 1981 GL500 Silverwing Interstate. I get an average of about 5 years out of a set of these tires. Well worth the money (Great Price). A very trustworthy tire.
Date published: 2013-08-09
Rated

5

out of

5
by
Andy
from
I bought this tire to replace the same model tire. I don't remember the mileage when the last one was installed but it was a long time as these tires wear very well. Traction is great and when I need another i will try to find this same tire. Fortnine offers excellent service and very fast shipping. Would shop here again. Thank you.
Date published: 2018-11-05
Rated

5

out of

5
by
noD9
from
Long lasting
26k on previous set of Spitfires. Just now got to wear markers on the rear. Second tire purchase from Fortnine--all good. Tires ridden all over BC interior including highway, backroads, frost, rain, grass, and a few kms of snow in the passes (slowly). Profle widens slightly over time. It's a hard tire, but good in a variety of conditions. There were some fine cracks on the tread after 20+ years. Top speed reached on new tires was 160km/h with no wobble, a little wobble at 164km. but I just balanced them using sidewall mark and the bike was maxed anyway. Stored on bike outside most of their life, or under a tarp. Only time pressure dropped was with a bad valve. Taking them off, they were stuck on the wheel, had to really peel them off. They inspired me to get Bridgestone Mud TAs for my bush truck, and those are unstoppable. Will buy Spitfires again. The old rear is now a tire swing.
Date published: 2018-10-04
Rated

4

out of

5
by
Donnie
from
Awesome Cruiser Tires
I bought my bike used with Bridgestone Spitfire tires already on it.I have since put almost 30000 kms on it, and I have just replaced the tires. I am very impressed with the durability of these tires. They also hold the road really well...Very impressive for a cruiser tire!!!
Date published: 2013-05-14
Rated

4

out of

5
by
Anonymous
from
Pretty good tire
Replaced worn Metzelers on a '78 BMW R80/7 with these and what a difference. Even when new, the Metzelers were always a little squirrely and tended to follow road cracks very easily. These seem very stable even on the poor roads around here. Only got 12K km out of the Metzelers, so I am anxious to see what these will do. Also seemed pretty good in the rain.
Date published: 2012-06-18
Rated

4

out of

5
by
Wolf man
from
Smooth ride Handles well
Most times when a low priced tire is put on a heavy bike the max air pressure (on tire sidewall) is needed to keep flexing at a minimum. Usually feels like a half flat tire! BUT THIS TIRE IS VERY STABLE AND MAXIMUM AIR PRESSURE IS NOT NEEDED SO A MUCH SMOOTHER RIDE EVEN WHEN RIDING DOUBLE. STILL CORNERS WELL. If it gives reasonable mileage then i would buy it again
Date published: 2011-10-23
Rated

4

out of

5
by
Secheltbob
from
Delivery of purchase
I have not yet used the tire but it is exactly what I ordered and I appreciated the free shipping. My comment actually has to do with the shipping. It was sent by Canada Post. There is a reason why it is called "Snail Mail" because from the time I received the confirmation of the order by Canada's Motorcycle until I was informed that it had arrived at the local post office was in excess of two weeks. This is not the fault of Canada's Motorcycle.
Date published: 2013-03-28
Rated

5

out of

5
by
7890
from
good solid feel on a twisty road
my favourite front tire on a CB750 K1 ...... holds a nice line on twisty roads. solid feel.
Date published: 2019-11-26
Questions
Is this a tubeless tire?
Yes, this is a tubeless tire.
Date published: 2016-02-19
is it ok for 2015 road king.
As long as the tire size recommended for your vehicle is available to order, the tire will be good for your 2015 Road King
Date published: 2019-09-10
Do I need an inner tube with this particular bias tire...?
If depends on the type of rim. If the rim is a spoked rim than you will need a tube. 
Date published: 2016-10-13
Are these a tube tire or tubeless?
Tubeless
Date published: 2019-10-03
Do these tires have the white lettering?
No
Date published: 2018-07-18
I'm looking for a Bridgestone S11 Spitfire Sport Touring Rear Tire in 130/90 17 - any chance they still exist or you could source one for me? Was recommended to you by a friend that said you had everything for my 1980 XS1100 - hope you can help!
Don't know if they make that size in a Bridgestone, however it is available in an Avon Roadrider. I have these on a 1979 XS1100 Special (the rear is a 130-90-16) and these are great tires. I've done some pretty aggressive cornering on these tires and they really hang in there well with no nasty surprises.
Date published: 2017-09-25
Can a tube be used in this tire? 
Yes. I've used a tube in this tire many times through the years, as my '78 GL1000 wheel design is not compatible with a tubeless tire. Also, I've always been very satisfied with the Spitfire II tire performance, and use them all the time.
Date published: 2016-07-28