Cortech Vice Waterproof Riding Shoes
Item # : 507260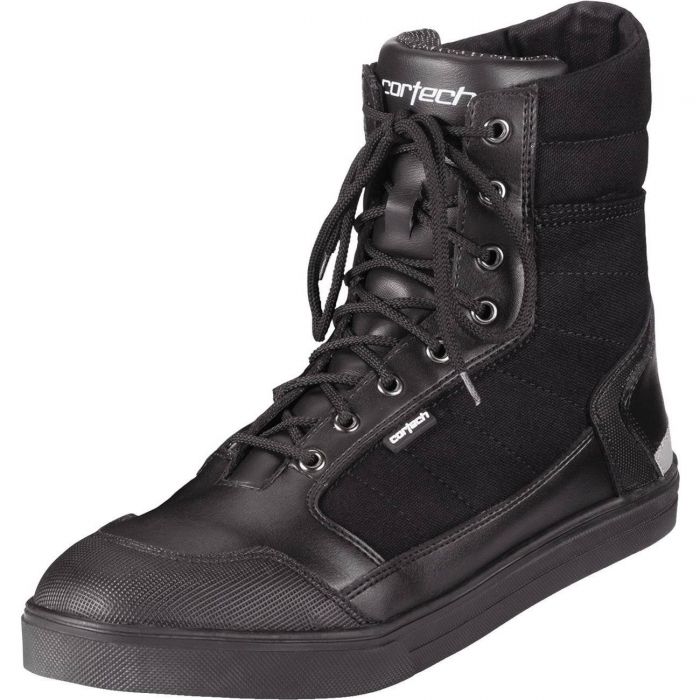 Cortech Vice Waterproof Riding Shoes
Item # 507260
Description
Cortech Vice Waterproof Riding Shoes
Cortech Vice WP Shoes combine water-resistant leather with heavy duty canvas to make a riding shoe that is stylish both on and off your bike. The Hipora membrane is waterproof and breathable, keeping your feet cool and dry, no matter the weather. Add to that the reflective panels on the heels and the grippy rubber sole, and you'll find the Cortech Vice Waterproof Riding Shoes will fit all your wants and needs.
Features:
Constructed with a durable combination of water resistant leather and heavy duty canvas
HiPora waterproof, breathable membrane
Italian TecnoGI Thermoplastic heel cup and toe cap
Reflective Cortech logo and heel trim for night time visibility
Anti-slip rubber sole with reinforced shank for support
Black rust-free lace eyelets
Molded nylon ankle guards
100% soft polyester lining
Reviews
Rated

2

out of

5
by
Martin
from
Defect unit or design problem?
The pair I received was either defective or suffers from a big design problem: the sole is concave so only the edges are touching the floor, leaving the middle of your foot in the air. This was noted by another reviewer so maybe I got the same exact pair as he did (size 8). It was present on both the left and right but more present on one. Other than this problem, I loved the look, construction, price and comfort of these boots. Unfortunately I had to return it and settled on the TCX street ace waterproof.
Date published: 2018-05-19
Rated

2

out of

5
by
Capnsawls
from
Disapponted
Boots look good, fit well and are reasonably comfortable, BUT - the soles are very hard compound and the pair delivered to me had a concave form so only the edges contacted the floor making the shoes slippery. I am returning them and will look at other riding boots/shoes. I am impressed with the service and quick response from Fortnine - good guys :)
Date published: 2018-03-01
Rated

4

out of

5
by
Ramrod77
from
Nice boot for first time rider
Purchased the boot based on price and video review, done by Fort Nine. I'm a size 13 and ordered at 13 and it first perfect, a bit of wiggle room still for the toes but the boot fits snug enough. Boot looks great, had a few compliments from other riders and they were surprised about the price. I don't really think it's a shoe personally it is more of a boot as per the pics. The boot is nice enough to wear with every day clothing, and doesn't stand out by any means to make it look overly obvious that you're wearing riding footwear, which is what I like. The toe protector is a nice touch, and is quite hard. Good ankle support as well. The boot is easy to put on, and the mouth opens wide, I'm 235 lbs and 6'2" and have wide calves, and no issues slipping these on and off. Reflectors on the back of the boot as well. Only complaint is my pinky toes feel a bit pinched against the toe protector, only initially thought, after 1-2 mins the feeling goes away and the boots are comfortable. Likely just have to wear them in a little longer. Overall very satisfied with these boots.
Date published: 2017-07-26
Rated

4

out of

5
by
roboccop
from
Riding Boots
The boots took four rides to break in and are okay now. The tread pattern could be more aggressive for my liking. On the plus side the toe caps for the shifter are awesome.
Date published: 2017-05-14
Rated

4

out of

5
by
Kaseyboy
from
Great boot
So I bought these a couple weeks ago and wore them around the house to try them on. Just yesterday was the second day of my motorcycle course (Pacific Riding School in Vancouver, BC) and after only a total of 3 hours of riding, one of the Cortech labels on the heel peeled off. I've heard of this as common, since other reviews have said the same thing. Also - the black rubber on the bottom of the boot is more of a grayish blue, so it stands out from the rest of the boot. Lastly, all the other reviews said to purchase one size smaller; my shoe size is normally 10.5-11 US. I ordered the size 10 and it's still a little too long in the toe. If you usuall sit at a half-size point, order two sizes down. A size 9 would be perfect for me.
Date published: 2019-06-12
Rated

1

out of

5
by
Al_p
from
Do not buy! Terrible boots.
Went through the concave sole phase like other reviewer, but now 2 month later they are wearing FAST!! I'll be surprised if I make it to the end of the season. The outer edge of the sole is chipping away, the sole is dying and the back of the boot is falling apart (I pry them off with the other foot.. I have no choice... they're too difficult to put on and take off). The 15yr old boots I bought these to replace show less wear!! Can't speak to water resistance as it hasn't rained in WEEKS! (thank god)
Date published: 2018-07-13
Rated

4

out of

5
by
Mike016
from
Nice Boots. Have some Superglue handy
I picked up these boots in the middle of March this year. I love that they don't look like big clunky riding boots so that I can wear them at work. Right out of the box they were pretty uncomfortable, with some of the interior stitching seams digging into my heel, and a very stiff sole. This got better(much better) after a few hours of break in time on and off the bike. I'm a size 10 1/2 and the size 10 shoe fits well. The Cortech emblem on the back of the right boot fell off within the first 2 weeks. The left one followed about 2 weeks after that. Fixed it right with a bit of superglue. Overall they look high quality, but there are a couple things overlooked during manufacture. I'm pretty satisfied with them as all of the gripes I have with this riding shoe disappear when I'm on the bike. The reinforced toe area and stiff sole make for more positive feeling shifts and braking.
Date published: 2018-05-17
Rated

4

out of

5
by
CR2N
from
Excellent entry level boot
I have returned to riding and needed to buy all new gear again. I am glad I watched the FortNine video recommending this excellent entry level boot. Sizing was accurate; My foot measures 12 1/2 - 13, 5E wide and these were snug but broke in after 100+ KM of riding plus some time wearing around the house. Have not worn in the rain. My feet were comfortable in +2c to 28c. I feel I have good "sense" of the foot controls, too, in this boot.
Date published: 2018-05-09
Questions
Can't you tell me roughly how high these shoestring would come up above my ankles? I'm looking for a higher shoe height
Here are the dimensions: Heel Height: 3/4". Upper Height: 6-3/4". Overall Height: 7-1/2".
Date published: 2018-03-20