This product has been discontinued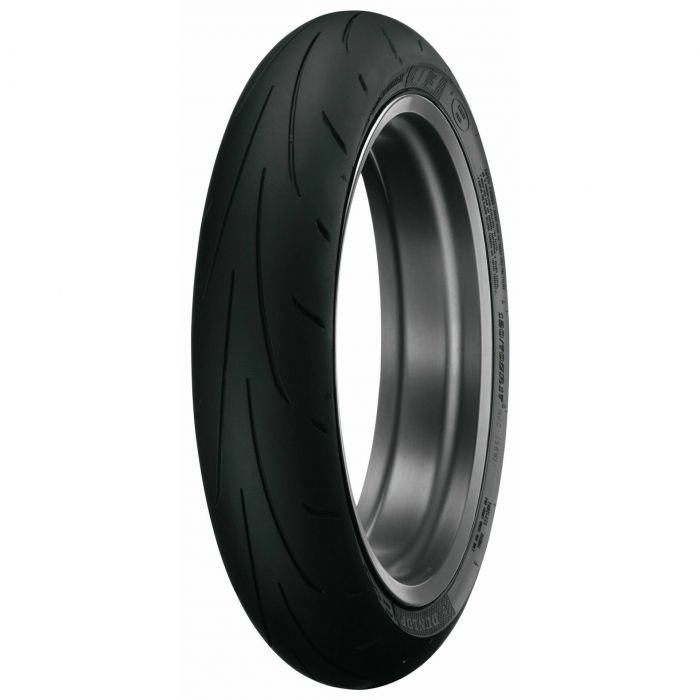 Dunlop Sportmax Q3 Front Tire
Item # 153750
Description
Dunlop Sportmax Q3 Front Tire
The Dunlop Sportmax Q3 is the next-generation sport bike tire and successor to Dunlop's popular Q2 tire, featuring Dunlop's new Carbon Fiber Technology (CFT) which incorporates carbon fiber reinforcements into the sidewall. The Dunlop Q3 Sportmax also features an updated tread pattern with longer grooves to better evacuate water which helps wet weather performance and rear tires boast Dunlop's Intuitive Response Profile (IRP) for phenomenal handling and steering grip and feel.
The new Sportmax Q3 represents yet another direct benefit yielded from Dunlop's AMA Pro Road Racing involvement. As the control tire supplier for AMA Pro Road Racing, Dunlop invested in new tire-producing machinery necessary to accommodate race tire production at Dunlop's Buffalo, NY, manufacturing facility. These same high-tech machines are used to produce the all-new Q3 rear tire.
Features:
Dunlop's Carbon Fiber Technology (CFT) uses carbon fiber reinforcement in the tire sidewalls for exceptional cornering performance and feel
Aggressive new Q3 tread pattern uses fewer grooves that are longer in length to enhance wet-weather performance
New Q3 tire compounds were derived from road-race compounds to yield maximum sportbike performance
The Dunlop Sportmax Q3 offers superb grip, stability, steering feel and longevity on the street and on the track
Designed, tested and manufactured in America, the Sportmax Q3 sets new standards for high-performance sport tires
Reviews
Rated

5

out of

5
by
Plaid Man
from
Great Track Tires
First time I tried these tires I liked them right away. Confidence in the corners is what I wanted. Don't have warmers, just do a lap before getting enthusiastic again. Lasted several track days - my whole season. Bought another set for next year.
Date published: 2015-11-04
Rated

5

out of

5
by
apolo
from
exelente tenu de route
4000km et le pneu est carré, je ne fais pas trop de courbe, je le recommande a ceux qui fond beaucoup de courbe. la gomme est tres molle mes doigt reste collé sur le pneu a la fin de la promenade.
Date published: 2016-02-29
Rated

3

out of

5
by
Johnny LunchBucket
from
Meh
After running 4 sets of M7RR's through the 600 ('06 CBR 600 RR) I thought I would try something new. I always wanted to run the original Q3's as they are pretty much the go-to track tire in the States so their performance was legendary. In fact, in a blind test of 12 different tires they came in second according to Adam Waheed. So they are a known-good tire. After spooning them on I found that I had to soften up the hydraulics on the bike as this tire is a lot harder then the M7RR. The thing is, I could never get them to handle quite right. I did a fair amount of suspension changes to try and sort them out but in the end I took them off early and went back to the M7RR's. The issue might be due to my model year - '06. As such, the bike is the second gen CBR600RR and it was not known for fast steering without major suspension work (raised rear shock etc). So for my bike, these were not great. It would be interesting to see how they worked on 3rd generation CBR 600 ('07 forward). But for me, wanting to try something new didn't work out in this case. I just was not willing to do major suspension work to make these tires work. They did give considerably greater lean angle then the M7RR's though. That's a fact and it was interesting.
Date published: 2017-09-16
Rated

5

out of

5
by
Ironman
from
By far the best tire I've owned
I've been riding for some 32 years. I've tried a lot of tires, all the major brands and nothing compares to the confidence building performance of these tires. I have a 2013 KTM RC8R and the rear tire that came with the bike wore out at 7000km. I switched to the Q3's and put on a little over 8000km and there's lots to go. I've had my bike leaned over to the point of almost running it to the edge(1/2 in to go) with no fear of being unstable. Solid cornering, goes where you point it.
Date published: 2014-10-11
Rated

5

out of

5
by
YellowDuck
from
Great track tire
I used Q2s as my track tires all last season and was very impressed by their grip and durability. Didn't start to go off until the 7th or 8th track day. We have decided to use the Q3 on our endurance racing bike this season and so far they have been flawless over one entire practice day and a 3-h race. I expect we will get about three races out of them, which is amazing. A friend of mine is running them in novice sprint races on a 675 and is doing very well (i.e., podium finishes). Awesome tires.
Date published: 2014-06-05
Rated

5

out of

5
by
Scott
from
Great tire good prices
Went from michlens to dunlop q3s to shinkos stealthy and back to dunlops
Date published: 2017-02-14
Rated

5

out of

5
by
Toybm
from
Awesome tires
Bought these for my trackbike. Great track day/race tires
Date published: 2016-06-26
Rated

5

out of

5
by
I have a few
from
great tire
I keep coming back to Canada's Motorcycle for tires... the best tire prices, super fast shipping and shipping charges that can't be beat. I keep returning... I just finished a 1000+ mile (1600+ km) Cannon Ball, part of the run was through cold weather (12 C or 53 f) and heavy rains, averaging around 125 km (75/80 mph) per hour, curves included. The tires inspired complete confidence in road holding and handling and no hydroplaning even when I hit deeper pools of water.
Date published: 2016-06-13
Questions
These tires are tubeless correct ?
Yes
Date published: 2017-01-25