Dynojet Power Vision
Item # : 212585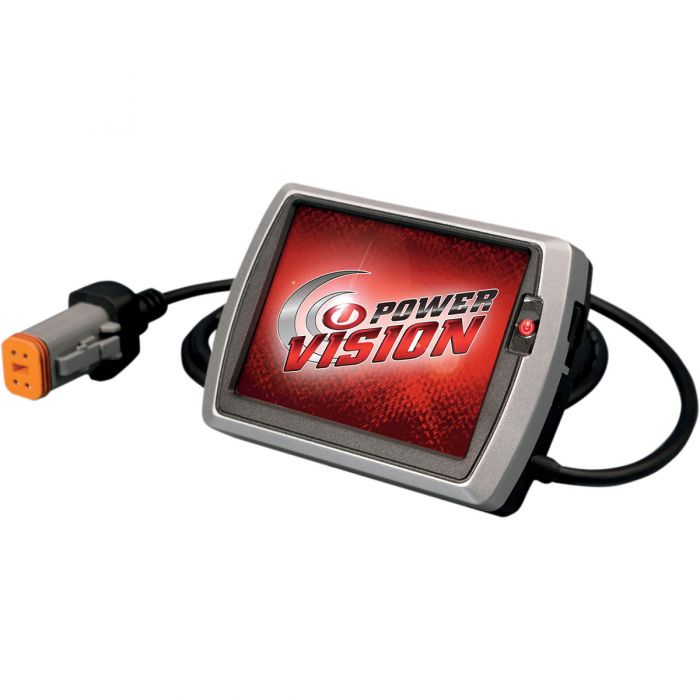 Dynojet Power Vision
Item # 212585
Description
Dynojet Power Vision
Features:
The quickest and most powerful flash tuner on the market
The sophisticated, yet easy-to-use, 3.5in. full color touch screen display mounts to handlebars with intergrated Amps 4-hole threaded inserts; also mounts to most aftermarket accesory mounts that feature Amps 4-mounting options
The displays interface cable plugs directly to the bikes diagnostic connector
NO COMPUTER REQUIRED; simply select the tune and follow the on-screen prompts to flash the bike; tunes can also be edited directly from the Power Vision
Utilizes WinPV (Windows PC-based tuning application)
Stores up to six different tunes that can be flashed to bike
Downloads and stores the stock calibration in case OEM restoration is needed; stock calibration can also be saved as an editable copy and used as a starting point
Dynojet preconfigured tunes are preloaded on the unit; Power Vision will identify the bikes information and atuomatically sort hundred of applicable, dyno-proven tunes
Custome tunes can be loaded by a tuning shop or recieved via email and loaded on the device
Displays all J1850 H-D vehicle data, wide-band air fuel ratio and various calculated channels (including MPG instant and trip MPG)
AtuoTune Basic and Pro calculates and stores fuel trims to optimize fuel curve
Checks and clears diagnostic codes
Features adaptive trims and the idle offset (with bike running)
Reviews
Rated

4

out of

5
by
Powerjunkee
from
Great product but no map match
Awesome product but did not come with a map to match my bike. That means a lot of fiddling around. Other resellers provide a map for your specific configuration.
Date published: 2019-06-15
Rated

5

out of

5
by
MJim
from
Perfect, just awesome.
Ordered & installed this for my 2006 Softail efi. Cut engine vibration to 1/4 of what it was, smoother running, noticeably more power, 'pop-back' when decelerating reduced to negligible. Left it mounted to my handlebars, and set the display to show tach-rpm, and speedo in kilometers/hour (my Harley speedo is in miles/hour). Now the display gauge automatically pops up whenever I start my bike. Love this unit. PS: I did have a problem initiating the unit. Phoned Dynojet and they fixed it with a factory reset using remote assist on my computer. Great company.
Date published: 2019-04-19
Rated

5

out of

5
by
Mr Tee
from
Looks good!
I won't be installing until May as it's -50 outside with two feet of snow! I'll let you know in May!
Date published: 2019-01-30
Rated

5

out of

5
by
Bobby Clobber
from
Quality merchandise at discount prices
Fortnine has the absolute best price for this PV tuner
Date published: 2019-01-25
Rated

2

out of

5
by
steven8r
from
did what i hoped
i had a hard time with the computer part , but once past that it was a breeze
Date published: 2018-05-10
Rated

5

out of

5
by
Doogie
from
Perfect
Very satisfied so far! Can't wait to get some miles on to test it further
Date published: 2017-12-14
Rated

5

out of

5
by
Steven
from
Love it! Great Features!
Great for engine monitoring and for bikes with unknown internal mods. Does not have to stay on the bike is also great. I leave mine on the bike most of the time and am amazed at the amount of data logging and infomation displayed. From the engine temperature, speed in kilometers, what gear your in and amount of fuel used in liters, it is awesome.
Date published: 2017-10-27