Firstgear Kili Lo Waterproof Boots
Item # : 131243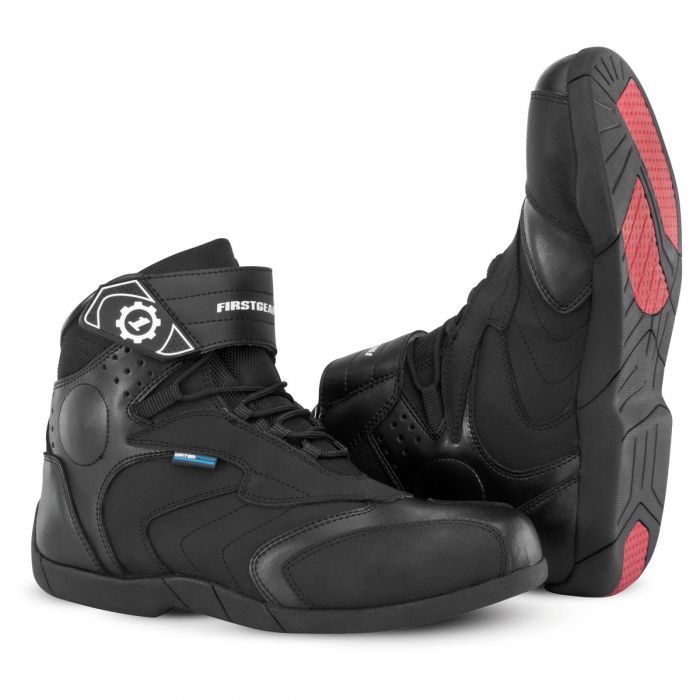 Firstgear Kili Lo Waterproof Boots
Item # 131243
Description
Firstgear Kili Lo WP Boots
A Lo blow for comfort. Kili comfort and protection for those who like it on the down-Lo.
Lace-up style fit with hook-and-loop ankle strap
Leather and composite upper
Hard ankle and toe box protection
Toe shift patch
Reviews
Rated

4

out of

5
by
Rolo
from
Comfortable,solid, looks great until...
My First pair of motorcycle shoes and they felt comfortable. ALmost felt like i had smaller version of snowboard boots because theyre stiff due to all the armour on this thing. A bit tight on my outer feet, usually skate shoes are more comfortable as theyre wider. ONE thing really threw me off when I pulled this out the box...the zebra striped insides? Made me a bit angry and made sense why the photos of this shoe is so limited and angled the way it is. It struck me as deceptive marketing. Still, I like these shoes and will wear it and will have to do something about those zebra stripes. not too visible when wearing though.
Date published: 2016-03-17
Rated

1

out of

5
by
Onsto
from
Complete junk. Buy anything else.
Bought these to wear with my waterproof riding gear while on vacation in the Italian Dolomites. Three of the lace loops broke on the first day of the vacation, rendering the left boot completely unusable. Given the quality of production I would not be inclined to trust that these would hold up in any kind of accident.
Date published: 2016-06-08
Rated

3

out of

5
by
mat 1
from
Kili Lo Waterproof Boots
Got these a couple months back. fit good. decent boots; but problem with the lace eyes. The top ones are woven cloth and failed in like a week. Did a sow job myself. Poor workman ship there for sure. Me and boots. Any ways other than that I like em.
Date published: 2016-12-14
Rated

1

out of

5
by
Jesse
from
Not at great as they're priced
Two days after i bought them the Velcro ripped off just from common use. Never hard on them or anything. Just poor equipment.
Date published: 2016-08-13
Rated

2

out of

5
by
Garrett
from
Decent Boot - Low Quality
Pulled out 3 lace loops within the first 600km of riding. Never took a spill, never raced, just poor workmanship. Was not interested in returning them for the 6 weeks it would take for the warranty review. Ended up taking them to a cobbler to get repaired.
Date published: 2016-05-19
Rated

2

out of

5
by
Garrett
from
Mostly good
I've put 600km on these boots now and they've been exactly what I expected. Not as nice as an alpinestar boot or anything but they're getting the job done. The FIRST time I laced them up I pulled out 2 of the nylon loops that hold in the laces. Pretty disappointed. The pair I tried on in a brick and mortar store had the same problem - shouldn't have assumed it was a one off problem.
Date published: 2016-03-23
Rated

4

out of

5
by
Canadianboy
from
Just an awesome boot !
Got these a week before I left on a 4800km trip to the west coast Vancouver. Very comfortable on and off the bike. Kept my feet semi dry in rain. My feet stayed fairly warm as well as temps in the mountain was around 13-14C in the mornings. Can't go wrong for this price ! I'd buy them again !
Date published: 2015-10-17
Rated

1

out of

5
by
Hooligan
from
Not recommended
Bought these for fall, winter(ice), and spring riding. They are extremely uncomfortable. They are ok on the bike, but I find them unpleasant to walk around in. I specifically got these for when the ice starts to thaw a bit, like yesterday at Ghost Lake AB. These are not even close to waterproof. My feet got soaked very quickly. If you're looking for waterproof, look elsewhere.
Date published: 2014-03-09