This product has been discontinued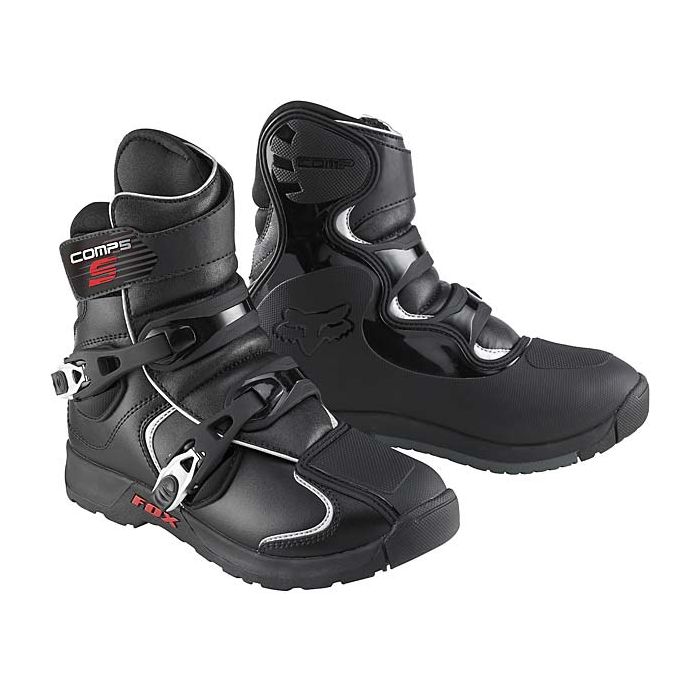 Fox Racing Comp 5 Shorty Boots
Item # 40761
Description
The Comp 5 Shorty has the comfort of a skate shoe with the coverage of a full-on motocross boot built right in. High flex and feel with solid ankle armor means you'll spend more time riding and less time icing those ankle bones.
Reviews
Rated

5

out of

5
by
thomasdgs
from
Great Boots For On And Off Road.
Bought these boots as everyday riding boots for my supermoto bike. I ride mostly street (95%) but wanted boots that suited the supermoto and were suitable for off and on road riding. I am very happy with my purchase. I ordered according to the sizing chart, and my first pair were too tight. If you are near the size cut off, like I was, then order the next size up to ensure a better fit. I have had these boots for the whole 2015 riding season, and wear almost every time I ride, with a few exceptions. After over 6000 km of riding, about 4000 km of which was in city riding, the boots are showing little wear on the soles, the buckles still work well, and even the velcro is still good (initially a concern of mine). I have even contemplated buying a new pair already incase these are unavailable by the time these boots wear out. The boots took a little getting use to, there is basicly no feeling for the shifter, but with a minor adjustment to my shifter height, I was nailing my shifts again in just a few rides. The boots are initially very stiff, but after breaking in they are not terrible to walk in, have done some short (2km) hikes in these boots with no issue. If I am going to be walking more than that I would bring a second pair of shoes to walk in. These boots have provided excellent ankle support and protection. These boots have thus far been completely waterproof, even while riding in down pours. The negative part of this great waterproofing is that the boots can get very hot on warm summer days, and once your pants are soaked when riding in the rain the boots collect water inside. Over all I am very satisfied with these boots, Id order them again for myself if the need arose, and I would recommend them to any dualsport, supermoto, adventure touring, or trail riders out there.
Date published: 2015-10-20
Rated

5

out of

5
by
struckus
from
Nice boots!
Seem to be well made. Need to be broken in. I find they fit accurate to their sizing chart. I usually take a 14 or 15 but had to take a chance on the 14's. They fit well and seem to have good protection.
Date published: 2015-08-24
Rated

5

out of

5
by
thomasdgs
from
Great Value, Great Boot
I followed the sizing chart when ordering, I was right at the upper limit of size ten so I ordered a ten, but they were too small (length wise), but with Canada's MC's great exchange program I had a pair of size 11 boots that fit just a few days later and even with the return shipping fee they were still a great deal and a good value. I ordered these boots with the intention of doing more off-road riding on my dualsport bike, but the truth is I've ended up riding about 5% off-road and 95% on-road while wearing these boots, about 1000 km total so far on these boots. The boots have stood up very well so far, the soles show barely any wear, the upper is still nearly perfect, and all the straps work great still. Its true this boot will keep your feet dry, rode in some very heavy rain and my feet were warm and dry. Once my pants were soaked and the water started running down my legs the boots collected water, but hey no water in means no water out. The boots did fit tightly when new, and were stiff to walk in, but after a while they are now broken in and are much better for walking than they were. After all they are still intended for riding not walking or hiking and you know it whenever you do walk in them. Shifting was a challange at first when wearing these boots, there is little to no feel of the shifter through the boot, but with an adjustment of the shift lever and some practice it isn't an issue anymore. I did wear these boots riding a couple of cruisers, something I would not recommend if that all the riding you do, but even then Id rather be wearing these boots than sneakers. I've also gotten lots of compliments on the looks of the boot, both by dirt riders and street/sport bike riders, so that's a plus!
Date published: 2015-06-07
Rated

5

out of

5
by
Shoedog
from
Great Boots
Great boot for the money, light weight and flexible great for trail rides.
Date published: 2015-07-06
Rated

3

out of

5
by
mike
from
good value
not bad for the price. the only problem i had was the strap at the top of the boot was too short to fasten. in the end i cut it off.
Date published: 2015-07-05
Rated

5

out of

5
by
BlastsFromTheSaddle
from
Comfortable & Sturdy
These boots are extremely comfortable if you're off the bike walking. Took a week or so to get used to the new pressure points on the shin. Very solid feel on the bike. Fairly high toe box so you might have to adjust the shift lever. Sizing is dead on to Fox's size chart, so measure your foot and order accordingly. The width is on the generous side. Some people have complained the Velcro strap is too short. Maybe they've lengthened it because I find it is easily long enough. Highly recommend to anyone wanting a short boot.
Date published: 2015-07-04
Rated

4

out of

5
by
leo1
from
bonne valeur
tres bon rapport qualite prix ............................................................................
Date published: 2015-06-03
Rated

5

out of

5
by
Master G
from
Excellent all around Boots
Very nice and comfortable boots, well padded, easy to adjust buckles, great fit, but buy a size up..Fast to wear and remove and pretty good under water..
Date published: 2015-05-31
Questions
can i wear these as "normal boots" as well as riding boots? And are these water proof 
Hi, These boots are made to be more comfortable for motocross riders, however I would not suggest using them for every day shoes. The ankle armour is solid and would not be very good for walking long distances. These are not waterproof. ~Danielle, Customer Service, Canada's Motorcycle
Date published: 2015-09-29