Fox Racing Titan Sport Jacket - 2018
Item # : 40924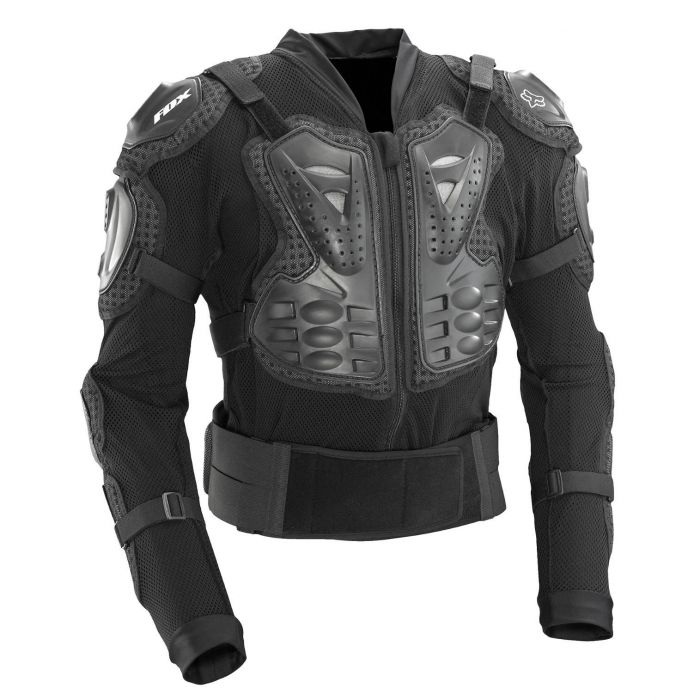 Fox Racing Titan Sport Jacket - 2018
Item # 40924
Description
Fox Racing Titan Sport Jacket
Full body under jersey coverage has a new standard with the Titan Sport Jacket. Its complete plastic plating of key contact areas is unmatched. Its full mesh main body offers a precise, bunch-free fit. Add in the intelligently engineered ventilation zones and the Titan Sport Jacket truly becomes the ultimate battle suit.
Features:
Anatomic high impact two piece plastic chest plate
Removable articulated plastic back coverage
High impact plastic shoulder and elbow coverage
Soft vented mesh main body fabric for enhanced fit,
comfort and ventilation
Center zipper for easy on and off
CE certified
Reviews
Rated

5

out of

5
by
jTrex
from
Good buy, worth the price, CE certified
I have owned and used this armour for the past month and am very happy with it. There are more expensive products out there that may be better quality, but I think this is a great value for what you get. It is CE certified, which was one of my non-negotiable criteria. And it fits very well, with lots of options for adjusting the fit too. I'm about 5'7" and somewhat stout at around 190lbs - I ordered the XL just to be safe and I think that was a good call. I wear a classic bomber-style leather jacket and this armour fits fine underneath it, and does not feel cramped or constricting. In fact, it feels very comfortable on, and is very lightweight, and stays in place well. As the description indicates, it has good coverage of many areas, including the spine. Also, the spine protector extends down far enough that it also provides tailbone protection, which I did not expect but am happy about. That said, just be aware of what this is, and what it is not. For example, the armour is plastic, not carbon-fiber, so if you are a purist or absolutely need carbon-fiber don't expect all the same properties from plastic. However, with my leather jacket overtop this, I have no doubt that it would save me broken bones or worse should I ever get thrown against a car or cement, etc. Also, the fabric that connects the different sections of armour is mesh. It's not flimsy and it feels well made - but it is still mesh - so you just need to take reasonable care when you're putting it on & off & storing it, so that you don't snag it on your watch, etc. But that is common sense (don't expect mesh to have the durability of leather). One other reviewer said he wears it in the summer without any jacket overtop; yes, you COULD do that and it would definitely stay in place and provide more protection than, say, a T-shirt. But it still wouldn't protect your un-armoured skin areas from abrasion if you went down (not to mention, once the mesh tore off, so would the armoured sections). So I would personally never do that, I think it would be foolish). Overall, I feel enormously less vulnerable (and thus more relaxed) while wearing this, particularly when I'm cruising down the highway in heavy traffic at 100 or 120 kmph. I can't see any downside to it really, and for only about $150 it's some of the best insurance I can think of. Arrived quickly and well packaged. Very happy with Canada's Motorcycle too.
Date published: 2015-11-04
Rated

5

out of

5
by
wr-twistandgripper
from
Hit a tree doing 70km/h
I bought this after returning the pivotal roost guard because I felt it didn't have enough protection and am I ever glad I did. The other day I hit a tree and pretty much wrote off my bike. I was ejected from the bike and took the tree to the chest, as I hit the tree i could feel the jacket spread out the impact, and as I was flying through the air I thought to myself "man am I ever glad i bought this" I hit the ground and after the spinning sensation and ringing in my ears wore off I got up pulled my bike out of the trees and walked it home.. I don't think i would have had the same outcome with the pivotal roost guard. I'm not sure how I was lucky enough to walk away from that crash but I think the titan jacket had something to do with it. This is a solid piece of kit, spend the little bit of extra cash on it, I still broke and bruised a couple ribs but the $40 dollars more saved my life.
Date published: 2013-07-24
Rated

5

out of

5
by
G Daddy
from
Tested in an Enduro crash
As the saying goes, "if you don't go down, any gear will do. If you fall, no amount of protection is enough". I recently bot the size XXL Sport Jacket after consulting Fortnine's Customer service. At 6', 230lbs, the extra length in the sleeves & body was much needed as I have 35" arms & a long torso (short 30" legs). The Fox jacket is better than the other premium brands because it has broader chest pads, wider adjustment straps, a removable & adjustable back piece, protection for the humorous & a kidney belt with dense padding. The belt also serves to maintain posture & support for longer rides. If your on a budget, there's' plenty of reliable Youtubers who recommend the knockoff brands available on Amazon. They're about half the price, and if you get your hands on one, you'll notice its lower quality materials. That said, for body armour, lower quality protection is still better than none. I recently survived a single track Enduro crash up near Squamish , BC Canada. A good friend lent me his CRF150 to practice on. The suspension set up was not ideal for my weight, but regardless, its still always 80% the rider & 20% the equipment, right ? Anyways, I went wide on a narrow technical trail & the front tire broke loose & I fell 10-15 feet on the downhill side or the mountain. It's always the downhill side, LOL. All I remember thinking was, when will I land ? When I did, I felt my chest & ribs land on a rock & my leg hung up on a tree branch , otherwise I'd likely fall further. Bottom line, not a scratch where the Fox Titan Sport Jacket covered me & it especially protected my spine. I had some serious subcutaneous hematomas. Lucky for me the Squamish Hospital was only a painful 15 minute drive away. I received a good examination, a dose of morphine, anti-inflammatories, Xrays, ultrasound & a 2 hour drive home to recover for the next few weeks. Some advice for myself, All the Gear All the Time, & know your terrain. Attached picture off my hip injury, unfortunately I had no hip & thigh protection so I've already ordered a pair of Klim Tactical shorts.
Date published: 2018-09-14
Rated

4

out of

5
by
Brule
from
Everything but the belt
This jacket fits great I'm 5'11 and 225lbs with a bit of a gut. I bought the xl and it fits great ever place but the belt it needs better velcro it can pop open bending over nothing a snap or two won't fix but if there was 2"-3" more velcro this jacket would be a 5 star.
Date published: 2015-09-11
Rated

4

out of

5
by
Canary
from
Good protection
This jacket fits me very well. The armor is in all the right places. When I am riding I forget that I am wearing it. Maybe the zipper could be better but so far I have had no problem with it. I added stylish because it makes me look like I know what I'm doing and I would wear it to dinner but the wife won't let me.
Date published: 2012-04-30
Rated

4

out of

5
by
jp19
from
Great so far
bought this for some protection, luckily haven't had to test out its protection abilities so far, good zipper and general build quality (off-road riding) Medium size fit me good - 5'10 - 140 lbs, athletic build
Date published: 2015-08-08
Rated

5

out of

5
by
Cool Rider
from
Good bang for the buck
This item was a good price for what it was. I ordered a xl and it was a bit small so I returned it for a xxl. The return process was really easy. I'm 6'1' about 200lbs and the xxl fits nicely.
Date published: 2018-03-14
Rated

5

out of

5
by
adrianleekh
from
Excellent product! Side plus = confidence boost!
Definitely worth the purchase. much cheaper than ambulance rides. Had many endos and crashes into trees and came out smiling. Makes me look good too (kind of like a black storm trooper). Fit is great. I'm 5'7" and got the medium. Definitely better for it to be a bit too loose than a bit too tight, because it has straps for tightening. Would definitely buy this again.
Date published: 2015-06-02
Questions
wondering what size to get im 15 about 5'4 and 115lbs average build and dont know what size to get
We would recommend using the size chart on the product page. If you take your chest, sleeve, and waist measurement, you should be able to select the correct size
Date published: 2019-05-10
Is there a women's version of this? Or could I get away with a small (sizing/boobs)? I'm about 5'5", 120lbs.
Unfortunately, there is no women's version of this jacket. However, the smallest size could very well suit you if your measurements appear in the size chart.
Date published: 2019-08-26
Looking for the size chart, can't find it
The size chart is a blue link located just below the size selection box.
Date published: 2019-10-02
Is this compatible with a neck brace?
No, you can't fit most neck braces on with this jacket
Date published: 2019-10-16
Want this for snowmobiling. 5'10" 225 lbs. Will a long sleeve jersey fit under this?
I'm 6' and 215 and a long sleeve (although not thick) jersey fit easily under the protector. 
Date published: 2018-09-20