This product has been discontinued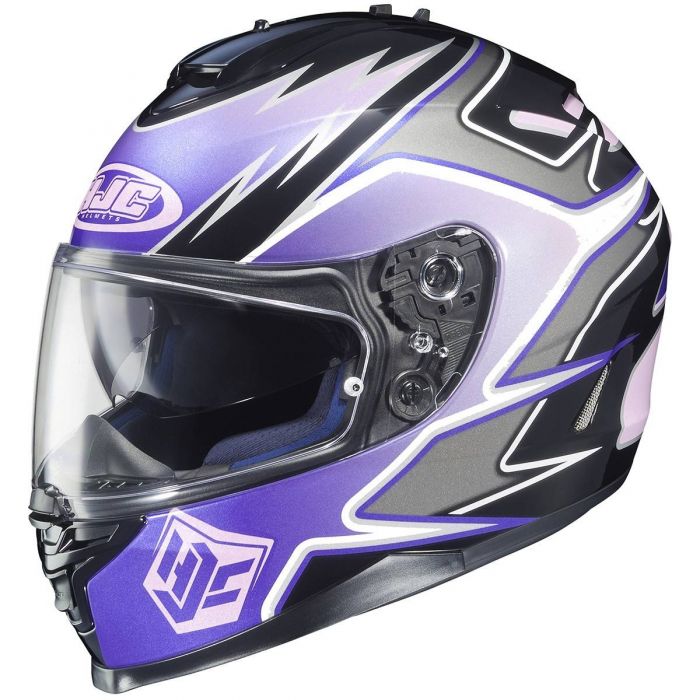 HJC IS-17 Intake Helmet
Item # 172616
Description
HJC IS-17 Intake Helmet
Features:
Advanced Polycarbonate Composite Shell: Lightweight, superior fit and comfort using advanced CAD technology.
Optically-Superior Anti-Scratch Pinlock Face Shield (HJ20M) features new 3D design with 95% UV protection
Pinlock 100% Max Vision fog-resistant lens sold separately.
One-Touch Integrated SunShield: 3-stage adjustable, smoke-tined and anti-scratch SunShield deploys quickly and easily.
RapidFire™ II shield replacement system: Simple and secure shield ratchet system provides ultra-quick, tool less removal and installation for efficient operation.
SuperCool® Interior: Moisture-wicking and antibacterial fabric.
Glasses Groove can accommodate riders who wear glasses.
Crown and cheekpads are fully removable and washable
Integrated air deflector is included
All IS-17 cheekpad sizes are interchangeable for a custom fit
Chin curtain sold separately
Standard Certifications: DOT approved
Reviews
Rated

4

out of

5
by
Spareknfarkel
from
Great helmet
I have had this helmet for over a year. A wide variety of shield colours are available. Pin-lok works perfectly. Bought the chin-curtain as well - it really knocks down the noise. Well ventilated.
Date published: 2016-07-05
Rated

5

out of

5
by
Z650
from
Nothing but good!!!
I bought this HJC IS-17, for an incredible sale price that I would never see in any stores around here, Scarborough, nor have I seen this colour. I mean, with tax, a $400 helmet on sale for $180? Are these guys great or what? I ordered from Fortnine Monday, and I got it on Thursday! I'll keep getting my gear from here, Thanks.
Date published: 2018-02-15
Rated

4

out of

5
by
Carm
from
Like the interior sunglasses. light weight.
The only issue I have is the bottom of the clear visor prevents you from a clear view when worn at eye level. Also the sunglass portion could be a little darker.
Date published: 2015-08-09
Rated

5

out of

5
by
marie-pier
from
Excellent purshase
Fast shipping. As described. Excellent price.
Date published: 2014-06-04
Rated

4

out of

5
by
Massey
from
Great value
Bought this for my girlfriend to ride pillion this year and probably get her own bike next year. Build quality and features are great for the price range. My only dislike is the sun visor mechanism. It's a relatively stiff spring-loaded mechanism, which in my experience is possibly susceptible to wear. I prefer my 5 year old Shark with the little lever on the side - gravity and a simple linkage, less to go wrong! Finish on this is excellent, and graphics are tasteful without being eye-wateringly pink. Shield is thick and optically clear (I.e. Not cheapo) and the mechanism for this seems solid. It clips shut which, in my opinion is unnecessary but it seems to be what manufacturers are doing these days. The clip is solid and easy to iterate with gloves on, so you couldn't all any more really. Hard to comment on the fit as we had tried on a lot of helmets and just knew hjc medium was good for her, so didn't measure and compare or anything. All things considered, a great helmet for a great price. It's not Arai or Shoei, but for the price, it's very good. I even considered grabbing one for myself to replace my daily helmet.
Date published: 2017-09-16
Rated

3

out of

5
by
Norm
from
Great graphics
I bought this helmet last summer and I'm on my second season with it. Yes its noise compared to other brands I owned, but I'm happy with the fit, the cool orange graphics, the sun visor, and weight.
Date published: 2015-05-21
Rated

4

out of

5
by
miller35
from
I just recently bought this helmet and for the price it does an awesome job. Too all the cry babies who complain about noise, what do you think is gonna happen? You're on a bike doing 60 to 110kms/hr. Its not that noisy people. Some people just complain way to much and for the price of this helmet its great.
Date published: 2015-05-14
Rated

5

out of

5
by
Shmurphette
from
Love it!!!
I absolutely adore this helmet! It fits super snug the padding is so comfortable I could wear the helmet day. The whole integrated visor was a big convincing factor for me, now I don't have to wear sunglasses that end up moving around with every head movement I make. It does fog up a little bit when I'm sitting at a red light but I just pop it open a crack and it goes away immediately. some people may complain about the noise but it doesn't bother me at all, I like hearing the wind while I ride.
Date published: 2015-06-02
Questions
Does the sun shield come in a darker version and if so, what choices do i have?
You can find replacement sun visors for your IS-17 here: https://fortnine.ca/en/hjc-rpha-max-hj-v7-sun-visor-sun-visor-shield
Date published: 2017-05-05
I just bought a HJC IS-17 XL helmet & it's pretty dark tight. Sure have problems putting eye glasses on after helmet is on. Wonder if I shud do what the other did & go one size larger (which'd b XXL) & where a beanie if I have to (like him).
Hi, If you wear your helmet around the house and find it is not comfortable, we would suggest going up a size. Please take into consideration that the padding will go down slightly after some wear. It is suggested that you wear nothing under your helmet and it fits your head snugly to provide the correct protection. ~Danielle, Customer Service, Canada's Motorcycle
Date published: 2019-01-18
For the HJC IS 17 you write : Face shield has anti-scratch coating and can be upgraded with optional Pinlock insert (sold separately NOT CLEAR ?? Does the helmet have a pinlock faceshield or not ????? It Should according to HJC .
Yes, the helmet does come with a pinlock ready face shield. However, you will need to purchase the pinlock insert for this separately.
Date published: 2019-03-14
is the HJC logo in the front a sticker or painted on? Cause I'd like to remove it
The logo on the forehead of the HJC IS-17 Tario is part of the graphic and cannot be removed.
Date published: 2018-12-27
Sur le site HJC c'est marque comme que il vient avec le Pinlock dans la boite. Mais dans votre description c'est ecrit que il faut l'acheter separe. Donc il vient avec Pinlock ou sans?
Bonjour Den NK, la visière Pinlock est incluse, parcontre l'insert Pinlock est vendu séparément.
Date published: 2017-03-28
Does this helmet fit speakers for Bluetooth?
Yes. I installed a Scalarider Q1 without a problem. Works really well with ear plugs in too.
Date published: 2018-06-06
What year are these helmets? I was told that the 2014 has the double d chinstrap and the 2015 model has the ratchet strap.
Not sure of the manufacturers date but I purchased it a couple years ago and it has a classic single strap, double ring loop. Just wish the tint was a little darker like my previous helmet. Other than that, great helmet. 
Date published: 2017-06-16
How many stop points are there for the visor? I am looking for a helmet that has a stop point to keep the visor open a crack at the bottom to allow a little more air flow. My current HJC doesn't have a position where the visor is open just a crack.
There are 5 opening points. I often use the first point which opens about 0.5 cm or about 0.25 inches 
Date published: 2019-04-23