Icon Airflite QB1 Helmet
Item # : 668155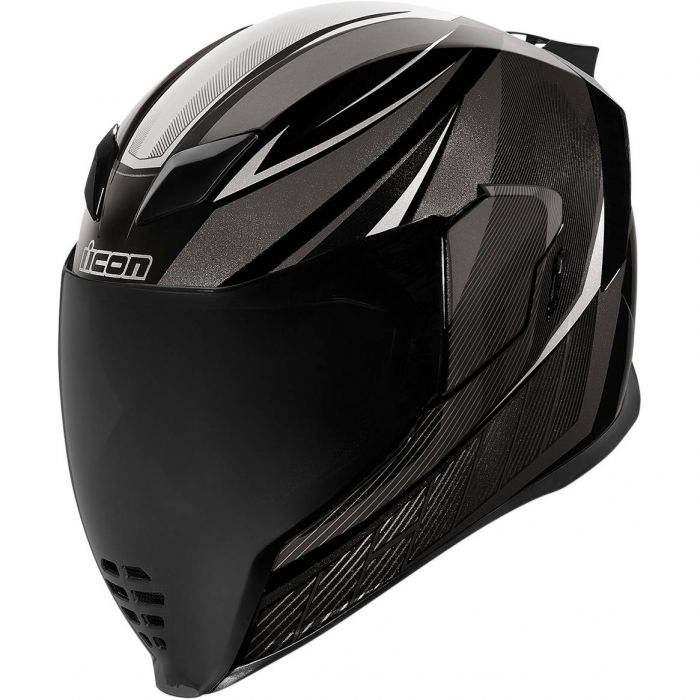 Icon Airflite QB1 Helmet
Item # 668155
Description
Icon Airflite QB1 Helmet
Like a quasar blast of energy emanating from the black holes of a newly-formed galaxy, the AIRFLITE QB1 is sheer power outflow. It's space, it's race, it's all of the things you want in a helmet and it looks damn fine, too. Put it on, go to the closest mirror, look at it, and QUIETLY repeat after us, "I am a tsunami of raw energy and this is my helmet."
Features:
Injection molded polycarbonate shell for strength
Multiple oversized intake and exhaust ports
Includes internal DropShield™ and Clear quick-change fog-free FliteShield™
Removable side plates
Molded breath deflector
Chin curtain
Removable Hydradry moisture wicking liner
Recessed twin channel supervent cooling system
All world standard, meets or exceeds the following: DOT FMVSS 218 (US), ECE 22-05 (EUROPE), SAI AS1698 (AUSTRALIA) and SG (JAPAN) safety and testing standards. Does not ship with SAI OR SG Certification stickers unless purchased from an authorized dealer in that country
Comparison Chart



Model
Airmada
Airform
Airflite
Variant Pro
Airframe Pro
Starting at
$250
$250
$350
$470
$520
Head Shape
Long Oval
Intermediate Oval
Intermediate Oval
Intermediate Oval
Intermediate Oval
Construction

Polycarbonate

Polycarbonate

Polycarbonate

Fiberglass / Dyneema / Carbon Fiber

Composite

Shield Model
Icon Optics
Icon Optics
Airflite Shield
Variant Pro Shield
Icon Optics
Sun Visor






Weight

3.78 lbs

3.68 lbs
3.79 lbs

~ 3.6 lbs

3.61 lbs

Certification

DOT, ECE

DOT, ECE

DOT, ECE

DOT, ECE

DOT, ECE

Venting
Better -

6 intakes, 4 exhaust ports

Good -

4 intakes, 1 exhaust port

Good -

4 intakes, 2 exhaust ports

Best -

8 intakes, 2 exhaust ports
Best -

9 intakes, 7 exhaust ports
Reviews
Rated

4

out of

5
by
Trevor
from
Awesome!
Excellent helmet, I bought it a month ago extremely light and comfortable, only complaint is a bit of noise at highway speeds
Date published: 2018-08-27
Rated

4

out of

5
by
Allrightfine
from
Cool helmet - fits the look of my bike
There's lots to like about this helmet for me. Now that's it's broken in the fit is perfect and my ears are back to normal. It literally formed into a perfect fit. I like that the inner sun visor is set to my left hand, and it works well at the 50 kph range with the main full face up, cause in the 30 plus degree temperatures we're having lately there's a little fog, which goes away when the full face is down at highway speeds. It's good in the rain and at higher speeds I just incline my head to the right and left to clear the water off the full face. Basically, I'm delighted with it.
Date published: 2018-07-24
Rated

5

out of

5
by
JoeHappy
from
Icon QB1
I have been using this helmet now for 1 month. Love it! The helmet is quiet with no buffeting with the screens up or down. I really like the secondary sunshield, it makes it so that i do not need sunglasses. The fit is very comfortable although i would really suggest going up a size. I would absolutely buy this helmet again. Fortnine was amazing as i did have sizing issues but their return policy is awesome. Thank you Fortnine
Date published: 2019-06-13
Rated

5

out of

5
by
Truealpha
from
looks amazing
love the look and finish looks like cobra commander lol
Date published: 2019-03-16
Rated

5

out of

5
by
DrSinisster
from
Unique Helmet
So far so good. Put about 16 hours of riding in it. Venting is good, style is A-1, fit was spot on for me in a Medium. Only advice I have is be mindful of the shield sticking out further than most helmets due to the unique design(banged into a few things lol). Other than that i'm happy with it.
Date published: 2019-07-01
Rated

5

out of

5
by
Fiendish
from
Great helmet, even better service.
I bought this helmet and it arrived faster than expected, one of the removable cheek pads was torn. Fortnine replaced it with no fuss and also sent me a more suitable size as the ones that arrived were to tight, no extra charge. I'll definitly be back for more.
Date published: 2019-01-25
Rated

4

out of

5
by
Kobie
from
More good then bad
Good: Styling is awesome Air venting is great Very comfortable once padding settled in Drop down shade is very smooth and comes down far. Bad: Quick Silver back orders for 3months Helmet is noisy. Considering the Pros and Cons I would not hesitate to buy again,, especially once the Quicksilver becomes available.
Date published: 2018-07-07
Rated

5

out of

5
by
Shane1900
from
Great styling
I bought this a few weeks ago and it's great styling wise and comfortable. Highly recommend this helmet for any rider
Date published: 2019-06-14
Questions
Will the Airflite Fit a Cardo Packtalk slim? looking to buy them both but not sure it will fit in the back slot
Cardo do not list the Icon Airflite as being compatible with the Packtalk slim
Date published: 2019-04-01
I wanted to know the fitment on this helmet as the airmada in xl is to small for me. Has it got the same fitment must i go up to an XXL size?
Icon is known to be a small fit. If you were a tight fit in the Airmada, you should most likely go a size up with the Airflite as well.
Date published: 2019-09-10
Does fortnine sell the different face shields and drop down shields?
You can find the available shields for this helmet here: https://fortnine.ca/en/icon-airflite-shield
Date published: 2018-03-12
Does the inner shade on the Icon AirFlite Rubatone model allow for eyeglasses to be worn?
Yes it does. I used this helmet on several 1000 km plus rides, and wore my glasses the whole time. A tinted shield is a good investment for the $50 it costs though. 
Date published: 2019-03-13
2 questions: 1. is it mat or glossy? hard to tell from pictures 2. is it quick release?
Its a gloss finish. It has an emergency red tab to pull on but it's the normal d ring securement u see on most helmets, no quick release. Hope that helped!
Date published: 2019-05-31
Does this helmet fit well with eye glasses on?
mine fit, not sure thats much help for you
Date published: 2018-12-20
Does the Battlestar 2 come with a clear face shield as well as the one displayed?
Yes it does 
Date published: 2019-03-14