This product has been discontinued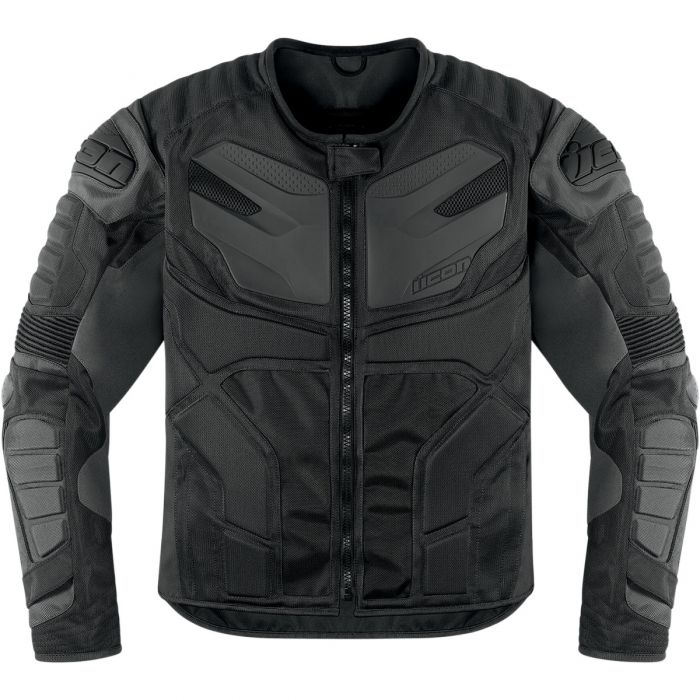 Icon Overlord Resistance Jacket
Item # 161400
Description
Icon Overlord Resistance Jacket
A supersport battle cry against the powers that be. The Icon Overlord Resistance Jacket is the next generation of street battle dress. Icon's proprietary Unit-Fused construction minimizes weight & increases comfort, all while adding a multi-tiered plan of defense. Injected shoulder, elbow, and back plates are composited with ballistic nylons and Fighter Mesh to form a tactical front. Internally, the Overlord Resistance Jacket is equipped with a full reinforcement of CE certified D3O® impact protectors - shoulders, elbows, and Viper back. Aggressive attack fit and dark hero design attributes ensure the Overlord Resistance Jacket defines street performance. Resistance, by any means necessary.
Features:
Icon attack fit
Durable textile chassis
D3O® certified elbow and shoulder impact protectors (Removable)
D3O® Viper CE certified back protector (Removable)
Icon external injected plastic protection on shoulders, elbows and back
Heavyweight ballistic impact panels
Integrated fighter mesh panels for venting
Gathered elastic flex panels on elbows and shoulders
Removable insulated wind resistant liner
Reviews
Rated

4

out of

5
by
SilverFire9
from
Good Jacket
It's a good jacket, but like everything else from Icon I've tried, they assume you're super skinny. I'm not, so the neck hole is a tad large, and the arms are a bit long, but they're no big deal and I still love the jacket. Very cool in hot weather.
Date published: 2015-08-08
Rated

5

out of

5
by
RD650r6
from
Great and comfortable!
The jacket fit perfect and I feel welll protected. I bought it on sale and i am really satified for the price and the product.
Date published: 2016-12-15
Rated

5

out of

5
by
Jord ZX-10r
from
Good attack fit, good protection
I'm 5'10, 162 lbs, slim athletic broad shoulders. Medium fits me perfectly and snug.
Date published: 2014-01-15
Rated

3

out of

5
by
RB
from
Not really all that ....
All I can say is that I really expected more. I used to race a little and know what good protection should be. My buddy has a Contra jacket and that is kind of what I was basing this one off from an overall quality standpoint. Like that, but just cooler looking and I was wrong. This is lightweight hot weather gear. Not something I would want to go down too hard with. I have't even ridden with it yet, but the zipper broke off on the front pocket already .. very lame. I put it on a few times to check it out, putting my hands in the pockets simply to see how it fit and the zipper split and the pull tab fell right off! The zippers overall are far too wimpy, the fit is pretty correct. I am 6' 210lbs ahtletic build and XL fits me perfectly. If I had pulled it off a rack to check it out in a dealership, I would not have bought it at the price it is. It looks cool and feels cool, but I wish I would have saved more and gotten a leather jacket instead. This is what happens when you buy online without checking it out in person first.
Date published: 2014-03-26
Rated

4

out of

5
by
Oversight
from
Great lightweight jacket
Bought this for warmer weather and I think it'll do the job. Of course it doesn't offer the level of protection as my leather, but is 10x better than the Icon Rig I usually wear in 30 degree weather. Note on fitment: it's Icon's Attack fit so if you have any doubt go a size up. I'm 6'3" 180lbs (lean and lanky) and the M is a tad too small. Would go size L if I were to buy again. Got it on sale and would buy again and again.
Date published: 2016-10-24
Rated

3

out of

5
by
Vince007
from
Quelques défauts
un bouton a brisé après la première utilisation...
Date published: 2016-06-26
Rated

5

out of

5
by
redskinStu
from
Very good top-end mesh sportbike jacket
The Overlord Resistance is a good quality jacket, although I'm of the opinion we pay too much for all of our cycle gear. The jacket is comfortable and the sizing chart was true to size for me. The jacket's mesh is quite breathable and the jacket also includes a cold weather liner, which I recently used and it made a big difference. The jacket has two sets of armor, internal and external, and feels very solid and rather heavy, especially the back which has an external hard surface. I'm happy with my purchase.
Date published: 2016-06-03
Rated

1

out of

5
by
Mark CB
from
Great design, poor quality
Great design, poorly made. Mine arrived with a broken zipper, a missing snap so I couldn't snap in the liner. Poorly put together, badly sewn seams. Icon needs to step up their quality control in China.
Date published: 2014-01-28
Questions
wI'll the Stryker ce back protector fit in this jacket
The Icon Stryker ce back protector has been designed to fit directly into certain Icon jackets and should fit the Overlord jacket.
Date published: 2015-06-02
Do you have this jacket in size medium?    i would like to buy it but i´m only 5´7  150 lbs i think the large you have in stock will be to big or the size small would be to small?  thank you 
Hey Mike, I just recently bought this jacket in an XL. I'm 5'11 and 240lbs, it fits beautifully, nice and comfordable. I would honestly suggest a L at your size, worst case you can always exchange by sending it back. Unless you know your exact measurements and have corresponded those sizes with Icon gear, I would shoot a size bigger than what you are aiming for. Icon's gear tends to be snug.  Just personal preference, happy hunting for gear! You can't go wrong with this jacket.  John
Date published: 2016-09-13