This product has been discontinued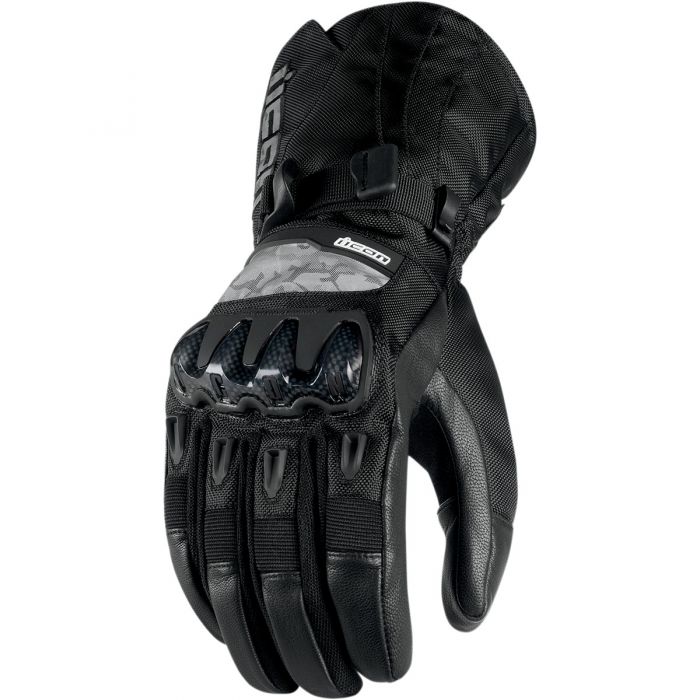 Icon Patrol Waterproof Gloves - 2016
Item # 38310
Description
Icon Patrol Waterproof Gloves
Eighty percent of the controls on a motorcycle are operated with your hands. The Patrol waterproof gloves were designed to keep you in control when the weather turns foul. The fully insulated and waterproof design provides maximum comfort and protection. The chassis is not only waterproof but features a mild precurve design to reduce hand fatigue. The palm is constructed of Battlehide goatskin for optimum feedback yet maintaining durability. Reinforced rubber knuckle armor covers the backhand along with a reflective graphics package. Finally, an integrated goggle wipe built into the thumb helps keep your shield clear.
Features:
Waterproof textile chassis
Abrasion resistant premium grade Battlehide goatskin palm
Reinforced rubber knuckle armor
Reflective graphics
Goggle wipe on thumb
Precurved palm and finger design
Reviews
Rated

1

out of

5
by
Nordiquefan
from
Not the slightest bit waterproof
I can't imagine what type of rain some people are riding in. Perhaps their bikes have better weather protection than my DL650. These gloves are not even a little bit water resistant. I am unable to cover my 30-40 minute commute in a light drizzle without the gloves wetting out. This is my first ICON product and as far as quality goes, they have demonstrated that ICON is not a brand for me. There are seams separating after only a couple months of use in spots that don't see any abrasion whatsoever.
Date published: 2016-04-04
Rated

1

out of

5
by
lacikuss
from
Soaks in rain
I bought these gloves in April and have been using them intermittently as they are intended for more extreme weather conditions. We haven't had much rain this spring so the gloves were ok in colder riding situations but last week (July) we got some heavy rain and to my disappointment these just got soaked in water almost like a sponge. This are being returned as we speak.
Date published: 2016-07-14
Rated

5

out of

5
by
JamesV
from
Solid construction
Bought these gloves for a cross-Canada trip. Tried them out on a quick 1200km long weekend trip up to Algonquin park and was not disappointed with them. We had a bit of rain and gloves stayed dry. Can't say I have tested them in full on rain yet. Comfortable, warm, subtle and nicely adjustable. Very happy with this gloves.
Date published: 2016-05-12
Rated

1

out of

5
by
Jordan
from
Not made for human hands
just got these yesterday, they aren't made for humans, the thumbs seem to be made for orang-utans, I feel my hands are normal, my thumb reaches to about midway between the first and second joint on my index finger, the thumbs on these gloves stretch out to the last joint on the index finger. they're about two inches too long, which makes working turn signals, horn and starter buttons very difficult. maybe I got a bad pair, maybe I have stubby thumbs, but this is the only pair of gloves I've ever had that were like that, they are warm though. Also there should be a "fits oddly" option here, cause these do.
Date published: 2016-05-06
Rated

2

out of

5
by
Bobby
from
NOT waterproof!
These gloves are NOT waterproof!! I rode whole day in a medium rain. After just few hours my hands were soaked as if I was in a hot tub for at least half hour. I have non-waterproof gloves that perform better in rain. I have few other pairs of Icon gloves and two Icon jackets and I love them. I am a big fan of Icon but these gloves are a HUGE disappointment! They are bulky and uncomfortable. To be fair I should mention that they have good features as well: they look great and the wiper on the left hand helps for cleaning the helmet visor as you ride. But the main reason you buy waterproof gloves is because you need waterproof gloves. NOT recommended!
Date published: 2015-01-07
Rated

2

out of

5
by
Motodude10
from
Not worth $100
Bought these gloves 3 weeks ago and the seams are already ripping on both thunbs. Not worth the $101 I paid for them while they were on sale. Also not waterproof.
Date published: 2016-05-05
Rated

4

out of

5
by
plooba
from
Good value - hit or miss fit
-Seems to be best value for this level of build quality -I would consider this water resistant, not waterproof. After 30-40 min in moderate rain you will feel moisture. Definitely better than the regular vented gloves though. -Reasonably warm. Coldest I went was 1-2 degC for about a hour and my hands were OK. These are too warm for when it goes above 20 degC in the sun. -There are weird tight spots for example around the base of the thumb. The material bunches up a little at the fingertips so at first it's hard to hit your controls. The knuckle guard creates a pressure point. Not the most comfortable gloves. -I got a little tear around the tight spot of the thumb. I'll probably fix it with shoeGoo or something...
Date published: 2016-05-02
Rated

4

out of

5
by
Yanick
from
Excellent glove for wet and cold weather
I originaly owned a pair of large, but the were a little to tight and because of that they were cold (inger end). I switch to XL and the fit very well. Will test them for cold pretty soon but i'm pretty sure they are going to be ok. The fit is good... the thumb is a little long... just a bit. jus not perfect.
Date published: 2016-04-17