This product has been discontinued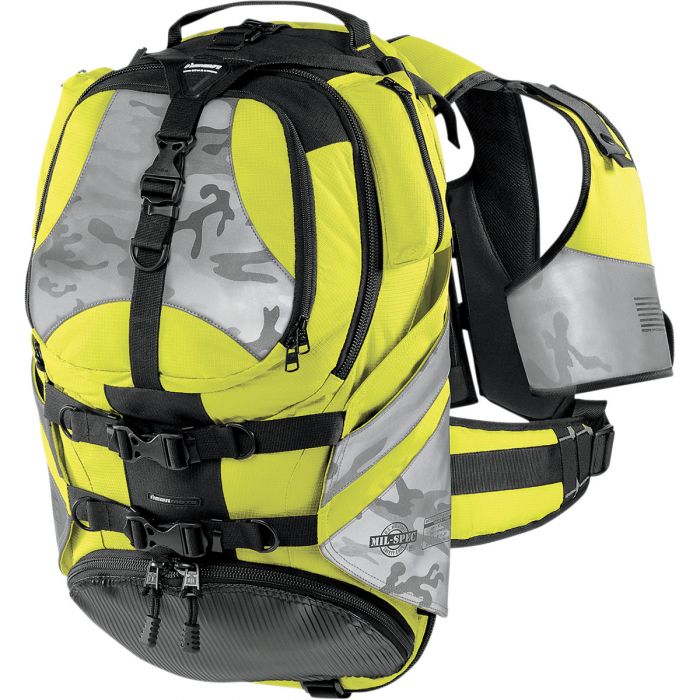 Icon Squad II Military Spec Pack
Item # 32117
Description
Icon Squad II Military Spec Pack
The Squad II backpack features unique reflective upper arm straps for increased visibility. Its unique comfort-fit chest closure system allows for a greater coverage area of reflective material while also securing the backpack in a way that is far superior to standard shoulder straps when riding. But wait, there's more! The Squad II has more stuffable pockets than Winona Rider in a jewelry store. Specifically a secure 15" laptop carry compartment and a mp3 player/cell phone compartment with ear bud cord management system. In addition, port and starboard wing compartments are designed for tool and first aid storage. When off the bike, the Squad II is configured to deploy a helmet storage compartment and has several tie-down straps allowing riding jackets and gloves to be secured. All of this results in a highly-specialized riding specific pack system with the appearance of a high-altitude jump rig.
Orange and yellow colorways meet PPE hi-visibility requirements
Heavy duty nylon rip stop chassis
Unique comfort fit chest closure system
Helmet storage compartment
Laptop compartment holds up to 15 inch laptop
Jacket carrying system
Imported
Reviews
Rated

2

out of

5
by
Anonymous
from
Almost there, but not quite
I ended up returning this bag for a refund. It had some really good ideas, but the lack of quality and some key features outweighed the good in the end. Good ideas: There was definitely a lot of thought put into making this bag motorcycle rider friendly. Obviously the hideaway helmet pouch, the winged straps for holding your jacket, and slots for tools, all great ideas. The best feature of all on this bag is the vest style straps. They totally relieve all the pressure off your shoulders. I've had many bags which pinch and make the shoulders ache on a long ride. Even with a heavy load, this bag is very comfortable. That said, having it a little bigger would've been beneficial. Good idea that no longer exists: The older runs of this bag had a visor pouch which fit the curve of the top of the bag perfectly, but apparently they deleted it from the design somewhere along the way. I'm sure it was a financial decision (if we save a patch of fabric on a million bags, we save a few hundred thousand dollars). It's a shame because that was the single most important feature that drew me to the bag. I always leave the house during the day and come home late at night, so I'm always swapping my visor. It would really help to make it clear in the ad that this feature no longer exists on the bag. So much thought put into those good ideas, how'd they miss these obvious ones: Although they put a lot of well thought out pockets on this bag, they failed to think of a few very important things that I feel should be standard. Every motorcycle bag should be at least rain resistant; that means seams should be taped and zippers should have covers. This bag has neither. The laptop pocket access from the bottom of the bag is stupid. There's no reason for that. They should have left the pocket accessible from the inside and velcro strapped so that it could compensate for larger sized laptops. And while not essential, I think it's always handy to have a small zipper pocket on the back panel inside the main compartment of the bag. Good for wallets and keys or any other items you don't want to have on the outside pockets of the bag. The quality: For $100+ bag, I expected better. There were a lot of loose threads and areas where material was stretched to fit so it was all contorted. And for a bag this price, I expected double stitched seams. I don't care how careful you are, if you're trying to get a bag over motorcycle gear day in day out, single stitched seams will inevitably fail over time especially when there's loose threads everywhere. I also noticed on the laptop pocket, there was extra material to accommodate for a thicker laptop, and it was not even on both sides. Overall, if you normally carry things in a back pack on your ride and it's really important for you to have a helmet pouch and jacket straps when you're off the bike, then get this bag, but don't expect it to last. That said, there's a lot of snowboard backpacks out there that have similar straps on the back and you can always clip a helmet bag to a backpack. All the other pockets on the bag aren't anything you make work on other backpacks. But if you care about getting your money's worth in longevity of the bag, I wouldn't recommend it. That said, I didn't actually own the bag for long and experience it fall apart, but I saw enough to say it is definitely a risk. If you look at youtube video reviews, there's some instances where people have complained about the strap tearing off.
Date published: 2012-05-07
Rated

4

out of

5
by
Anonymous
from
Best Riding Pack
This pack is great. Very comfortable when on the bike or just walking around. The high-viz and pack combo is a great idea. The storage on it is well thought out and labeled (nice touch). The shield storage compartment and velcro id pockets are personal favorites. The pack seems bulky when you handle it but when you wear it you don't notice because of the chest harness. Couple of small issues, being really picky here. First, the helmet storage compartment won't fit helmets with visors,(I have a Icon Variant). Second the arm bands are great for night riding but if you have a bulky cold weather jacket they are difficult to get on without someone helping you. With a slim fit or mesh jacket the bands are much easier to get on by yourself. Overall though, this is by far the best riding pack I've come across.
Date published: 2011-04-25
Rated

5

out of

5
by
Biker's girl
from
Love it!
I got this for my boyfriend and although he hasn't seen it yet, I was very impressed by the quality. Tried it on someone and it fits very well - great conception. I purchased the black one and it looks amazing. Very cool looking.
Date published: 2010-12-24
Rated

1

out of

5
by
Chris
from
Icon Squad II - Disapointed
I've owned this product for a few years now. I initially bought this bag because of the described volume it offered and the military specs, I assumed durability wise, it's suppose to offer. I commute to work with this bag, so approx. 20 KM back and forth. I've had to bring the bag the 1st year to the shoe repair, since no sewing shop could fix my problem, since both shoulder straps started to separate, showing the inside padding. I've also sewed back, myself, the top handle which was was getting undone and the interior pocket in the front which also, had stitches that did not do their job. For a backpack supposed to have military specs, it does not seem like it's been tested in the field, at all. I've called the company to find out if anything can be done and got the usual first year warranty is over so there is nothing we can do for you... This is a company that does not stand by their product and I find that disappointing. I know they have good products but they have missed the train with this backpack!
Date published: 2015-10-29
Rated

3

out of

5
by
MariejAl
from
Haute visibilité sécuritaire.
Le sac est lourd et les manchons sont carrément gênants mais se retirent facilement. Je porte ce sac pour aller travailler les matins, avant que le soleil se lève... Je suis visible de tous les côtés et c'est ce qu'il faut. Dommage que ce sac soit fait de tissu aussi lourd, qu'il ne soit pas imperméable ( achetez une housse de sac de randonnée, ça sauve des cellulaires), et que ses coutures soient un peu lâches. J'ai aussi retiré l'espèce de grosse poche de casque aec un ciseau pour ôter du poids. Je peux mettre mes pantalons de moto lorsque je reviens en apres-midi (plus chaud) dans les courroies derrière. La pochette supérieure est pratique pour les clés, cellulaire et portefeuille. La seule bonne raison d'acheter ce sac plutôt qu'un autre est sa grande visibilité.
Date published: 2018-10-17
Rated

5

out of

5
by
Vivi
from
Extra
Visibilité Confort polyvalence Et capacité de chargement Épatant ;-o !
Date published: 2018-08-26
Rated

4

out of

5
by
Funkman81
from
Decent
Decent bag can tell it's not well made but aslong a s be ur moderately careful it should stand up... Used daily for 2 months so for so good... The squad 3 I also have it's a lil more durable but not enuff for space for my commute
Date published: 2017-08-11
Rated

1

out of

5
by
DukeTillicum
from
Total garbage!
I got one of these from another store back in 2012, within a fe months it was falling apart. Took a month of battling with Icon to get them to cover the warranty before they would give me a new one, which they forced the store to deal with. The replacement started to fall apart even faster and when i went back to Icon, they dragger their feet for a couple of months, and then told me the problem was my fault for overloading the bag and it was now out of warranty so no replacement!? If i could ride with it, how was the bag overloaded? I contacted them MONTHS prior to the warranty expiring but they waited until after the purchase date to respond with a definitive answer, which was go pound sand. Couldn't have been a worse purchase or experience. Will never have anything good to say about this bag or Icon's products and customer service. Buy something better from a better brand!
Date published: 2016-10-05