Klim Outrider Pants - 2017
Item # : 543659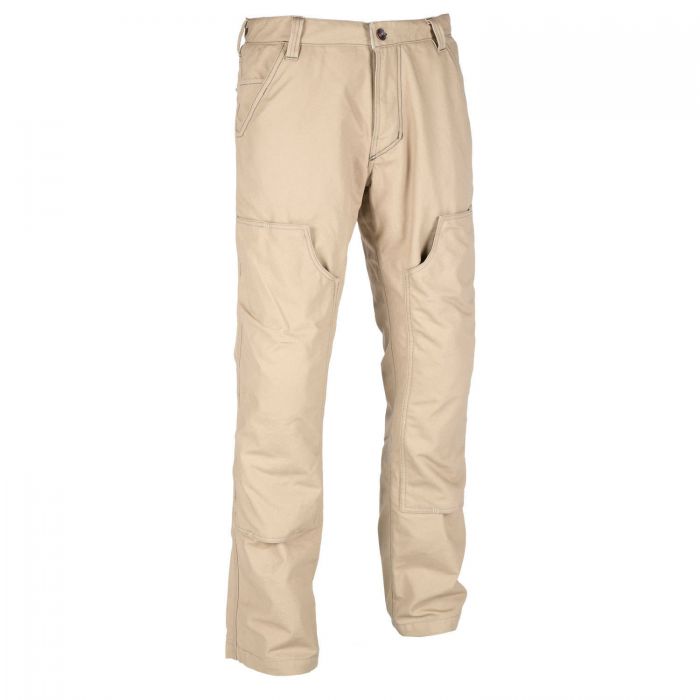 Klim Outrider Pants - 2017
Item # 543659
Description
Klim Outrider Pants
The Outrider is designed to traverse the environments and demands of the multi-sport enthusiast. Scrambling out to your favorite fishing spot, hiking from the trailhead to the lake at 9,000ft, or cruising the boulevard to the pier at sunset. Wherever your next odyssey takes you, the Outrider is ready for anything. Built with the quality you expect from KLIM®.
Features:
Tough Nylon Cordura® Cotton Canvas Construction
YKK® Zippers Throughout
External Pocket Drain Holes Safety
D3O® Ce Level 1 Hook And Loop Hip Armor (2)
D3O® Ce Level 1 Hook And Loop Knee Armor (2)
Armor Can Be Removed And Replaced While Wearing The Pant Cargo
Two Jean-Style Hand Pockets And Rear Pockets, Left Thigh Mobile Phone Pocket Fit/Style/Comfort
Timeless Plaid Internal Accents
Leg Cut Compatible With Off-Road And Adventure Boots
Hip &Amp Knee Armor Has Minimal Impact On Fit/Comfort
Reviews
Rated

4

out of

5
by
DaddyDacs
from
Exactly what I'd hoped/signed up for! Great value
Rider Specs and Sizing: - 6'2", 34.5 - 35" inseam (all leg) -Typically wear 34x34 Levi 514's - Purchased the 34 Tall variant in dark brown Have been shopping for new riding pants since early last season (2017) and had my heart set on the Klim K Fifty 1 / K Fifty 2 denim pants due to their level of protection and casual street style appeal. Unfortunately the price tag of the K Fifty series kept me away. I discovered the Outrider pant during some pre-2018 season research and was very excited about the prospect of a Klim quality pant at a more reasonable price point. Received the pants late April and have only about 150km's on them so far (2-3 separate rides). So far I LOVE THEM. They are exactly as described - essentially double layered heavy duty Carhartts with knee and hip protection. They're as comfortable as Carhartts, if not a little more, and I feel comfortable that the abrasion resistance of these pants would hold up in slide occurring at legal/slightly above speeds. I would call the fit "Casual Maritime Fit", something a regular guy would wear doing yard work or out to the camp - definitely not excessively baggy nut not skinny jeans either. I can walk into the Superstore/Sobeys and feel like I came from a respectable job site vs. an alley street gang. The knee armor is extremely easy to re-position and work with. I consider it realistic to remove/add the knee pads throughout a long riding day without being considered a pain. The sizing is bang on - I followed the the "Sizing Wizard" available on Klim's website and ordered the 34 Tall, which fits perfect. A little longer than my 34x34 Levi 514's which is exactly what I wanted (so that the cuffs don't ride up to mid shin while on my Bandit 1250). Having a 35" inseam instantly rules out a lot other riding pants on the market therefor I really appreciate Klim's Tall offerings. Warmth: I've only had these out for a few rides, 1 of which being a 100km straight shot from Fredericton -> Saint John NB in late April (~ 9-10 degress C). On this occasion, my legs definitely felt cool, especially where my legs hug the tank) but this is to be expected from a non-insulated denim-like riding pant. They were certainly warmer than a regular pair of jeans but not as warm as my Tourmaster Overpants. For regular warm-weather riding in New Brunswick I think this will be bang on! Overall, I'm very happy with my decision and would certainly recommend to anyone looking for a semi-casual looking riding pant offering great protection at a good price. My only wish is that the pant offered tailbone protection (similar to the K Fifty series) however I knew that when I pulled the trigger so no points lost. Misc. -The cellphone pocket on the left hand side is great (large enough for a modern day smartphone). Perfect spot/function for stashing your phone while riding. I use a Pixel XL +lifeproof case and it just fits (slides in/out without hassle) but anything larger wouldn't fit.
Date published: 2018-05-10
Rated

5

out of

5
by
Greg
from
Stylish and protective riding pants
I bought these for summertime riding. After examining these I feel they will provide similar levels of abrasion and crash protection to decent quality textile riding pants. They fit like good regular pants, unusual for motorcycle pants that often fit poorly, and are very solid in their construction. The material feels very strong and abrasion resistant and the armor is solid and fits well. The Klim quality is evident. I would not hesitate to recommend them. The only negative is the material is a magnet for pet hair. Don't get the black if you own a pet that sheds unless they have black fur. ;)
Date published: 2018-02-18
Rated

4

out of

5
by
Night Ranger
from
Great pants, but don't use the Klim size chart
Might be 5 stars, but I bought these in the winter and I haven't used them yet, so I reserve judgement. They fit very well, but DO NOT use the Klim size chart -it's ridiculous. My usual size (for a loose fit) is normally a 38 tall. The size chart shows that a Klim 34 should fit. After reading several reviews warning about size, I ordered the 36 tall. That fit very well, -slightly loose, which I prefer. I would recommend ordering a size smaller than your normal size.
Date published: 2017-12-22
Rated

5

out of

5
by
G Daddy
from
Very good textile/cotton-Cordura riding pant
Bot the size 38 and they are a little big but I figure I'll need the extra room for mainly street riding, upcoming plans for ADV & dirtbike riding. To take some of the guess work out of sizing, I'm 6' , 230lbs, 36 waist, 31"inseam, 45" hips due to thunder thighs and a hockey butt. The best thing is my wife and friend had no idea they're riding pants. So far I've worn them about 30 hours but only 10 of those on my bike. They were very good in typical Vancouver weather which means cool in the morning 10 degrees heating up to 25 and cooling in the evenings to 15 degrees. I only ride for fun and when it's not raining. The D30 knee and hip pads are very good and I am confident they would protect in a fall. They are as good as my Forcefield armour but not as Low profile as the Revit Seesmart armour. The waist is relatively low but similar to most jeans today, not butt crack low but not a high rise either which I prefer. The knee width is 10" across and the same for the leg opening. They are not tapered in order to fit over off-road shin high boots . I haven't had a chance to try them off road yet but they look great with my RSD Tracker (black waxed cotton canvass jacket) Shoei RF 1200 helmet, Five city shorties, and Stylmartin Indian boots. I bot the black colour to go with my black and grey Klim Induction jacket. I also think the dark brown would've been a better choice because I tend to not have any colour in my wardrobe. My wife might taper the pants if I only use them for street riding. I'm sure these would be fine in cooler or warmer temperatures. I'll update the review when I'm off road in them.
Date published: 2018-07-01
Rated

1

out of

5
by
TienMaBiere
from
Drole de fit
J'ai pris des 36, trop serrer de cuisse, correct de la taille. Je prend des 38, meme fit des cuisse que le 36 ... mal fait. trop serrez des cuisses et trop grand de la taille. Prend des 40, l'impression de porter un abris tempo. Si tu as la shape d'une asperge, ce pantalon est pour toi, si non cancel.
Date published: 2018-05-09
Rated

4

out of

5
by
Jeremy
from
Great Product but room for improvement.
I love these pants but I wish the waist band had a little give and maybe a bit more airflow in the pants would be nice. All that said they are comfortable and I did pick the tan ones in hopes they would be cooler and so far they are. All in all, I'm vert happy with them.
Date published: 2019-06-18
Rated

4

out of

5
by
David
from
Just purchased these pants. They fit great. Can 't wait to try them out on the bike. Appear to be well made
Date published: 2019-03-14
Rated

5

out of

5
by
Yves35
from
Excellent every day ridding pants
This is my second pair, in the lighter color this time, so that they are cooler than my first black pair. I have used the first pair for a season. They are my standard riding pants. The knee protection can be adjusted in height to fit at the right place. They are fairly comfortable on and off the motorcycle. My only issue is that they sometime bunch-up behind the knee while riding. But they are very breathable, unlike leather. Easy to get into and out, so they are very practical. Given the construction, I expect them to last many years.
Date published: 2018-12-20
Questions
Do you sell the short versions of these? I bought a pair of pants and found them much too long for my liking. 
Unfortunately,these pants are only made in regular sizes or ''Tall'' versions. They do not make a ''Short'' version for these pants.
Date published: 2019-01-22
I just got mine in the mail, size 34. I love them, but the legs are a bit baggier than I would like ( I realize this is for adventure/off-road boots), does anyone know if going down a size will have a narrower leg? I have room in the hips/inseam to spare.
The leg openings are wide to fit over ADV or shin high boots. My Size 38' Outriders measure 10"at the knee and 10" at the bottom.  You can get them tapered quite easily for $15-$20. 
Date published: 2018-07-18
Are they waterproof or reasonably breathable?
I haven't had the pleasure of wearing them in the rain yet, so not sure on waterproof. As far as breathable, not overly. I would compare them the "Carhart" or "Toughduck" material. Durable, but on the warm side. That being said, I've been very satisfied with the pants overall. 
Date published: 2018-06-06
Will the black fade significantly?
Hang dry and they'll look good for years.
Date published: 2018-07-18