Magnum Sterling Chromite II Designer Series ABS-Specific Front Upper Brake Line Kit
Item # : 460846
$5.44 - $93.99
$3.77 - $93.99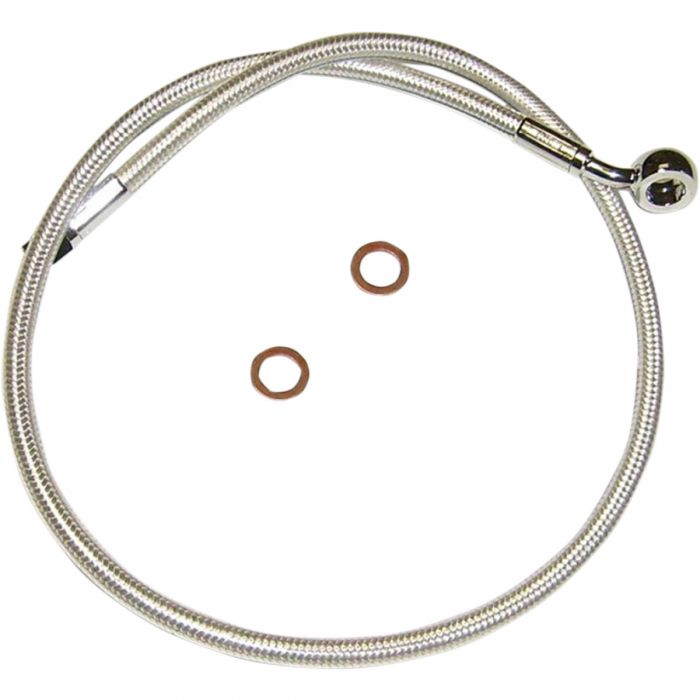 Magnum Sterling Chromite II Designer Series ABS-Specific Front Upper Brake Line Kit
Item # 460846
Description
Magnum Sterling Chromite II Designer Series ABS-Specific Front Upper Brake Line Kit
Manufactured with an enhanced construction designed to be compatible with Harley-Davidson ABS requirements for stock and alternate length brake lines
Brake kits consist of a direct fit lower assembly used in conjunction with alternative length upper lines
Choice of 35°, 90° or 180° upper brake line banjo angles ensure a great fit
-3AN connections make for easy installations
All fittings are highly polished and chrome or black chrome plated
The Industry's highest quality braid in three color choices to complement your bike: Sterling Chromite® II, Black Pearl and Polished Stainless, the brightest "stainless" braid on the market
Braid color and weave match all MAGNUM control cables and brake lines
Crystal-clear outer jacket offers exceptional protection against scuffing paint or chrome and will never discolor
Inner PTFE tubing braided with Kevlar® reinforcement provides the ultimate in high performance by greatly reducing line expansion
Exceed all DOT FMVSS-106 requirements
Made in the U.S.A.
NOTE: Magnum Shielding brake lines are designed to follow the same routing path as OEM lines. Upper, lower and mid brake line kits are sold separately to allow for a perfect fit. Non-stock applications require taking a measurement for upper brake line length and banjo angle to ensure correct fitment. Touring models require an upper, mid-line, and a lower kit - 3 kits per bike. All other models use two kits - one upper and one lower. A Designer mid-line is required for all Touring models equipped with ABS and connects to the Designer upper brake line in the fairing or nacelle. This completes the routing to the master cylinder from the ABS controller. Harley-Davidson motorcycles equipped with ABS (anti-lock brake system) require ABS specific upper and lower brake line kits. Failure to do so may result in compromised anti-lock braking ability. Magnum Shielding upper brake line kits manufactured specifically for these applications are identified with the letters "ABS" printed directly on the brake hose.