Memphis Shades Batwing Fairing
Item # : 140319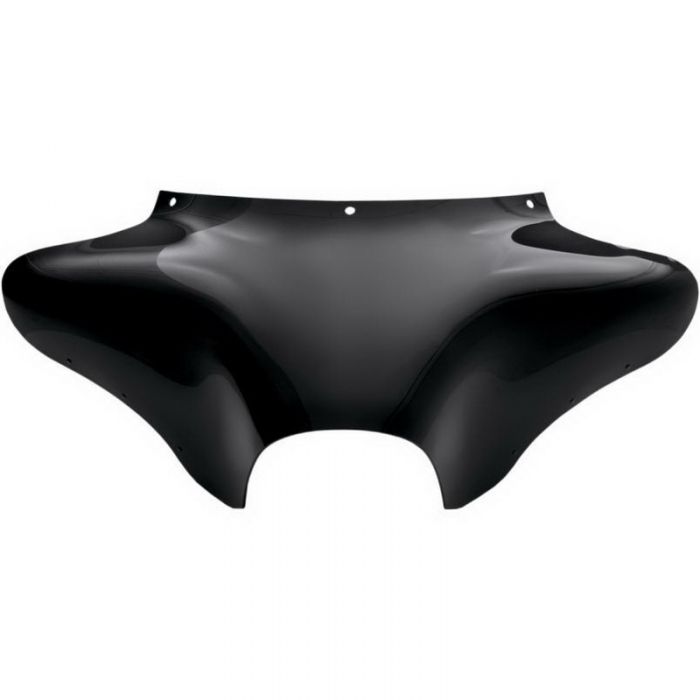 Memphis Shades Batwing Fairing
Item # 140319
Description
Memphis Shades Batwing Fairing
Features:
Aerodynamic shape with an inner structure constructed of black textured ABS and outer structure of opaque black Lucite with a finish that can be painted but is designed to look great as is
Fairing is predrilled and fitted with push-out hole plugs for easy deflector installation
Trigger-Lock mount kits (sold separately) allow you to quickly and easily remove or install your fairing.
Windshields are available (sold separately) in three heights and seven translucent colors
Optional wind deflectors (sold separately) extend the lower fairing surface for smooth and increased air flow
---
WHAT TO ORDER:
1. Batwing fairing
2. Trigger-Lock mount kit specific to bike model; Softail models will also require turn signal relocation kit
3. Windshield of your preference height and color
---
**Notes:
This is the fairing only, the windshield is sold separately
Batwing Fairing is not compatible with any other fairing windshields, wind deflectors, or accessories
Dimensions: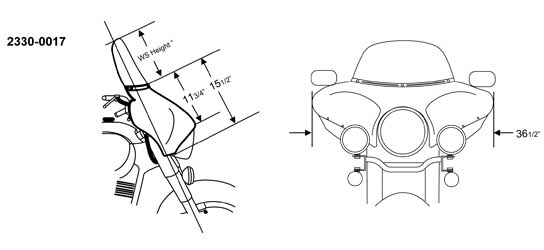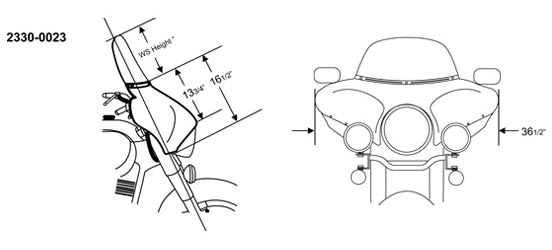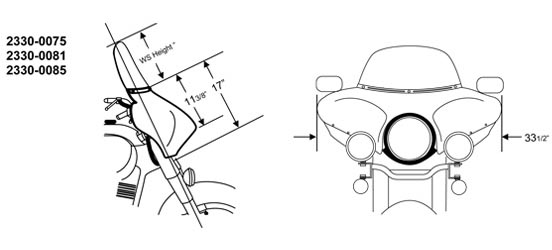 Reviews
Rated

5

out of

5
by
Dany boy
from
J aime le look
J aii acheter le produit et installer mais j ai pas rouler encore
Date published: 2016-02-07
Rated

5

out of

5
by
Rodbracing
from
Great Fairing and Great Site to Order it from!!!!
I Just put this fairing on my Yamaha V star today, it looks great and blocks the wind nicely. I went for a ride after I installed it was a little cool here in Winnipeg but I was much more comfortable with this unit than I was last weekend with my old windshield. I ordered the fairing, mounting kit, 6.6 inch spoiler windshield in smoke and the chrome trim. It was relatively easy to install. I ordered last Sunday and it arrived on Friday everything was packed very good in the box with wrapping and bubble packs. Thanks Canadasmotorcycle great job this won't be the last product I buy from you. (Vance&Hines pipes next when I can convince the wife lol)
Date published: 2015-11-14
Rated

4

out of

5
by
Rubber John
from
Batwing Fairing
Excellent value compared to Harley Prices. Fit and function are perfect.
Date published: 2015-11-09
Rated

4

out of

5
by
RobW
from
Excellent Addition
Simple to install, changed the look and feel of the bike considerably. Cuts the wind and helps keep the bugs out of my face.
Date published: 2015-08-31
Rated

5

out of

5
by
Loflier
from
Fit
Perfect fit and easy installation, the only downside is that there is no way to measure how large of a windshield to order. Ordering by trial and error can get expensive.
Date published: 2015-08-08
Rated

5

out of

5
by
grndbeach
from
Awsome product.
Great product. Very easy to install- probably took 15 mins. Looks great on Vstar. Did not have to relocate signals. Shipping was fast.
Date published: 2015-07-05
Rated

4

out of

5
by
Chop
from
looks great
Fitment is great. .I've always been a " no fairing " person . The wind buffeting takes a little getting used to. It has definitely prolonged my riding season though.
Date published: 2014-11-23
Rated

3

out of

5
by
Sammy
from
good fairing, poor hardware
The fairing itself I quite like, and it definitely cuts down on the wind and bugs to the face and chest, however the hardware and required mounting equipment leave much to be desired. The plastic nuts to secure the windshield to the fairing are lightweight and won't stay secure. I've ended up replacing them all with black bolts and rubber washers. Also the mounting brackets that come with it are quite cheap. Aesthetically and functionally they are really lacking. The 4 mounting points are all independent, not on a plate as my previous ones, and with buffeting 130 km/hr wind they will actually move and warp your fairing.
Date published: 2016-06-17
Rated

5

out of

5
by
Fred
from
great fairing for a Road king
it was delivered the next day. very solid and easy to paint. mounted it with OEM windshield brackets on my Road king
Date published: 2015-08-09
Rated

5

out of

5
by
James
from
Came as advertised!
Great website for motorcycle enthusiasts. Fitmemt was correct, stock was delivered on time and ordering was seamless. Installation was also a snap. I painted my fairing to match my bike and it was flawlessly applied. Great fairing. Looks & functions great.
Date published: 2015-06-01
Rated

5

out of

5
by
Copper1702
from
Looking good
I love this bat wing fairing. It looks great and sure helped keep the wind off me on those late October rides.
Date published: 2019-11-18
Rated

5

out of

5
by
Richard
from
Keep protected
The Memphis shades batwing fairing fits my bike well. It's definitely better then having a windshield in my opinion. I will never go back. My order was fast and well packed. Thank you Fortnine for all the parts that I bought this year. I received them on time and without any damage. I will be ordering more things in the future.
Date published: 2019-11-17
Rated

5

out of

5
by
Thorkel
from
Fantastic Fit
Assembly and Directions Were Easy To fallow and Well Explained. Fits Great And Looks Good
Date published: 2019-09-03
Rated

4

out of

5
by
Shadow36757
from
nice !
I purchased this fairing to replace the windshield on my 2009 Yamaha Vstar1300. I also purchased the 9in. curved windshield that goes with the fairing. Excellent quality.. didn't take much time to assembled and put on the bike. I am 6'3" and I found the 9" windshield does not protect from the coming wind. Memphis Shades should make a 12in. for the taller rider. I am taking on a 3,000 kms. riding next week and will send update to this review when I come back from the trip.
Date published: 2019-08-29
Rated

5

out of

5
by
Mike
from
Bought this 2 years ago and could not be more satisfied. I got the trigger quick release with it. I was skeptical since I read a couple reviews stating the batwing shook and moved a lot at speed. I have to say if that was true then it was not properly installed because mine is rock solid at 140kph plus.
Date published: 2019-07-16
Rated

4

out of

5
by
Jack
from
Good quality
Overall easy installation. Does take some time and adjusting to get it to fit right. Feels very solid at highway speeds.
Date published: 2019-06-28
Rated

2

out of

5
by
Mark
from
Not so good
Bought a Memphis Shade Batwing and mounting brackets. Arrived in a few days. The mounting bracket was not to specification but the right part number. Still waiting for the replacement after 20 days.
Date published: 2019-06-18
Rated

5

out of

5
by
None
from
I bought this a month ago and was so easy to install. It changed the whole appearance of my 650 custom.
Date published: 2019-04-21
Rated

5

out of

5
by
heavy chevy
from
perfect fit
blocks wind perfect , looks great and has a beatiful fit and finish
Date published: 2019-03-16
Rated

5

out of

5
by
Dominic
from
Livraison rapide
J'ai donné le fairing à ma conjointe pour noel. L'installation c'est bien déroulé mais nous allons tester le produit au printemps seulement. Produit de bonne qualité et aucun besoin de peinture si c'est ce que vous souhaiter.
Date published: 2019-01-22
Rated

5

out of

5
by
Bill
from
Great Fit.
I bought this three weeks ago and it fits my bike perfectly.
Date published: 2018-09-06
Rated

5

out of

5
by
Calvin
from
Batwing
Ordered Memphis Batwing and hardware installed easy and looks great
Date published: 2018-08-30
Rated

4

out of

5
by
Yvan
from
Tres fonctionnel
Très satisfait coupe bien le vent donné un beau look à la moto
Date published: 2018-08-26
Rated

4

out of

5
by
sorebutthappy
from
Great Improvement
Bought a month ago and realized after first install would need to relocate front signals. Customer service people said it didn't call for it but it did need it. Once I got that done installed quickly. Ordered the 5" wind deflector but lot of wind buffeting do will try the 9" and hope for less turbulence. Got caught in rain and stayed mostly dry except legs. Really changes the appearance of the bike from the original windshield.
Date published: 2018-07-28
Rated

5

out of

5
by
Dan1
from
super look
j`ai acheté cet objet le mois dernier, temps de livraison très rapide, objet arrivé intact , très bien emballé et protègé je suis très satisfait de mon fairing.
Date published: 2018-07-26
Rated

5

out of

5
by
Jimmy
from
Easy to install
Easy to install. Perfect fit. Improved riding comfort. Rapid delivery.
Date published: 2018-07-08
Rated

4

out of

5
by
sugarlumps
from
Good and not so good.
Had this for a few seasons now, so I've found a couple weak spots, but they're easy to fix. First, the nuts and bolts that hold the windshield in place are made of different material- the acorn nut is plastic and the bolt is metal. This is likely to prevent you from over tightening and cracking the windshield, but I think this could be prevented by including a nylon washer. Or maybe nobody makes an acorn nut with a sleeve like the plastic one that this comes with. Regardless, this brings us to the first problem. Because of the constant flexing that is placed on the windshield when transitioning from lower speeds to higher, especially when using freeways/highways and regular streets, these are prone to loosening. Because of the plastic nut, you can't use thread lock or lock tite. That means that you will likely lose one or more of these fasteners, usually at an inopportune time, like when you're riding!! How often does this happen? Call Memphis Shades customer service, and without any questions, they'll ship you a whole new set. Sounds fairly common. At least they did when I lost my first couple back in 2016. Potentially a major problem, but an easy fix. Maybe ask for replacements before you need 'em? After trying things like Teflon tape and plumbers putty, I finally got desperate and settled on an infinitesimally small amount of white glue. Who knows, maybe I'll have to replace the whole fairing when I need a new windshield. The next problem also comes from not being able to truly tighten the windshield. Once the tolerances start to loosen, you will notice that the windshield will start to squeak at lower speeds. Very annoying! This could've probably been avoided with a nylon washer as well. I was contemplating what to do about this and it got pretty convoluted and high-tech. But then I thought of something so low-tech, and yet ultimately very effective and cheap like borscht. Do you remember taking paper towel or toilet paper in school, wetting it then throwing it at the ceiling? Some of you remember. I don't cuz I never did. Other kids did, but not me. (straight face, blink-blink) Once that congealed mass dried, it was almost impossible to remove without a scrapper and some elbow grease. I soaked some toilet paper and rolled it into a "stick"(?) about as thick as my finger. This I crammed between the windshield and fairing until it couldn't be any tighter, and can only be seen if you're laying on the ground looking up at your bike. If you are in this position, then I doubt that unsightly modifications are your biggest concern at that moment. Not an ideal remedy at all, but in a pinch, it'll work until you can find the time and funding for something more to your liking. All in all, this is a very nice addition to my ride and as always, Fortnine was great to work with- good price and fast delivery.
Date published: 2018-06-19
Rated

5

out of

5
by
Hmatt
from
Very happy with the product. Easy install and quick delivery. Have the 9in windshield. May try the flare later. It does get a little pricey as you need to get all three items separately.
Date published: 2018-06-06
Rated

4

out of

5
by
Adam
from
Great product
I put this on instead of the factory windshield and I love it. Was a bit of a pain getting the trigger lock to line up on the bike itself but overall great. Cuts the wind down immensely. I originally bought the 5" ghost spoiler windshield for it but then went to the 9" screen and it's great.
Date published: 2018-06-06
Rated

3

out of

5
by
MrCowans
from
Looks great, but can't get rid of the buffeting
Love the look of this fairing. Ordered the tallest windshield I could get (9") but still experiencing buffeting. Also bought the lowers, not much improvement.
Date published: 2018-06-05
Questions
is there a mounting kit for the batwing for a 2007 kawasaki vulcan 1500 classic FI?
Yes there is! The polished trigger mount kit can be found here: https://www.canadasmotorcycle.ca/memphis-shades-trigger-mount-kit-polished-for-batwing-fairing-mek1947-2321-0175.html . The black one can be found here: https://www.canadasmotorcycle.ca/memphis-shades-trigger-mount-kit-black-for-batwing-fairing-mek1948-2321-0176.html
Date published: 2015-04-26
I have a 2006 Kawasaki Vulcan 900 with a Cobra light bar. The lights sit on each side of the headlight. Would this fairing still fit or do I have to remove the lights.
The bottom of the batwing fairing does the contour of the headlight. There should be no interference with the signal lights upon installing this.
Date published: 2019-09-18
Just looked at a Batwing on a Sportster but the model number was nothing like yours listed here. The number I have is (MEM 7081). Is it possible when I decide what I want,  can I get a price on wing windshield and mounts    
MEM7081 is equivalent to 2330-0075. Windshields can be found here: https://www.canadasmotorcycle.ca/memphis-shades-batwing-fairing.html . The trigger mount kits can be found here: https://www.canadasmotorcycle.ca/memphis-shades-trigger-mount-kit.html
Date published: 2015-04-26
What part would I order for the mounting kit and windscreen for a 2010 Road King classic with the quick release already on the front?
Here are the item numbers you require: Mount Kit: 140013 Batwing Spoiler Windshield: 139604 Batwing Fairing Windshield: 139811 You have a choice between 2 different styles of windshield. Enter the year, make and model of your vehicle on the product page for the mount kit to get the correct part
Date published: 2019-06-10
I have a 2004 Yamaha Vstar Classic 1100. Someone told me that I would need a turn signal light relocation kit so that the fairing would fit. If that's so, would you have the kit available?
According to the Memphis Shades Yamaha application guide for batwing fairings, the 2004 Yamaha Vstar Classic 1100 does NOT require a turn signal relocation kit.
Date published: 2019-08-10
I have a 2012 Kawasaki Vulcan 900 Custom. I'm having trouble finding what I need. As far as I can see, I need the fairing, mounts and a windshield. Could you help me with this? Also, do you ship to Norway?
Hi Geo, Sorry, we do not ship to Norway You would require the fairing, the trigger lock mount kit as well as the windshield either straight or the spoiler version. ~Danielle, Customer Service, Canada's Motorcycle
Date published: 2015-04-01
where to match paint batwing
We suggest you take the fairing to your local auto body repair shop, where someone will be able to match the paint for you.
Date published: 2015-06-02
Would this work with the factory windscreen mounts for a 2012 Yamaha V Star 950 tour?
No you need Memphis Shades brackets
Date published: 2019-10-09
Will the Batwing fairing fit a 2005 1500 Vulcan Classic? My online searches have not been successful.
The part number of the fairing needed for this bike is 2330-0023 (MEM7031). The Batwing trigger mount kit can be found here: https://www.canadasmotorcycle.ca/memphis-shades-trigger-mount-kit.html
Date published: 2015-05-10
Do you have this Batwing Fairing MEM7161-2330-0092 and the shades wind deflector in Black Matt ( Denim Black ) for my Fat Bob ? Ty !
All of Memphis Shades' Batwing Fairings come in gloss black. The wind deflectors are available in black but it's a translucent black plastic. Item #139848
Date published: 2016-11-06
how do i know what wind shield will fit a mem7031 faring
You have 2 options for windshields, item # 139811 is the regular shades for the fairing or item # 13904 for the spoiler shade, both will fit your fairing. I would also suggest the wind deflectors and trim for your fairing, item #'s 139848 & 153763. I am very happy with my Memphis Shade purchase and I know you will be too. PS: Don't forget the connection kit :)
Date published: 2016-09-13
Would you be able to inquire with Memphis Shades if you are able to order a Headlight block for moving the headlight forward on the Batwing. The overhang is quite excessive on my 2010 Dyna FXDC. The headlamp stock is 5-3/4.
On my FXDF the twin lights fit pretty flush, it looks like a factory piece. I have the fairing at the full fwd adjustment , try moving the slotted mounts back to get a closer fit.
Date published: 2017-05-25