Michelin Pilot Power Front Tire
Item # : 26389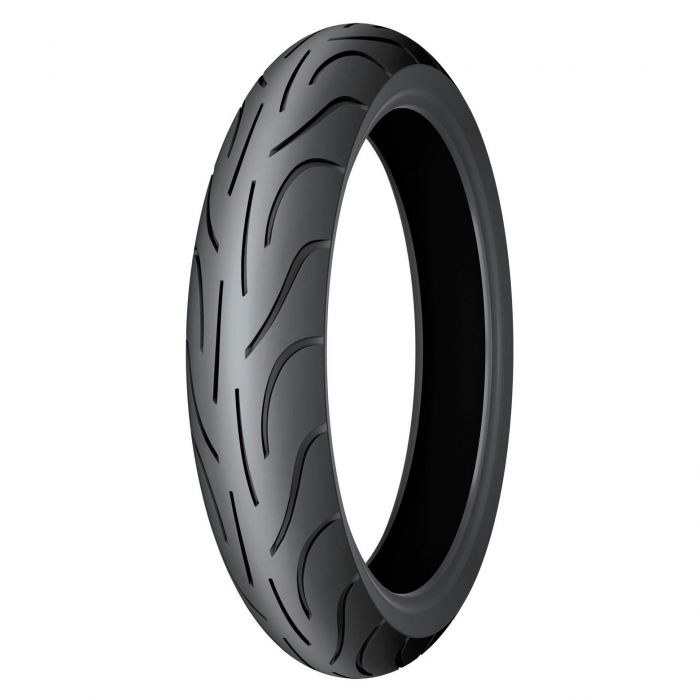 Michelin Pilot Power Front Tire
Item # 26389
Description
Michelin Pilot Power Front Tire
Click here to see the differences between the various Michelin Road Tires.
MICHELIN Road Tires Positioning Chart
You don't have to be world champion to get your hands on Michelin MotoGP tire technology. Pilot Power tires use a rubber mix that was originally developed for MotoGP racing, and a tread pattern that covers less than 12% of the tires surface. The result is a maximum lean angle of 50.6 degrees on dry pavement and 41.9 degrees in the wet, achieved with a stock sportbike. How did we do it? When your test riders are winning on 230-horsepower MotoGP bikes, you learn a few things about performance.
Rubber compound reaches operating temperature quickly
Incredible cornering grip
Impressive durability for a high-performance tire
Designed for high-performance sportbikes
Suitable for street or track use
MotoGP-derived rubber mix
Tread pattern covers less than 12% of the tire surface, for phenomenal cornering adhesion.
"These are the best street tires I've ever ridden in my life." Roadracing World
Synthetic rubber mix derived from MotoGP tire technology, formulated to maintain consistent performance even at advanced stages of tire wear.
50.6 maximum lean angle in the dry, as measured at the Michelin test track
Additional Information:
E-Spec: Honda
P-Spec: Yamaha

Reviews
Rated

5

out of

5
by
Anonymous
from
Good tires
These tires are good if your on the street they wont slip out on you ive been riding my daytona 675 in the twisties and have gotten over the the very edge of the tire no problem running 34f 36r psi i had pilot power 2ct on previosly and for fast strretriding i cant tell the difference to be honest i hope to get more milage out of these
Date published: 2014-05-31
Rated

4

out of

5
by
a CSBK Racer
from
Works on the Busa.
These work really well on my hayabusa, and even if you don't have that much skill at cornering as experienced riders, these help get your confidence up. For sure would recommend these any new - experienced riders out there. Cheeers.
Date published: 2013-01-30
Rated

5

out of

5
by
Soulfly
from
Second set of these tires!
These tires are the best bang for your buck! They may not last you very long if you like to ride on straight roads, but they are a wicked tire to have on when you may want to get into a corner harder than your usual riding. The grip will be waiting for you. If you don't get into corners that often, these tires may not be the best choice for you.
Date published: 2012-06-16
Rated

5

out of

5
by
IronCross_82
from
Pilot power rear tire
Have recently put 1,000 k on it and have no problems great Tire lots of grip
Date published: 2016-08-16
Rated

5

out of

5
by
Andrew79
from
Great tire
Tire seems to stick really well was driving in rain tonight and it didn't seem to affect traction too bad at all, worth the money
Date published: 2019-09-05
Rated

5

out of

5
by
Deevoh
from
Great deal!
I couldn't believe the price as it was much lower than any of the other online options I could find for this tire. The tire arrived quick too. Very pleased with my purchase.
Date published: 2019-08-31
Rated

5

out of

5
by
Bgetson
from
Excellent tire
Very Happy with this tire, warms up quick and just sticks. Have put on 1000km so far and is wearing awesome. Last tire was a Pilot 3, I don't notice any difference with these tires in the corners. These are actually better.
Date published: 2019-08-29
Rated

4

out of

5
by
Jolene
from
So far pretty sweet
It's been years since I have been on a bike, so I wanted a set of tires that would keep me planted on the road. So far I am definitely not disappointed. Even if they don't last long for the price they are more than I could ask for.
Date published: 2019-08-28
Questions
Hi what's the difference between the various specs for the front tire? I.e 120/70/17 e spec or 120/70/17 J spec Thanks
The specs are for vehicle-specific OEM replacements. E spec is for Honda and P spec is for Yamaha.
Date published: 2016-03-22