Michelin Pilot Street Rear Tire
Item # : 541751
$65.99 - $94.99
$41.99 - $94.99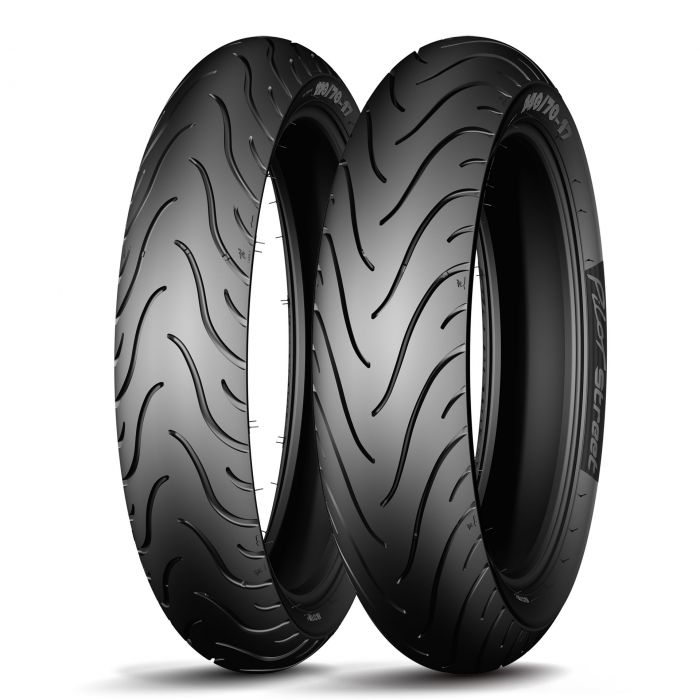 Michelin Pilot Street Rear Tire
Item # 541751
Description
Michelin Pilot Street Rear Tire
MICHELIN Pilot Street fits smaller motorcycles and is ideal for daily, urban and semi-urban use. It offers safety, durability and is fun to ride.
For daily journeys, reliable even on wet roads
The ratio of grooves has been increased to improve the balance between grip and wear. The grooves running from the centre to the shoulder facilitate the evacuation of water and offer good grip on wet roads.
Reliable for longer
Its excellent longevity, tested in Brazil by the MAUA Institute of Technology is a major performance factor for daily use. 35% greater longevity compared with the MICHELIN Pilot Sporty
A very attractive sporty aspect
A design directly derived from the Sport Touring Radial ranges and a tread pattern taken from the MICHELIN Pilot Road 2 tyre. Pleasure in everyday riding thanks to much appreciated handleability in traffic jams.
Reviews
Rated

5

out of

5
by
Dudley
from
Good Tire
Yes, these are not the latest greatest sticky buns, but I'm on a 35hp R3, and I wanted a tire that would last the 12-13000km like the stock tires. These have worked fine in a variety of conditions from 5 degree rainy mornings to some spirited sunny afternoon rides.
Date published: 2018-11-06
Rated

5

out of

5
by
Cleatus3
from
Smooth
Quiet,smooth, like a Michelin should be. Seems to stick well so far
Date published: 2018-08-26
Rated

4

out of

5
by
rideflight
from
Smooth litle tyres...
Puchased to install on a cbr 125r. These litle economical tires work very well whitin there limits. Great handling, perfect for small lighweight motorcycle.
Date published: 2018-08-25
Rated

2

out of

5
by
Bushwckr
from
Good for Longevity, that's about it....
These tires last only because they take ages to heat up. For most of your ride, tires will remain cold and slick with little to no feedback. Spend a few more bucks and go for the Bridgestone S20 Evo's. The S20's don't last for 10K, but the difference in grip is noticeable right away!
Date published: 2018-05-27
Rated

5

out of

5
by
Kate
from
great tire
I am on a 2015 R3. Just recently got this tire again after getting a nail in my tire where it wasn't patch-able. Before I got this tire I have the radial version of it. Since I'm mainly commuting to work with very slight curves I went with the bias ply version. So far haven't had any complaints about the bias ply variant of it. For commuting in the I would recommend the bias ply but if you're going to be riding more twisty roads definitely get the radial so you have more feed back in the corners.
Date published: 2019-08-02
Rated

5

out of

5
by
Leom
from
Great Value
Good price, fast shipping.Can't comment on wear. Traction seems good
Date published: 2019-06-12
Rated

5

out of

5
by
jaytaylor23
from
GREAT, INEXPENSIVE STREET TIRES
Great tires that are pretty standard for a street bike. FortNine has the best prices and shipping was so fast!
Date published: 2019-06-12
Rated

5

out of

5
by
Canadian triple
from
Best bang for the buck!
No lie! I bought these because the cost of purchasing new stock IRC tires from the dealer for my Kawasaki klx250sf is way too much. So far so good on dry spring roads with lots of dirt in the corners they haven't stepped out on me.I put a larger tire on the rear so the bike turns in slower(130-140). Not an issue with the tires.
Date published: 2018-05-11
Questions
I was advised that I should only get tires certified with DOT stamped on it. I believe Michelin is a trusted name and assume it will be properly certified but I don't see a mention of it. Is it DOT stamped.
The DOT code stamped onto a tire just represents the date that the tire was manufactured (by month and year). All Michelin tires, and in fact any other tires that we sell, are all made by trusted brands. Most of the tires that we sell are road approved, except for a selection of off-road tires, which are only for off-road use. Even these tires will have a tire manufacturing date stamped onto them.
Date published: 2019-11-27
I recently purchased the 90/90 18 Front / rear option to be used as front tire on my cb250 nighthawk, but the sticker and tire only have rear rotation direction, can these be mounted onto front wheel and be safe for road? thank you.
My opinion is if the tire manufacturer states it can be used on the front it can be used on the front. They are the experts in tires. The rotation arrows should be followed if mounted on the front or rear. The rotation arrows are provided to maximize traction on wet roads and life of tire
Date published: 2016-10-31
Are the Michelin Pilot Street tires tubeless or tube type?
They are a Tubeless tire, but can be used with a tube. There is a note on the sidewall that states "TUBELESS On a tube type rim use a tube".
Date published: 2017-05-05