This product has been discontinued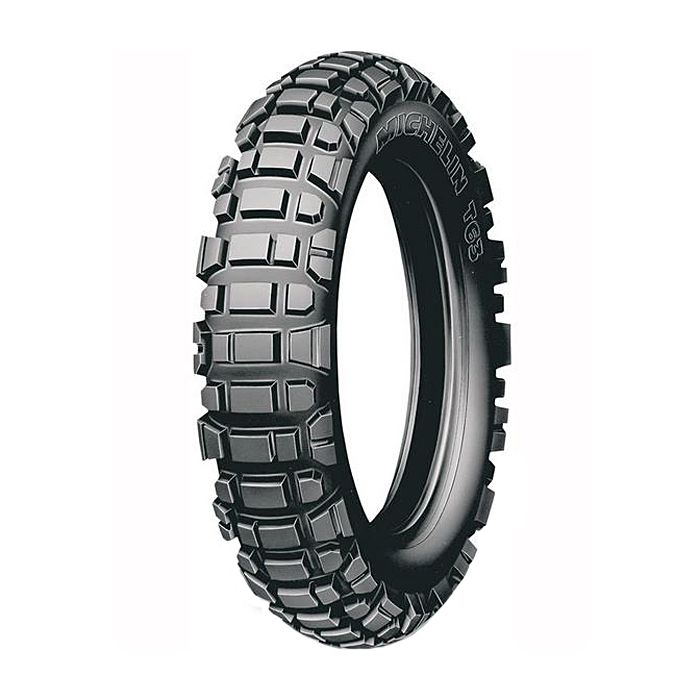 Michelin T63 Off-Road Dual Sport Rear Tire
Item # 26495
Description
Michelin T63 Off-Road Dual Sport Rear Tire
Click here to see the differences between the various Michelin Tires.
MICHELIN Off-Road Tires Positioning Chart
MICHELIN Road Tires Positioning Chart
MICHELIN T63 tires are an economical choice in on-/off-road tires, with a knob pattern inspired by the Dakar-winning MICHELIN Desert tires. The'yre well-suited to small-displacement dual-sport and trail bikes that are used mainly off-road.
Tread pattern derived from Michelins highly successful Desert tires, for exceptional traction off-road
Excellent stability and durability
High level of grip on the road
Reinforced knobs resist tearing and abrasion on asphalt
S speed rating for highway use
Reviews
Rated

5

out of

5
by
DMoney55
from
Michelin T 63's = Excellent all around tire
Unbeatable value. I have had experience with Dunlop D606's, Pirelli MT21's, Metzeler Unicross', and Kenda K270's, and the Michelin T63's beat them all hands down so far as a better all - around dual sport tire. The T 63's compound is much harder - wearing, and provides excellent grip in all but the sloppiest conditions. Definitely recommend!
Date published: 2016-05-10
Rated

5

out of

5
by
Alex
from
Can't beat them for the price
Bought these for my 2010 KLR650. Great 50/50 tires. Handle well on or off road. Not sure how they will wear but for the price of them throwing a new set on every year won't bother me.
Date published: 2016-05-07
Rated

5

out of

5
by
Oldmason
from
Nice tire
Thought these would be a little too off-road when they arrived. Once on the bike I was surprised how good they were on pavement, even better off into the loose stuff. For my KLR these tires are about as good as it can get! When these are done I will go the same again.
Date published: 2016-05-05
Rated

4

out of

5
by
1ColdCanuck
from
Fantastic traction at a price!
Bought a set of these tires for my trip up the Dempster and absolutly destroyed these tires. Extremely happy I had them as everyone else in my group had flats with other tires. I knew they were soft and would wear fast on pavement. Fantastic tires.
Date published: 2015-07-04
Rated

5

out of

5
by
Wally
from
I did a 1400 kilometer trip with this tire, about 50% gravel fire roads and 50% ashphalt. It had good grip and was smooth enough on the ashphalt (for a knobbie)
Date published: 2016-08-18
Rated

4

out of

5
by
Matt
from
Great dual sport tire.
I've put about 2,000 km on so far, it's barely worn in. Very hard rubber and a treadmill pattern that works good on the road, great in gravel and good offroad. If the knobbies where sipped, it would be a 5 star tire. My little 250 is easy on tires, but I'm hoping for at least 7,000km. Make sure you air it down for offroad!
Date published: 2016-06-24
Rated

4

out of

5
by
smiley
from
tires made a whole world of difference, especially on gravel. Thought they would have been rough on pavement, but felt ok
Date published: 2015-12-22
Rated

4

out of

5
by
mike
from
great adventure touring tire
I have been using the t63 front for adventure touring for several years now and will continue to as it works well in a wide variety of conditions. As long as i pay attention to tire pressures it lasts 6000km or more with a lighter bike.You can spend more on a tire if you want but the t63 is hard to beat.
Date published: 2015-08-08
Questions
I am considering the Michelin T63 or the Shinko E805 for my 2012 KLR 650. I am looking for a gravel road and trail tire. Has anyone compared these two? I am confidant in everything but mud so am looking for a tire to give me more confidence there.
I am in the process of ordering my second michelin t-63 for my 2013 KLR 650. The first one impressed me enough to do it again. I found it to be great off-road, including mud. It's very good on the pavement as well. I got around 7000kms out of the rear. I have one on the front as well.  
Date published: 2017-05-05