Motorcycle Luggage Fitment
An Opening Note: Universal and Bike-specific Luggage
Motorcycle luggage can be either universal or bike-specific. We carry both types, and telling the difference is easy. With universal luggage, you can add the item to your cart without specifying what type of bike you ride. That's because universal luggage is designed to fit a wide variety of motorcycles, often employing adjustable straps and buckles for installation.
With bike-specific luggage, however, you will be prompted to enter your motorcycle's make, model and year before adding the item to your cart. This way, you can guarantee compatibility before purchasing.
Warning: for hard-shell luggage, the case and mounting bracket are often sold separately. In these instances, the case may have universal fitment while the mounting bracket is bike-specific.
Saddlebag Fitment and Installation
Saddlebags hang over the motorcycle's rear seat, luggage rack or fender. They are easy to install - normally involving Velcro straps and buckles. In rare circumstances, you might see bolts or brackets in play. A particular saddlebag can fit a number of different motorcycles.
The main thing you want to pay attention to is size. In our product descriptions, each saddlebag will have dimensions: something like 17"L x 12"H x 6"W. You'll have to measure your motorcycle to see if it will fit.
First, measure from the bottom of the seat to the top of the exhaust pipe (or to anything else you don't want the saddlebag to hit, like the chain or passenger foot peg). This measurement should be at least two inches larger than the height of the saddlebag. This buffer zone is important, because the luggage will sag and expand when you fill it.
Next, you want to look at the horizontal length. If your bike has exposed rear suspension, measure from the shock to the indicator light – this will be your available length. A slanted bag is the best option for dual shock motorcycles, as the leading edge will match the angle of the shock.
Some motorcycles don't have exposed suspension coils. Or, the shocks are small enough for the saddlebag to hang over top. In these cases, you'll probably be measuring from the back of the seat to the indicator light.
Width or depth is normally a matter of preference. First, ask yourself how wide you want your back-end to be. Then, resist the temptation to crack immature jokes.
Many saddlebags recommend the use of brackets or supports. These are metal bars that prevent the saddlebags from leaning inward toward the rear wheel. Depending on the bodywork of your motorcycle, these may or may not be necessary. You can find saddlebag supports in our luggage parts section.
Every motorcycle is different, so common sense is your best tool here. Just grab a measuring tape and a picture of the saddlebag in question. Then, spend some time imagining how it will fit on your motorcycle.
Side Case Fitment and Installation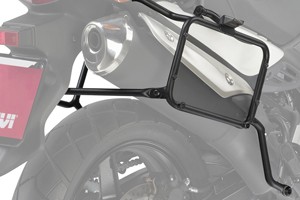 With side cases, the main issue is finding a compatible mounting bracket for your bike.
We've made this easy. First, select the side case that you want. Then check the product description - many side cases will come with a universal mounting plate included. If not, find the corresponding bracket (it's normally included in the related items section near the bottom of the product page).
Once you've found the mounting bracket, input your motorcycle under "select a vehicle below to determine fitment." If you get the green light, this setup is guaranteed to work on your bike.
It's common to run into confusions with this, so don't hesitate to call our customer service team. They are infinitely wise and endlessly willing to help.
Warning: if a bracket is "guaranteed to fit" on your bike, that doesn't mean it's going to be a simple installation process. With mounting brackets, you may have to drill a few holes, remove some bodywork or move an indicator light. We recommend finding a 6-pack, a buddy, and some inner Zen before attempting one of these installations. Alternately, you could pay a mechanical guru to do it for you.
Sissy Bar Bag and Tail Bag Fitment and Installation
Installing a sissy bar bag is easy. Your labour will consist of strapping some Velcro or buckles around the sissy bar and cracking open a congratulatory beer.
Many sissy bar bags simply rest on the rear seat, luggage rack or fender. Others stay suspended on the sissy bar itself.
Sometimes, large saddlebags can put a limit on the available width for a sissy bar bag. Most often, however, riders have plenty of leeway when it comes to size. If you go big, make sure that the bag will have a solid seat or luggage rack to rest on.
Fitting a tail bag is also fairly simple. Without the sissy bar, you will have to secure some straps under the seat, fender, frame or luggage rack. Tail bags are often wider than the mounting area. As a rule of thumb, however, they should not extend beyond their contact point by more than a few inches on either side.
Top Case Fitment and Installation
Much like side cases, top cases require mounting hardware. Sometimes this is sold with the case itself, and sometimes it isn't. If not, find the top case you're interested in first. Then, scroll down to the "you might be interested in" section. Here, you will likely find the mounting bracket that corresponds to your particular top case. On the mounting bracket product page, you can input your motorcycle to check the fitment.
As always, call our geeky customer service team if you run into any problems. They live to answer your questions.
With hard-cases, you should be prepared for a more complex installation. Mounting brackets are designed to "fit" a wide variety of motorcycles. They look a bit like jigsaw puzzles, only you might not need all of the pieces and you don't know what the finished picture looks like.
Consulting YouTube or the luggage brand website is a great way to find bike-specific instructions. And that can turn a tricky installation into a cake walk.
Tank Bag Fitment and Installation
Choosing the right tank bag is as simple as taking a good hard look at your motorcycle.
If you have a metal tank, find a bag with magnetic flaps. Then, installation involves only two steps: stick the bag where you want it to be, then pat yourself on the back.
If your tank has a lot of plastic features, find a bag with straps. In this case, you might want to look for something with a quick-release function. You won't want to redo the harness every time you hit the gas station!
Next, look at the shape of your tank. If it's quite angular, a large tank bag won't interface very well. If your motorcycle has an instrument panel on the tank, then a tank bag may not work at all.
Finally, consider the size of your tank. In general, bigger tanks can accommodate bigger tank bags. On the flip side, smaller tanks will support smaller ones. Also, shorter riders should consider shorter tank bags. Otherwise your view of the instrument panel could be obstructed.
Handlebar Bag and Fork Bag Fitment and Installation
For fork bags, measure the width of your forks from the outer edges. A fork bag should be at least that wide. For handlebar bags, measure the mounting area and make sure that the bag is small enough to fit. In terms of installation, just use the straps provided to tie it on.
Simple as that.
Well, not quite. Once you've installed the bag, try to imagine every possible way that things could go wrong. If your suspension bottoms out, will the fork bag be crushed? Will it block airflow to the radiator? When going from full lock to full lock, does the handlebar bag inhibit your steering? If you answered "no" to all of these paranoid ponderings, then your installation is probably solid.
Fender Bag Fitment and Installation
Determining fitment is as you'd expect: just make sure that the bag isn't much wider than the fender itself. It certainly shouldn't be any longer, or you'll have trouble tying it on.
A decently trained monkey could install one of these. Sometimes you'll have to drill a hole or two in the fender; more often, tying a few straps is all it takes.
OEM Bag Fitment and Installation
Fitment is essentially guaranteed with these. If you've modified your motorcycle from stock, however, you should call the manufacturer to ensure that your mods won't be a problem.
Join the adventure