Plexus Plastic Cleaner Protectant and Polish
Item # : 620558
$27.99 - $40.99
$20.99 - $40.99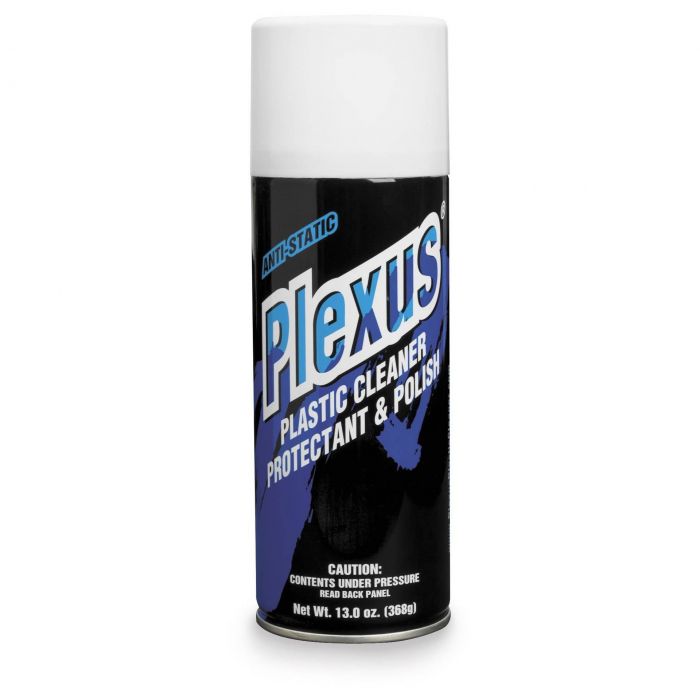 Plexus Plastic Cleaner Protectant and Polish
Item # 620558
Description
Plexus Plastic Cleaner, Protectant & Polish
Plexus Plastic Cleaner Protectant Polish was originally developed for use in the aviation industry for cleaning and protecting aircraft windshields and painted surfaces. This makes it ideal for helmets, faceshields, windshields, sunglasses and goggles
Features:
Special formula leaves a lustrous, anti-static, anti-fog finish that resists fingerprints
Suitable for all motorcycles, watercraft, snowmobiles and cars
Simply spray on and wipe off
Manufacturer Part Numbers:
20207 - 7 oz (198 g)
20214-EA - 13 oz (368 g)
Reviews
Rated

5

out of

5
by
Connor
from
Works Great!
I used to use glass cleaner on my visor, until I found out that is a no-no. I now use plexus to clean my visor and helmet. It cleans fresh or even day old bugs with ease. It smells nice, and leaves the visor crystal clear and the helmet shiny. Although it is expensive, a can will likely last years! This will always be my go-to cleaner for now on. Also, I noticed a lot less fogging while using this product.
Date published: 2016-08-16
Rated

4

out of

5
by
Big Head
from
Expensive but works great on bike windshield
Only used it a few times but cleans bugs and grime off great without leaving any residue or scratches
Date published: 2015-07-23
Rated

5

out of

5
by
Blackshadow
from
Great product
Makes the S1000RR super shiny. Great. Works well on the Xpel film as well.
Date published: 2015-08-05
Rated

3

out of

5
by
JS Bussieres
from
Ok product... Too expensive
I bought it to detail my cbr but dont use it for it anymore ... Keep it to clean my windshield, my mirror and my helmet. Too expensive to do just that in my opinion ...
Date published: 2015-07-05
Rated

4

out of

5
by
Jaggy
from
Very good cleaning product
Very easy to use, smells nice and works very well.
Date published: 2019-09-08
Rated

5

out of

5
by
inline
from
Voodoo in a can ...
When applied according to instructions, Plexus appears to be the real deal with an impressive, lasting and durable result. Even better? Ease of use is delightful.
Date published: 2019-08-30
Rated

5

out of

5
by
pops
from
Love this stuff!
Bought this before a week long 2500km ride. Used it to clean my windshield and headlight (and sometimes face shield) every day. Easily removed bugs and grime from both and didn't harm the finish on the windshield. There were lots of bugs - it was a good test - and passed with flying colors. My riding buddy was using a competing product specifically for cleaning bugs that he says did not work nearly as well. It's expensive but lasts a long time. Try catch it on sale. Bike shops tend to be most expensive.
Date published: 2019-08-29
Rated

4

out of

5
by
PatT
from
Expensive but THE best on visors
Your helmet best friend. Cleans visors and glasses like no other. Use with a microfiber towel for best results. Good on Pinlock visor but don't let it « soak » since the product reacts with this particular plastic; just spray a light coat and wipe immediately. Quite expensive, I removed 1 star out of 5 but the product itself is outstanding.
Date published: 2019-08-28
Questions
Can it be used on painted surfaces such as the body of the motorcycle?
No problem, does an awsome job. You might need to buff it just a little when your done the whole bike just to give it that little extra shine.
Date published: 2019-10-02