Revit Stewart Air Jacket
Item # : 605398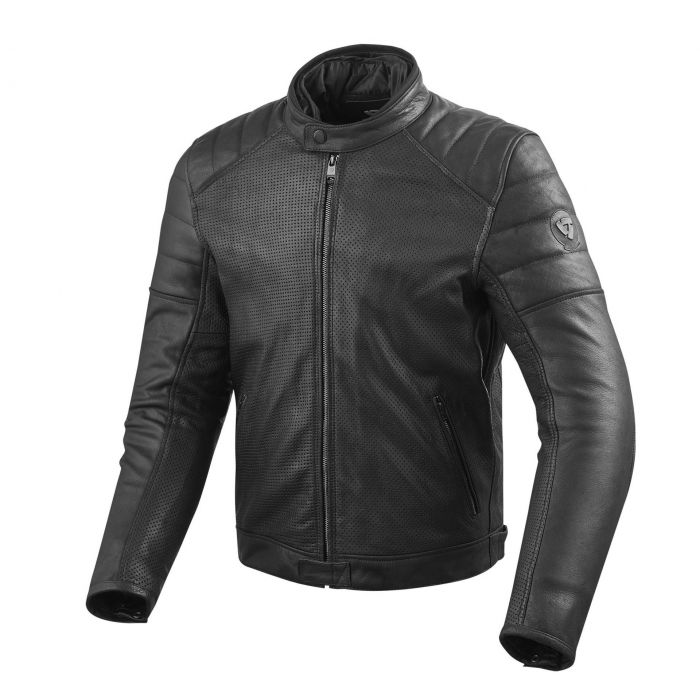 Revit Stewart Air Jacket
Item # 605398
Description
Revit Stewart Air Jacket - FJL083
Cool just became cooler: literally. REV'IT! has given the Stewart Air a fully perforated front and back, and partially perforated sleeves, letting you ride in hot conditions wearing a black leather jacket while at simultaneously being treated to a cool breeze. The pull up buffalo leather breaks in quickly, and by installing REV'IT!'s extremely thin SEESMART™ protectors, we kept the silhouette of the Stewart Air close to casual. The detachable thermal liner allows you to enjoy the Stewart Air jacket on chillier mornings, and with the liner removed, you can adjust the silhouette by using the waist adjustment straps. Connect the Stewart safely to your jeans using the short connection zipper in combination with REV'IT!'s Safeway belt, and keep your essentials close with the various pockets. Optionally you can upgrade the Stewart Air by installing REV'IT!'s SEESOFT™ CE-Level 2 back protector.
Ergonomic Features:
V-flap at cuff
Action pleat
Jeans loop
Short connection zipper
Adjustability: adjustment straps
Fit: regular, city fit
Pockets: document pocket, inner pockets, slit pockets
Ventilation: fully perforated outer shell
Protection Features:
Protection:
Outer Shell: pull up buffalo leather
Insulation: detachable thermal liner
Reviews
Rated

5

out of

5
by
zombie
from
Honestly, the ultimate jacket.
Can't praise this jacket enough. Has the perfect balance of understated and awesome looks (pictures don't do justice). But more importantly, the jacket is comfortable to wear even when it's really hot out. Like the Revit GT Air 2, you can actually look right through the jacket where the perforation is. Now, it is still a heavy duty leather jacket, so you may get warm when you're sitting around in the sun without a breeze, but when you're on the moto, it flows air like crazy. Also, since I'm a beginner rider, I love how I'm still getting the protection of the leather as nothing else has quite the same abrasion resistance. As they say, there's only two types of riders, those who have gone down and those who will. Make sure you get the CE lvl 2 back protector, it doesn't come standard but it's only 50 bucks. With that in, you feel very nice and protected. And if it gets really chilly, just throw in the liner it comes with and you are nice and warm. Just a perfect all around jacket for every occasion. Yes, it's a little pricey but there are no compromises, this could easily be your only jacket.
Date published: 2018-06-08
Rated

4

out of

5
by
onlygotaweeone
from
Really nice Jacket but...
I recently purchased this jacket and don't have an awful lot of miles on it yet, but so far it has been great. I lost count of how many reviews I seen, read and watched, all raving about it, and so finally convinced myself to get one. There is a problem with mine however, but I don't know if this is an issue with them all, or if I was just unlucky with this one. The issue is to do with the snap buttons. A couple of them fasten snug, as they should, but the rest of them ping open again at the least wrong movement. They are anything but tight and feel really loose when closing them. With that out the way, I love the look of the Jacket, it's much better in hand than it is in the photos. The styling I would say is classic modern and with a little pre-curve in the sleeve should be comfortable on pretty much any machine from a sports bike to a bobber. The leather is really nice to the feel and the stitching is spot on. I decided to buy my recommended size from the Rev'It chart, despite being told to go down a size by various reviews. I'm glad I did, because with the back protector and liner in, it fits like a glove across my shoulders and chest. A size smaller and I would never get it fastened. I heard it was more of an "american" cut, and the reviews were right, it's loose around my gut. I'm tall and skinny, so this was expected, but it does make it feel weird at first, being snug everywhere else, except your belly, but 5 minutes on the road and you'll forget all about it. I hate seeing lots of bold branding on gear, it does nothing for the look, or the safety, so another plus point for me here, the logo is small and completely understated, and the armour that it comes with is very comfortable. So comfortable in fact, that you will hard know its there at all. I purchased the seesoft back protector for this at the same time, again going by the sizing charts and it fits perfectly. I have been out with it on both cooler and warmer days, ranging from around 10 to 29 degrees and never found the need to pull out the thermal lining. This jacket flows a ton of air and the lining just takes the bite off it nicely. I haven't been cold in it once. I'm allergic to water, so I don't normally ride when I know it's going to be raining. I haven't got it really wet as yet, just the once in a wee light shower. I would imagine, being perforated, it's about as waterproof as a tea bag, so if you like charging around in puddles but don't want to feel like a soggy dog, you'll need some waterproof's to go over this for when the weather turns on you. It is not by any means at the cheap end of the market, as leather jackets go, but more in the middle ground I would say. The finish on it is excellent and you do pay a bit more for the extra detailing and protection that it comes with. Overall I feel it was worth the money I spent on it. I can't really fault the jacket, I'll ding it just the once for the snaps being poor, but it looks great on, is super comfortable to wear, is warm enough across the temperatures I like riding in and I feel safe in it. Which after all, is the primary purpose of wearing leather in the first place. The confidence boost it instantly instills when wearing it, is a benefit that you can't quantify easily, but I'm sure the result will be reflected in your riding.
Date published: 2019-06-18
Rated

4

out of

5
by
Silverbolt_yash
from
Great Ventilation
I bought this a few weeks ago and quite happy with the purchase. It is a pricy jacket but what you get out of it great. I bought it for summer riding in Vancouver and have been pretty happy with the ventilation you get. Of course if you're off the bike it gets hot. I haven't tried it for fall riding but I imagine the liner would do well. I bought the extra spine protector and it doesn't bother me at all. Overall great purchase.
Date published: 2019-06-12
Rated

5

out of

5
by
smith
from
Excellent, simple jacket
I literally looked at every jacket on the internet multiple times. I kept coming back to this one but thought the price was a bit high. I finally ordered it and I am glad I did. It looks and feels amazing. It does fit large. The size chart had me at 54.. I ordered a 52 but it was still too big, returned it for a 50 (I am 6'1 200 lbs / athletic build) The 52 with the liner and back protector probably would have been fine but I will be using it without the liner or back insert. The return was super easy and the shipping crazy fast. 3 days I believe... might have been 4.
Date published: 2019-04-04