Details

Sena SMH10 Bluetooth Dual Pack Snowmobile
The SMH10 is a Bluetooth 3.0 stereo headset with long-range Bluetooth intercom designed specifically for motorcycles. With the SMH10, you can call handsfree on your Bluetooth mobile phone, listen to stereo music or voice instructions of GPS navigations by Bluetooth wirelessly, and have intercom conversations in full duplex with a passenger or other motor cycle riders.

Thanks to the latest Bluetooth and the advanced digital signal processing technology, the SMH10 offers the best sound quality for both incoming and outgoing sound in its class. Also, the easy-to-access and intuitive button operations make the SMH10 a perfect companion for motorcycles.
Note: This kit is the same as the standard SMH-10 kit, with the only difference being the microphone clamp. The Snowmobile version ships with the A0302 Boom and Wired Microphone Clamp, not the boom mic only clamp.
Features:
Four-way conference intercom
Conference phone call with intercom participant
Music sharing
Voice prompts
Easy operation by versatile Jog Dial (Patent pending)
Sufficient sound level with integrated audio booster
Speed dialing
Stereo music by 3.5mm audio cable
Water resistant for use in inclement weather
Crystal clear and natural sound quality
Advanced Noise ControlTM
Up to 12 hours talk time, 10 days stand-by time
Can be used while charging on road trips
Individual volume control for each audio source
Firmware upgradeable
Peace of mind - thanks to the two-year warranty
General:
Talk time: 12 hours
Stand-by time: 10 days
Working distance (intercom): up to 900 meters (980 yards) in open terrain
Operating temperature: -10°C ~ 55°C (14°F ~ 131°F)
Dimensions
Headset: 84.1 mm x 56.5 mm x 38.6 mm ( 3.3 in x 2.2 in x 1.5 in )
Clamp unit: 223.8 mm x 85.5 mm x 30.6mm ( 8.8 in x 3.4 in x 1.2 in )
Weight
Headset: 60 g (2.11 oz)
Clamp unit: 84 g (2.96 oz)
Bluetooth:
Profile: Headset Profile, Hands-Free Profile (HFP), Advanced Audio Distribution Profile (A2DP), Audio Video Remote Control Profile (AVRCP)
Bluetooth 3.0
Audio:
Built-in SBC Codec
Advanced Noise ControlTM
Wind noise reduction
Wide volume control
Sample rate: 48kHz (DAC)
Auxiliary audio-in connection via 3.5mm jack
Battery:
Charging time: 2.5 hours
Type: Lithium polymer battery
Included in the box:
Headset Main Unit
A0302 Boom and Wired Microphone Clamp
USB Power & Data Cable (Micro USB Type)
Cigarette Charger (Micro USB Type)
3.5mm Stereo Audio Cable
Glued Surface Mounting Adaptor
Microphone Sponge
Velcro Pads for Speakers
Allen Wrench
Speaker Pads
Microphone Cap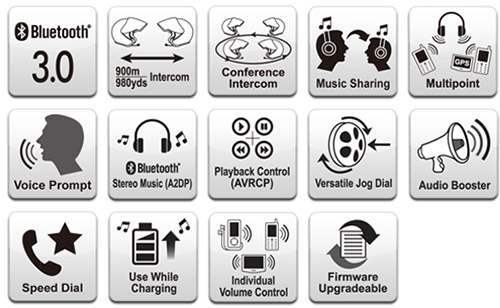 Manufacturer Part Number: SMH10D-01SM