Sena SMH10 Bluetooth Headset
Item # : 81896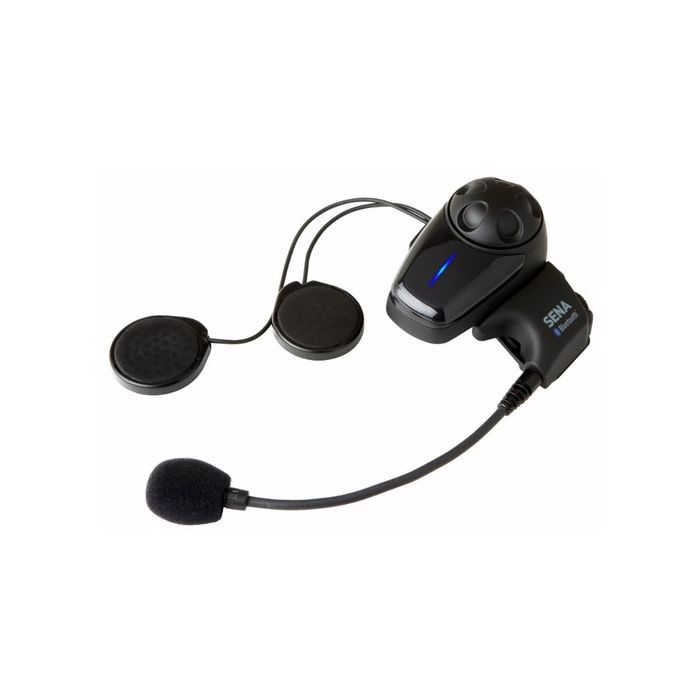 Sena SMH10 Bluetooth Headset
Item # 81896
Description
Sena SMH10 Bluetooth Headset
The SMH10 is a Bluetooth v3.0+EDR Class 1 Stereo Headset with long-range Bluetooth Intercom designed specifically for motorcycles. With the SMH10, you can call hands-free on your Bluetooth mobile phone, listen to stereo music or voice instructions of GPS navigations by Bluetooth wirelessly, and have intercom conversations in full duplex with a passenger or other motorcycle riders. Thanks to the latest Bluetooth v3.0+EDR and the advanced digital processing technology, the SMH10 offers the best sound quality for both incoming and outgoing sound in its class. Also, the easy-to-access and intuitive button operations make the SMH10 a perfect companion for motorcycles.
Features
Audio Booster
Individual Volume Control
Versatile Jog Dial
Use while charging
Upgradable firmware
General
Talk time: 12 hours
Standby time: 10 days
Working Distance (Intercom): up to 900 meters (980 yards) in open terrain
4-way conference intercom
Dimensions
Headset: 84.1 mm x 56.5 mm x 38.6 mm (3.3 in x 2.2 in x 1.5 in)
Clamp unit: 223.8 mm x 85.5 mm x 30.6mm (8.8 in x 3.4 in x 1.2 in)
Headset weight: 60g (2.11 oz)
Clamp unit: 84g (2.96 oz)
Bluetooth
Profiles: Headset Profile, Hand-Free Profile (HFP),
Advanced Audio Distribution Profile (A2DP),
Audio Video Remote Control Profile (AVRCP)
Bluetooth v3.0+EDR
Audio
Built-in SBC Codec
Voice promts
Conference phone call with intercom participant
Noise cancellation
Wind noise reduction
Wide volume control
Sample rate: 48kHz (DAC)
Auxiliary audio-in connection via 3.5mm jack
Battery
Charging time: 2.5 hours
Type: Lithium polymer battery
Please Note: Some of the above features require updating the firmware to the latest version. The firmware is a free download from Sena Technologies.
Manufacturer Part Number:
SMH10-10 - Single-Pack
SMH10D-10 - Dual-Pack
Reviews
Rated

4

out of

5
by
EastCoastATV
from
Worked better than I thought it might
A friend of mine and I split on the dual pack for a week long ATV trip we were doing around Quebec. We wanted to be able to share music and talk to each other during each day's ride. We were both pleasantly surprised at how much fun they are to use. I don't want to seem like I'm exaggerating but they are complete game changers. They are an absolute blast to use. We drove 8-11 hours per day and it was really nice to have conversations during the ride. It changes the whole dynamics of a long ride. The battery performance is fantastic. I don't know how long they'll last but our longest day was over 11 hours and they didn't die on us. The two units already came paired together and only took about 15 minutes to install in each helmet. The main unit clamps to the side of the helmet and tightens using an allen key and you run the speakers under the padding to where you can best hear them. It's easy to connect your smartphone to listen to it's GPS or music. You can both listen to the music if you like and simply pushing a large button on the unit will automatically pause the music and allow you to talk. Push the button again and the music will resume playing. The sound quality is crystal clear. We did not achieve the advertised distance but we were using ATV's through woods trails. We still managed to have a few hundred feet of distance at the worst and a few hundred meters at it's best. If you are using a motorcycle on an open road you could probably get better distance than we did.
Date published: 2015-07-05
Rated

5

out of

5
by
Manthony
from
Full riding season review.
I started using this headset as soon as I got my bike, the first week of April in 2016 with 5 kms on the odometer. I rode right into mid December, a few times in January and now started riding daily again in February 2017. The odometer now reads 13873 kms. Now it's time for a proper review. My commute to and from work is a total of an hour each day and I use this headset paired with my phone for everything. Listening to music, sending texts, phone calls, checking weather, checking the time, GPS navigation, reads me news articles, Wikipedia articles... The list is endless. It's like Jarvis from Iron man is in my helmet. The battery life is good, I charge it maybe once a week. I wish it gave advanced warning though. It says "battery low" and dies a few seconds later. I frequent Northern Ontario on the weekends on solo trips and the battery tends to last for the ride there and back, about 8 hours total. Mind you I'm not using the intercom or listening to music nonstop. But it is always on. I haven't had any problems with the intercom. Anytime my buddy and I meet up the headsets automatically pair. On a three day trip to Algonquin from Toronto it worked perfectly and the battery finally died on the last day when I was about an hour from home. Fortunately I installed a charger for such situations. I also had to remind my buddy to close his visor, the wind noise made it hard to hear him. When you're on the phone no one will know you're on your bike. City riding I can ride with the visor open without interference. On the highway I suggest closing the chin vent. As for durability, this thing is awesome. I've been in some serious downpours and even had wet snow build around it. I once forgot to close the charging port while riding in the rain. I thought I ruined it for sure. Nope, works and charges fine. I purchased the Bell helmet that was designed to carry this. Make sure if you're doing the same that you purchase the mounting bracket as well. Installation was easy on this helmet and two other different helmets. You'll notice on the Bell helmet where the Sena clamps in it feels kinda weak. At first I thought of modifying the helmet/clamp because I was worried the headset would pop off. But after riding over 13000 kms last year, I think it's safe to say it's not gonna fall off. As a side note this headset IS COMPATIBLE with non-Sena headsets. I haven't tried it but when I was purchasing this one the website said it wasn't. Also, update the the firmware when you open the box. My friends' older Windows laptop was having problems doing so. It worked fine when we tried the iMac. Lastly, Sena just released an app which lets you connect to multiple riders using cellular data rather than Bluetooth. I haven't tried it but can see the potential. Anyway I hope this review was helpful. Ride safe!!
Date published: 2017-02-20
Rated

4

out of

5
by
lemore
from
Excellent Communication System
I purchased the dual pack to use while motorcycling and trail riding on the atv's with my wife. We both enjoy listening to music via Bluetooth and the fact we can easily interrupt the music and communicate between machines on the trail. An excellent teaching tool to communicate riding techniques real time in technical terrain, for less experienced riders. We find the voice activation feature is best left off to eliminate accidental activation due to wind noise. We are both extremely happy with our purchase!
Date published: 2016-05-10
Rated

4

out of

5
by
LJ Chaps
from
works great, simple to install and use.
works great with my samsung galaxy 3, just recently used it with my passenger works well, shares my music nicely. we did have a problem with wind noise on the highway- turns out my vent was open right in front of my mike. mike position is important for volume
Date published: 2014-06-11
Rated

5

out of

5
by
machken231
from
amazing what this can do
Was easy to install, takes a while to get used to all the functions that it has. I bought it to directly fit my Bell Sena helmet, but its a universal one that sticks out a little more but works fine. My bad for not doing my homework
Date published: 2015-08-09
Rated

5

out of

5
by
Pookers
from
so easy to use.
I owned the Scala rider G4s. They got us coast to coast without any troubles. Now that they are 6 years old we felt it was time to upgrade them. The G4s had a lot of stuff that we never used so we were looking for something simple and at a cost that was fordable. We bought the Sena SMH-10 Duel set. Wow!!!! No comparison with the G4s. Sena has Scala rider beat hands down! This is a great product, thanks Sena.
Date published: 2016-05-05
Rated

4

out of

5
by
RacerX
from
Not bad bang for the buck.
I have never used Bluetooth communicators before and found these quite easy to set up, and use. My only issue is that they sound s bit tinny. This defeated the hope of using my iPhone as music while I rode.
Date published: 2015-07-06
Rated

5

out of

5
by
Anonymous
from
Great product. Performs well.
I recently bought this system to link with my nav/stereo system on my bike. Easy to use bluetooth link. Excellent product.
Date published: 2014-06-01
Questions
Can you converse freely (conference) between 2 of these and a friend with a smh 5 fm?
Yes, this will allow you to have a 4-way intercom with anyone that has a headset (even if they have another brand of heaset).
Date published: 2018-05-21
Does this model come with a wired microphone as well as the boom microphone or do they need to be bought separately ?
That model only comes with a boom microphone. If you're looking for both boom and wired, you may find the universal SMH-10 here : https://www.canadasmotorcycle.ca/sena-smh-10-bluetooth-headset-with-universal-microphone-kit.html
Date published: 2016-03-07
Will this unit work in shoei rf 1100 and rf 1200 helmets
The Sena SMH-10 Bluetooth Headset has been designed for a universal fit across most full-face and modular helmets.
Date published: 2015-10-11
Is it waterproof?
No, the SMH10 is "water resistant for use in inclement weather" according to Sena
Date published: 2019-05-28
does this unit work for snowmobileing. I have a hjc full face helmet with flip up front.
Unfortunately, this unit would not be able to withstand cold temperatures. I would recommend going with the SMH10 specifically for snowmobile. It can be found here : https://www.canadasmotorcycle.ca/sena-smh-10-bluetooth-dual-pack-snowmobile-version-2-0.html
Date published: 2016-02-22
will the smh10 sena communicate with the s20
Yes, these two units will pair together.
Date published: 2017-06-12
Does she have ft tuner
No, this headset does not feature AM/FM tuner.
Date published: 2018-11-19
Does this package come with the mount for the Bell Qualifier DLX helmet?
No, the clamp kit for the DLX helmet is sold separately and can be found here: https://fortnine.ca/en/bell-mag-9-sena-smh10-clamp-kit
Date published: 2018-06-06