Sena SMH10R Bluetooth Headset
Item # : 297707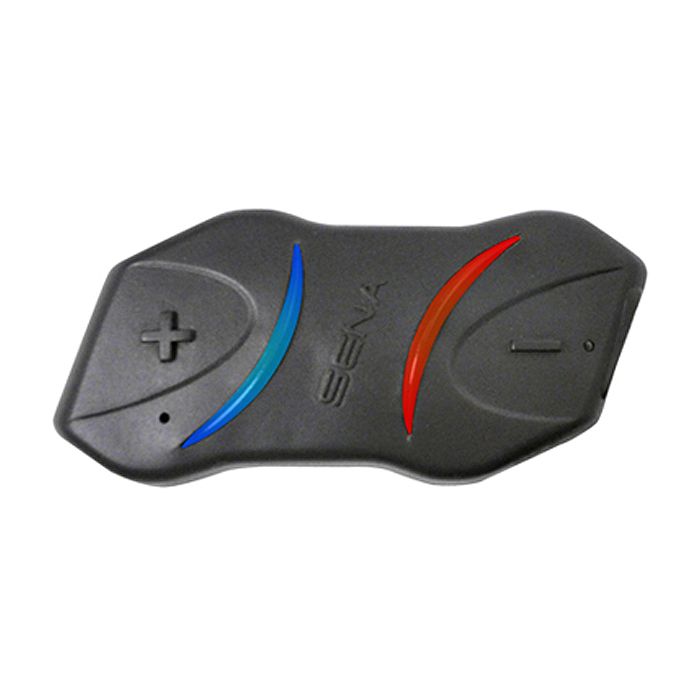 Sena SMH10R Bluetooth Headset
Item # 297707
Description

Sena SMH10R Bluetooth Headset
The SMH10R is a Bluetooth 3.0 stereo headset with long-range Bluetooth intercom designed specifically for sportbike riders who prefer smaller form factor for maximizing their riding performance, yet maintaining rich features of Bluetooth intercom. With the SMH10R, you can call handsfree on your Bluetooth mobile phone, listen to stereo music or voice instructions of GPS navigation by Bluetooth wirelessly, and have intercom conversations in full duplex with other riders.
Thanks to the latest Bluetooth and the advanced digital signal processing technology inherited from the SMH10, the SMH10R offers the best sound quality for both incoming and outgoing sound in its class. Also, its super thin and compact form factor contribute higher performance for sports bike riding and it makes the SMH10R a perfect companion of sports bike riders.
Features:
Bluetooth 3.0
Bluetooth intercom up to 900 meters (980 yards) in open terrain
Ultra slim & feather light
Four-way conference intercom
Conference phone call with intercom participant
Multipoint for mobile phone+GPS
Voice prompts
Bluetooth stereo headset for Bluetooth audio devices such as MP3 players
Bluetooth music playback control by AVRCP: Play, pause, track forward and track back
Sufficient sound level with integrated audio booster
Bluetooth handsfree for Bluetooth mobile phones
Bluetooth headset or stereo headset for Bluetooth GPS navigation
Water resistant for use in inclement weather
Crystal clear and natural sound quality
Can be used while charging on road trip
Individual volume control for each audio source
Firmware upgradeable
Peace of mind - thanks to the two-year warranty
General Specifications:
Talk time: 8 hours
Stand-by time: 7 days
Intercom working distance up to 900 meters (980 yards) in open terrain
Operating temperature: -10°C ~ 55°C (14°F ~ 131°F)
Dimensions: 70.7 mm x 36.6 mm x 15.5 mm (2.8 in x 1.4 in x 0.6 in)
Charging time: 2.5 hours
Type: Lithium polymer battery
Audio Specifications:
Built-in SBC Codec
Noise cancellation
Wind noise reduction
Wide volume control
Sample rate: 48kHz (DAC)
Bluetooth Specifications:
Profiles: Headset Profile, Hands-Free Profile (HFP), Advanced Audio Distribution Profile (A2DP), Audio Video Remote Control Profile (AVRCP)
Bluetooth 3.0
CE, FCC and IC Certificates
Includes:
Headset Main Unit
Speakers
Attachable Boom Microphone
Wired Microphone
Replaceable Battery Pack
Battery Charger Adapter
USB Power & Data Cable
Cigarette Charger
Manufacturer Part Numbers:
SMH10R-01 - Single-Pack
SMH10RD-01 - Dual-Pack
Reviews
Rated

4

out of

5
by
Jonah
from
Quality
A friend of Mine with a Sena Convinced me to get one and it was totally with it. Being able to talk from bike to bike totally changes the way you ride with other people. No longer do you have to stop and plan your rout or use some exaggerated sign language. Using the SMH-10R also make riding so easier. Although it doesn't do a lot more than a pair of headphones, being integrated into the helmet makes it so much easier to control calls and music. I use it with an HJC cl-17 helmet, installation required I cut a small hole for the wires but once it was installed the sytem disappeared. It's small and light and waterproof enough to ride though some serious rain. Using the unit takes some getting used to but once you understand their logic using it becomes second nature. All the buttons are robust and easy to press. The external battery is small and provided great life. This brings me to the speakers themselves. This is the one disappointment of the sena. In terms of sound they emphasize midrange and many people my age would be consider it lacking in base. At low volume the sound is reasonably balanced but once you get moving you'll have to turn the volume up and at this point they start to become quite tinny. The best solution I have found for this is to crank the volume and ride with earplugs in. This takes out the wind noise and the tinny sound. Maybe I'm discounting the other features but on a two hundred dollar headset I just expected better sound. TL;DR I am giving the SMH-10R four stars because It makes riding so much nicer except I just expected better sound quality.
Date published: 2015-08-09
Rated

4

out of

5
by
Renegade
from
All around good product
Pros: interacts with phone well (Samsung Galaxy), easy to install and use once you know the buttons, great phone call quality. I love that it keeps my phone unlocked and therefore ready to use voice control. Cons: music quality (lows and highs a bit muddled), battery life could be better, a bit over priced. I use this in a full face helmet, and have not used the intercom feature yet. I think Sena has the best products on the market and would buy this again.
Date published: 2016-08-14
Rated

3

out of

5
by
Ricky742
from
Good services
J'ai acheté sena smh10r satisfait du service de cm mais le sena coupe souvent et se connecte tout seul a d'autre intercom sens asser fatiguant
Date published: 2015-08-21
Rated

5

out of

5
by
BoomBoomRobot
from
I will never ride without it
This is my first season riding, and I generally ride with my dad. Our first few rides together we did not have these headsets, and even though he is an experienced group rider, I felt left out. We got a dual pack of these headsets right before a 2000+km road trip, and it changed everything. Riding through the Rockies was much better when we could warn each other about hazards, or tell the other person that we were slowing down due to rain, things like that. The range is great for two riders, even at 400m or so in open terrain we could hear each other clearly. When we hit twisties with rocks between us they would cut out, but quickly reconnect. At speeds over 80km/hr it can be hard to hear the other person due to wind noise, but that could just be my own setup. They work great even with ear plugs. Connectivity to my phone (Android) works well, I can play music, receive calls, and do turn-by-turn navigation easily. Controls are simple and you get used to them quickly. I couldn't recommend this more. If you ride with others, this will change the way you ride! It's worth every penny.
Date published: 2015-07-04
Rated

4

out of

5
by
Mike
from
I bought the kit with two. It's easy to program and use. I have used it two up on the bike and it is great enhancement to the ride. Better yet I am currently on a ride through Blue Ridge Parkway with a buddy. It's great communication device. Enhances safety too. Range is good but not the kilometre specified. For the few times I have used for music it is too much treble and screechy sounding. Could be improved there.
Date published: 2015-06-03
Rated

1

out of

5
by
maxhandfield
from
150m at best bike-to-bike
Went on a few trips with my brother this summer and we couldn't get much farther than 150m apart before complete static or simply losing the signal when listening to music. I talked to Sena and RMA it. Got the second set last week and it is no better sadly. Standing still in straight line of sight it gets inaudible past 100-150m, no sound at 200m. It seems that the technology is not there yet sadly. Still great to be able to talk to each other and listen to the same beat, but you have to stay very close from each other. At least it easy to reconnect. Also, forget about listening to clear music, all you can enjoy is the beat from the speakers fighting the ambient noise. Better get earbuds. Not good for my intended use.
Date published: 2015-10-18
Rated

5

out of

5
by
Rider45
from
Bon produits, problème avec le vent, la voix disait, intercom connection fail, jai désactivé loption et tout est correct
Date published: 2019-06-25
Rated

4

out of

5
by
Lesterjet
from
Sena SMH10r
Love the product, streamlined, easy to install in many helmets. Clear conversation over the phone. Only thing that I have trouble is getting the intercom to pair with others. The process is simple but yet complicated. Perhaps I didn't get the hang of it yet but it takes a few trys to get them to connect. Few time it just would not connect. But all in all I love them.
Date published: 2018-09-03
Questions
Can this be paired/connected to the Sena Prism camera? What about using my own head phones (iASUS)?
Absolutely! In the User's Guide for the Prism, there is table for all of the functions for controlling the camera using a Sena headset and there is a column for 3 button type of headsets such as the SMH10R. Headphones can be used with the SMH10R with the use of an earbud adapter (sold separately): https://fortnine.ca/en/sena-earbud-adapter-cable
Date published: 2017-09-22
I have a Drift Ghost S helmet camera that I would like to pair this with if I were to purchase, is that possible? The Drift Ghost S comes with a 3.5mm input jack for microphones and an extension to get it inside the helmet
Yes, the SMH10 is compatible with the Drift Ghost S camera.
Date published: 2019-06-26
Est-ce qu'il y as un récepteur FM?
Non, malheureusement.. mais il y a toujours la possibilité de synchronisé son téléphone intelligent svec le sena et via une application radio, écouter son poste favoris. Mais attention à vos données!!
Date published: 2017-06-12