Shinko 230 Tour Master Rear Tire
Item # : 114820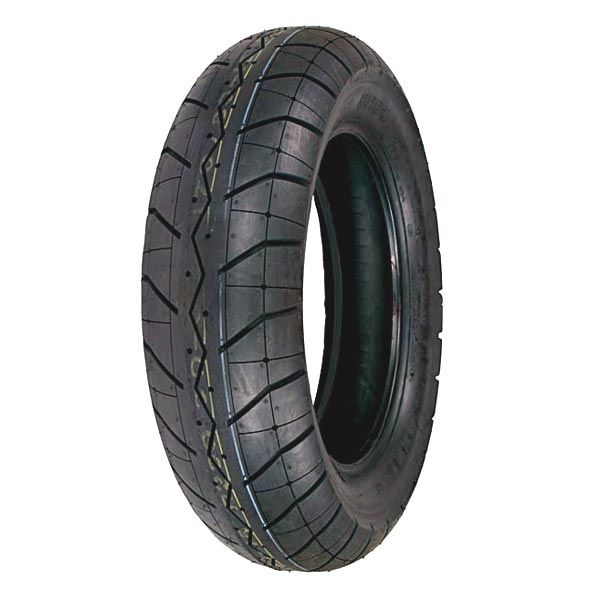 Shinko 230 Tour Master Rear Tire
Item # 114820
Description
Shinko 230 Tour Master Rear Tire
Designed for long distance, high speed touring, the Shinko 230 Tour Master rear tire delivers unmatched all weather handling and stability at a great value.
Aramid belted
Staggered tread design offers a quiet ride with excellent handling
Tubeless, 4-ply design
V-rated for speeds up to 149 mph
Reviews
Rated

5

out of

5
by
pt40fathoms
from
Way better than expected!!
I was expecting a good tire, at a very low cost. I based this on the reviews I read on this site and others. But the tire out performs the factory Dunlop by a long shot! I have much more confidence in this tire cornering, it is very good in the rain, and it just feels much more responsive than the Dunlop tires that were on the bike. I own a 2008 V-Star 1100, and purchased it used. It came with a brand new set of factory recommended Dunlop tires. I've been riding since 1978, and know when a bike is about to break loose on a corner, and the V-Star felt that way a lot. Not any more! I'm sure it's not as good as the Michellin that everyone is raving about, but after a very long ride to and from Stugis, and around the black hills this year, I'd say that the tires out performed all my expectation. We had very hot temps, and we had very hard rains, and not once did I feel apprehensive about the tires ability to keep true. Best purchase I have made in a long time. I purchased both the front and rear, and will be posting this review on both.
Date published: 2015-08-13
Rated

5

out of

5
by
imac380
from
Excellent Tire for the money!! Wears Fantastic!
I have a 04 Harley Heritage Softail with a 15 Texas Ranger Sidecar. Anyone that has ever owned a sidecar knows that tire wear increases at least 10 fold especially to the rear tire. I have always run Dunlop HD tires and usually get approx. 6000-8000klms on the rear and approx. 10000-15000 on the front. I have had the Shinko 230 Tour on my bike for approx. 2500klms now and the tires are showing hardly any wear! Wet and dry handling are great. No more unwanted rear tire spin while accelerating from a stop and making a left turn ( Hack riders will relate). All in all, a great tire so far and I would highly recommend. Shipping was very fast, 2 days.
Date published: 2015-10-03
Rated

4

out of

5
by
Venture rider
from
So far, so good!
I really haven't had this tire long enough to give it 5 stars but so far, so good. I have tried several brands on my Venture and this one rates very well. It's very quiet and handles water buildup on the road really well. I just wish there was a front tire available for my bike from this company!
Date published: 2013-10-09
Rated

5

out of

5
by
duckdog
from
Great value for the occasional rider
Installed a pair of these tires on my 1985 GL1200A and I have to say that, for the buck, these are great tires. I just rode through the North Cascades, WA and then back along the Crowsnest Hwy (#3) in Canada in temperatures ranging from 6 C (42 F) to 28 C (82 F) and anything from bone dry to torrential rain. These tires are great! I don't know about longevity, but for the occasional rider I would say these are a great choice and very good value for the money.
Date published: 2017-07-07
Rated

4

out of

5
by
it is me
from
Good value.
I ran these tires on my goldwing 1100 and was quite happy with the handling. They were sticky and had smoothed out road imperfections. I wen't on an extended road trip two up loaded and pulling a trailer and wore these tires out in less than 4k. These tires are not load rated very high and if you exceed the rating they will wear quickly. I went to Michelin commander II's and they wear like iron but don't ride or handle nearly as good. Again, these shinkos are agreat tire but watch the load rating if you want them to last.
Date published: 2019-08-27
Rated

4

out of

5
by
joker
from
great price
I bought these for my kawasaki nomad, ride nice and handle well. Need to keep at max pressure though as they feel a little soft and like to track grooves.
Date published: 2016-06-24
Rated

5

out of

5
by
youz
from
No complaints
Great tire for an amazing price. Didn't get to really try it in a heavy downpour but so far so good!
Date published: 2015-10-24
Rated

4

out of

5
by
Jack
from
Great affordable tire
Have carried luggage and myself for a short holiday of 3000 K and it still looks like a brand new tire. I have completed a loop from Calgary to BC to the U.S. and back to Calgary. This tire has performed very well in all sorts of conditions from super hot to rainy cold wet highways. Really like this tire. Previously used 888's before.
Date published: 2017-08-15
Questions
its not recommended that i run the 777 series shinko on my 04 1500 vulcan can you tell me why ?? i was really looking for a ww tire but you said the 230 series was so can you tell me what the z is reference to in the size ie 150/80z/16 rr 130/90/16 fr
Hi, Shinko makes recommendations based on many different factors, like tread life, tire construction as well as load and speed rating. They simply do not recommend this as a replacement tire for your vehicle. For more information please contact Shinko directly: http://www.shinkotireusa.com/contact ~Danielle, Customer Service, Canada's Motorcycle
Date published: 2017-01-27
Can you recommend tires for a 1986 Suzuki cascade 
Hey...I have them on my 2011 c50 boulevard and I think there great..
Date published: 2019-07-03