Sixs X-Mix Carbon Gloves Liner
Item # : 570375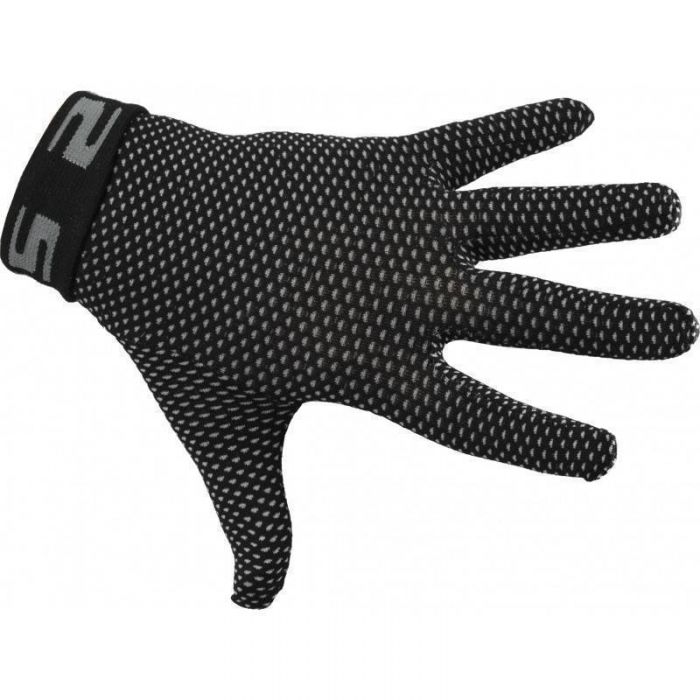 Sixs X-Mix Carbon Gloves Liner
Item # 570375
Description
Sixs X-Mix Carbon Underwear Gloves - X-Mix Line
The SIXS underglove guarantees optimal thermal protection, shielding your hands from uncomfortable temperature variations. At extreme temperatures, the underglove shields you from the cold but, at the same time, it lets out the excessive heat that would otherwise cause an uncomfortable damp feeling. During hot days, it dissipates heat and prevents excessive perspiration, giving you unrivalled comfort, through the patented SIXS original carbon underwear ® technology.
Product info about this model GLX:
Product Information
Created for sports
SIXS ORIGINAL CARBON UNDERWEAR technical garments have been developed for assisting athletes in reaching top performance while also contributing to top comfort.
Thanks to their functionality, which is related to the use of SIXS patented material, it is possible – for the first time in the history of technical-functional clothing – to protect your skin from excessive perspiration.
Benefits
Cold and dampness remain far from your skin
You no longer cool down suddenly
Less fatigue
Unpleasant odours are eliminated
Unmatched comfort
SIXS products have been studied for offering top comfort: for this reason, they do not have internal seams.Anyone who tries a SIXS garment will not be able to do without it.
Quality fabrics
We are proud of offering 100% Italian design and production, thus guaranteeing a high-quality product. Thanks to this, we are able to advance constantly, quickly adapting to the market technical evolution.
Essential Accessories
Everything that we need for our extremities, hands, head, neck, ears, legs and arms.
The X Mix line completes your sports outfit with the comfort and functionality of all SIXS garments.
Reviews
Rated

1

out of

5
by
NoPetRides
from
Easily damaged. Did not last.
Starting with the positive: -Extra layer kept my hands a bit warmer, also let me use my summer gloves for slightly longer. -Hands did not get sweaty inside thicker gloves. Negatives: Extremely easily damaged. First pair arrived with a hole. Fortnine sent a replacement (thank you!). Second pair came prescribe but quickly discovered how the other pair got a hole in it. These gloves are extremely thin (as they are supposed to be) but the fibers that make it up are extremely fragile and vulnerable to basically any rough treatment. They are especially prone to being snagged on Velcro, so putting on boots or gloves overtop with cause issues if you have any velcro at all. After one week my index fingers were full of holes simply from the velcro on my outer gloves. The gloves also do not appear to be water repellent/resistant at all. Obsorbing water like a normal pair of cotton gloves. They prevented my hands from getting sweaty, but not from getting wet when handling wet gear with no outer glove. Finally the finger tips are stiched strangely and are somewhat uncomfortable, though while riding it was less noticeable. Additionally: It was also possible to use my phone with the gloves on, but it required a bit of fiddling to find a spot on the finger that worked with the touchscreen. Conclusion: I would only get these if you plan to baby them, have no velcro on any of your gear, and don't need all the supposed features the glove advertised but doesn't deliver on. With that said, why buy this more expensive item at all when you could get an underglove for a better price?
Date published: 2019-11-18
Rated

4

out of

5
by
Doc C
from
Do what they advertised
Bought these to go inside my Dainese Full Metal gloves for colder days. Fit is nice and snug the outer gloves go on smoothly. When removing the outer glove, the liner goes with it. Fit of the Sixs products is good, but the finger length is a bit long for the proper width of my hands. Not a lot to worry about.
Date published: 2018-11-06
Rated

3

out of

5
by
Alaska
from
Seemed good
The stitching came undone first ride. I stitched it up since then several more fingers needed repair. They even to fir fine and work well
Date published: 2019-06-12
Rated

5

out of

5
by
Skelee
from
Awesome
Easy purchase. Keeps hands dry and warm. Nice fit.
Date published: 2019-03-15
Questions
Hi F9 are these waterproof? they take moisture away from your hands? if i wear these as an inner glove to sports gloves in the rain - will my hands get wet n cold?
Two laps around the track in the rain and they were soaked. The gloves are merely warmth liners for colder days; they will not repel water and will absorb sweat while wearing them. If you require waterproof gloves, only ones I've found that keep my hands warm and dry is the Icon Patrol glove. Hope this helps.
Date published: 2019-09-04