Sixs Youth Carbon Underwear Protective T-Shirt without Armor
Item # : 570369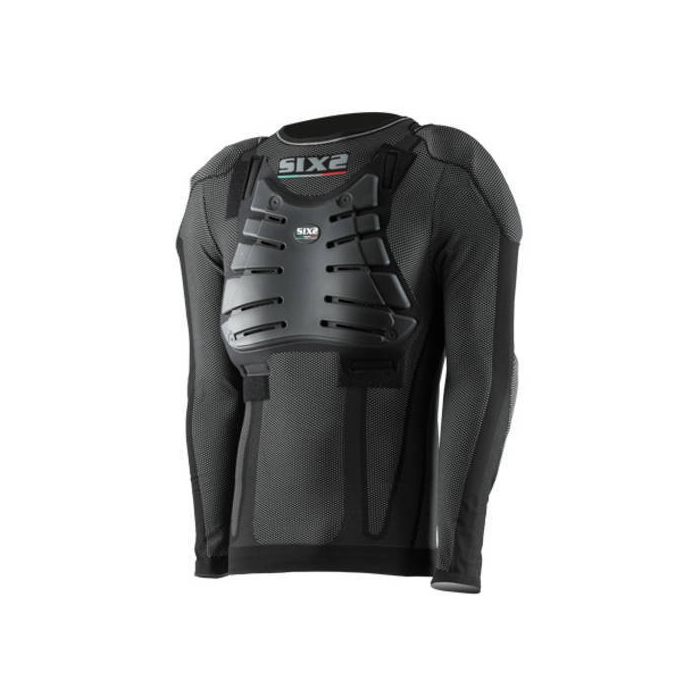 Sixs Youth Carbon Underwear Protective T-Shirt without Armor
Item # 570369
Description
Sixs Youth Carbon Underwear Protective T-shirt without Armor - Pro Tech Line
The PRO Tech long-sleeved T-shirt has all the perspiration management qualities of SIXS UNDERwear garments, combined with the predisposition for the innovative D3O or SAS-Tech protections (CE EN 1621-2 certification). PRO TS2T protects your back, thanks to the back protection, without limiting your mobility in any way. Using the SIXS original carbon underwear® technology, this product protects your skin from excessive perspiration and gives you top comfort and performance. Developed for sports training and competition both in the summer and in the winter. Seamless design on the torso to enhance comfort. It can be used under other technical garments - a feature shared by the whole PRO Tech range.
Product info about this model KPRO TS2:
Product Information
Created for sports
SIXS ORIGINAL CARBON UNDERWEAR technical garments have been developed for assisting athletes in reaching top performance while also contributing to top comfort.
Thanks to their functionality, which is related to the use of SIXS patented material, it is possible – for the first time in the history of technical-functional clothing – to protect your skin from excessive perspiration.
Benefits
Cold and dampness remain far from your skin
You no longer cool down suddenly
Less fatigue
Unpleasant odours are eliminated
Unmatched comfort
SIXS products have been studied for offering top comfort: for this reason, they do not have internal seams.Anyone who tries a SIXS garment will not be able to do without it.
Quality fabrics
We are proud of offering 100% Italian design and production, thus guaranteeing a high-quality product. Thanks to this, we are able to advance constantly, quickly adapting to the market technical evolution.
A Real Revolution
The revolution of protection: the incorporation of the D3O and SAS-Tec protections (soft and comfortable but instantly hard and protective when needed) in the different SIXS garments, brilliantly meets the requirement of safety and protection in all types of sports.
Practical housings hold the protective elements that are perfectly positioned in the crucial points; thanks to their flexibility, the garments are extremely comfortable.
State-of-the-art Technologies
Unique materials in the field of protections that combine chemistry and advanced engineering to create an effective shock absorption system.
The immediate response of the polymer of which the protective elements are made ensures the system effectiveness.
The back protectors are HOMOLOGATED CE EN 1621 CERTIFIED level 1 (D3O) or level 2 (SAS-Tec) depending on the versions, while the PROCHEST is CE EN 14021 certified for motorcycling competitions.