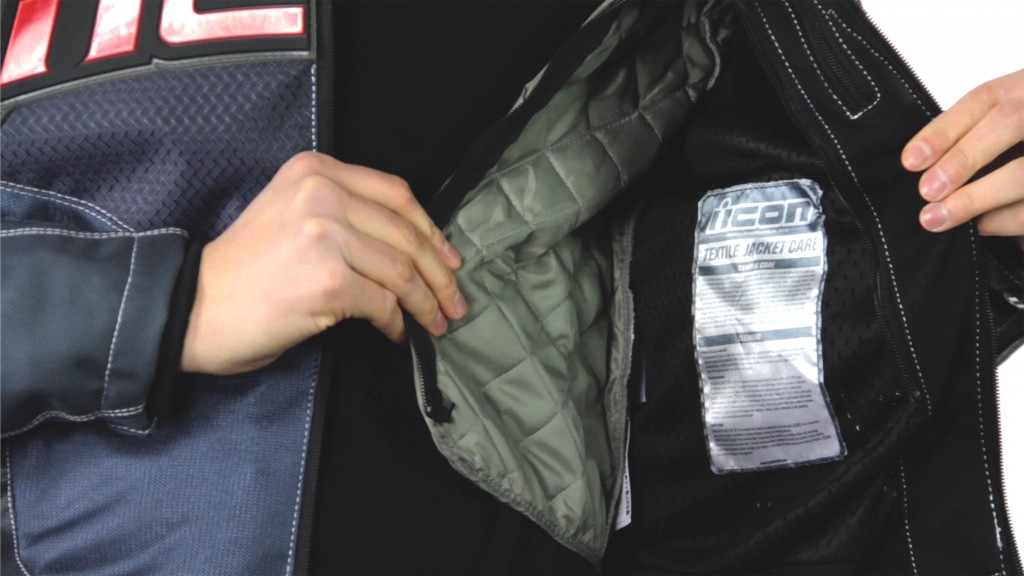 Special Features on Motorcycle Jackets and Pants
Shop all motorcycle jackets here! 
Pockets: So simple, yet so important. If your motorcycle doesn't have much luggage space, a few good pockets will be mighty handy. Look for waterproof zippers and linings if you travel with electronic devices.
Ventilation: Not only does it let the cool air in – vents can channel the humid and hot air out. If you ride in the heat, breathable materials and zipper ducts are your best friends. If you run really hot, look to mesh jackets and pants.
Waterproofing: Go for a ride in the rain and you'll quickly understand the difference between "waterproof" and "water resistant." Look for hot words like Gore-Tex, YKK zippers, Hypertex, membrane, Aero-Tex, and other amphibious sounding vocabulary.
Removable Liners: A seriously underrated attribute of motorcycle jackets. A removable liner can bridge the gap between shoulder-season apparel and summer shells. It also lets you substitute other layerwear into the jacket's shell (moisture-wicking layers, thermal layers, heated layers, etc.) You can literally get two jackets (or pants) in one.
Reflective Material: Remember the old adage, half the battle of motorcycle safety is being seen? You know where we're going with this.
Removable Armour: No, we don't want you to remove the armour. ATGATT, remember? But if you want to switch your back protector for a day on the track – or you want to upgrade your whole setup down the road – removable armour is the way to go.
Adjustable Armour: Sometimes the plates in a jacket or pant can be moved up and down. This is particularly common for knee and elbow armour. It's a handy feature for getting that perfect fit, especially if your limbs are a bit longer or shorter than average.
Built-in Hydration: Some jackets have built-in hydration systems, which are awesome for hot and long days in the saddle. Most of these can be detached for more casual rides.
Built-in Heating Systems: If you frequently get cold while riding, a heated jacket is a great choice. Alternately, you could buy a heated liner for your existing jacket.
Stretch Fabric and Adjustment Straps: I'm not built like a mannequin – are you?
Pre-curved Sleeves: Pre-curved jackets are specifically tailored for a riding position. This increases comfort and decreases arm fatigue, especially during the break-in period.
Elongated Rear Profile: A fancy way of saying that the jacket is longer in the back. This helps you avoid some inadvertent indecent exposure (AKA, plumber butt). Some jackets even have straps or zippers that can be connected to your pants.
Join the adventure