SW-Motech Quick-Lock EVO Engage Tank Bag - BC.TRS.00.107.20002
Item # : 272946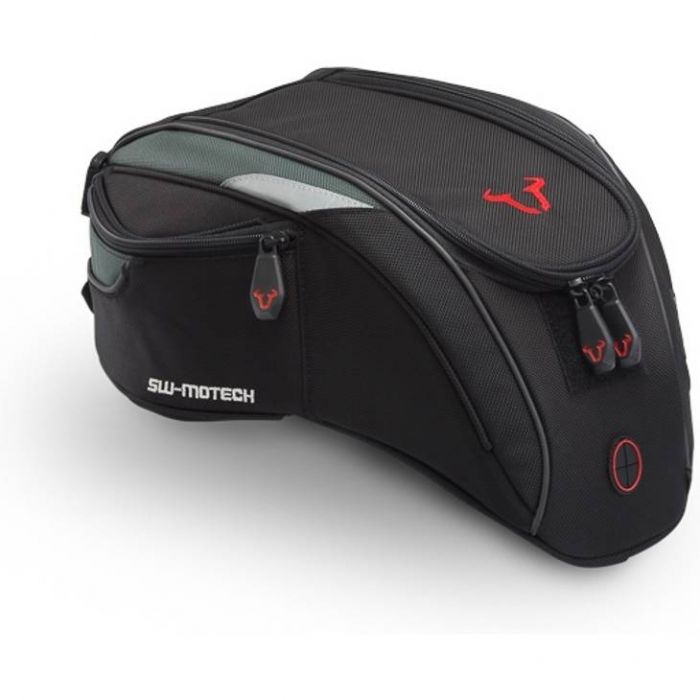 SW-Motech Quick-Lock EVO Engage Tank Bag - BC.TRS.00.107.20002
Item # 272946
Description
SW-Motech EVO Engage tank bag. 7 l. For EVO tank ring. Ballistic Nylon
The Engage has been designed to be used on motorcycles with sharply curved tanks and supports flexible storage organization: The interior of the tank bag can be separated by a movable barrier, two outer compartments provide additional storage space.
Features:
Tank bag for motorcycles with slightly sloping tank
QUICK-LOCK EVO system allows bag attachment and removal within seconds
Splash water proof cable ports on front and back
2 side pockets
Individual storage space layout
Additional net compartment on lid inside
Sturdy carrying handle
Retroreflective details
Fastenings for GPS mount and map holder
Compatible with luggage cable lock and anti-theft kit
Also available as electric version with integrated power supply
Capacity: 7 liters
Dimensions: 27 x 13 x 36 cm (w/h/d)
Weight: 1.900 g
Material: 1680D ballistic nylon, EVA base
Included:
Tank bag QUICK-LOCK EVO Engage
QUICK-LOCK EVO top ring
Rain cover with transparent map window
Shoulder strap
Please note:
Separately sold QUICK-LOCK EVO tank ring needed for installation. The bike-specific tank ring is mounted on original mounting points.
Attention: Tank bag NOT compatible with QUICK-LOCK tank rings for ION tank bags
Manufacturer Part Number: BC.TRS.00.107.20002
Reviews
Rated

5

out of

5
by
Marc87
from
Wow très bonne qualité !
J'ai acheté ce tank bag pour mon v-strom 1000 2015 et j'ai été impressionné de voir à qu'elle point il s'ajuste bien à ma moto ! le sac est de très bonne qualité et logeable
Date published: 2017-10-28
Rated

4

out of

5
by
Cheatoe
from
Excellent quality
The bag fits the FZ-09 nicely and the bag is well made. It is very small but with the size/shape of the tank the options are limited.
Date published: 2017-09-24
Rated

5

out of

5
by
Dugly1
from
Motech evo engage
I was using a Motech Trial bag on my Versys 1000 so I already had the tank ring fitted. The problem with the Trial was its size, I thought that dropping down in size to the engage would be a problem as I had become a pack rat. The engage is right sized in every way, holds a generous amount yet does not interfere with my bars. Very good quallity, fits the slope of my tank perfectly. I would definitely buy again.
Date published: 2016-08-15
Rated

4

out of

5
by
Gord
from
Fits my FZ09
I bought this bag because few other bags fit my Yamaha FZ09. I tried larger bags but they blocked my view of my gauges. This bag fits securely to my gas tank. I wish it was larger but I'm limited with my bike. The curve of the bag follows the gas tank well
Date published: 2019-08-27
Rated

5

out of

5
by
Tattoo
from
super qualiter très bien conçu
jusqua maintenant après 1 mois toute est ok sur mon speed triple na pas endommager mon reservoir je l adore mais faite attention cest pas très gros moi cest ce que je voulais, cest top !!!
Date published: 2019-08-27
Rated

4

out of

5
by
Chris
from
Good quality and the evo quick lock is very useful
I ordered two different tank bags just to be sure of fit , one was the engage and the other was the micro ended up using the micro because i couldn't get the bag far enough ahead to fit the tank slope of the Africa Twin adventure sport tank it's quite short in length and wider than most others. Quick lock is nice and simple seems to be secure and easy to use
Date published: 2019-06-12
Rated

4

out of

5
by
Tigerdude6403
from
Great bag but small usable soace
The build of the bag is great and while I only wanted something small to toss my keys and wallet, hat in etc I find it's internal space is a bit too small for anything more than those things.
Date published: 2018-08-26
Rated

5

out of

5
by
Spyder
from
Just got this bag for my bike. Fits perfectly. Easy instal. Perfect size for essentials i.e. sunglasses, wallet, phone, ball cap. Great for shot trips or as supplemental to touring bags. Carry handle rests on tank and rubs own the wind but found you can hold it up with release handle. Quality construction.
Date published: 2018-07-14