The Best Motorcycle Luggage for Your Bike
Long-distance Adventure and Touring Luggage
If you're doing big multi-day journeys, it's not a question of which luggage to choose. Most likely, you're going to need all of them.
Adventurers normally look for function over form. Wolfman, Givi, Giant Loop and Kriega are popular brands in this niche.
A few cautions: If you're riding two-up, try to find a small sissy bar bag, tail bag or top case. Your center of gravity is already raised, and adding luggage up high will compound this problem.
If you're doing some off-road riding, try to find a small tank bag. Many riders notice that large tank bags inhibit a standing riding position.
Cruiser Luggage
Your choice will involve both style and function. In our opinion, saddlebags, tail bags and sissy bar bags look totally dope on a cruiser. In fact, some motorcycles don't look right without them.
In terms of performance, saddlebags have the edge when it comes to centre of gravity.
Fork and handlebar bags also look cool. They don't offer much volume, but they're an attractive addition for a little money and even less labor.
When it comes to cruiser style, Saddlemen, River Road and Willie and Max are dominant brands.
Sport Bike Luggage
If you need to add storage to your sport bike, look at tank bags first. They mesh well with sport-style tanks, and they keep the weight centrally distributed. Plus, their location between your arms is both sheltered and well-secured. This is crucial at high speeds.
Tank bags will inhibit a full tuck position. However, resting your chest against this type of luggage can be surprisingly comfortable. And if you're heading out for some spirited riding, you'll probably want to remove the tank bag anyway.
Most sport bikes can accommodate saddlebags and side cases, but it's harder to find the right fit. Tail bags and top cases are doable as well, but they're bound to take up your rear seat and raise the center of gravity.
Cortech is a very popular brand for performance-inspired luggage.
Off-road and Motocross Luggage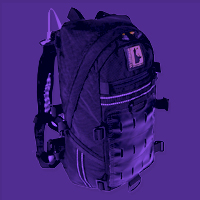 For the most part, off-road riders will choose a well-balanced backpack. This is a good idea – keep doing it.
That's because off-road motorcycles bump around a lot, which can wreak havoc on a fixed piece of luggage. If you need to add some extra space, think small. Handlebar bags and fender bags will be your best bet.
As far as brands go, Moose, Wolfman, Kriega and Ogio make purpose-built luggage for the dirt.
Join the adventure