Thor Blitz LS Boots
Item # : 292871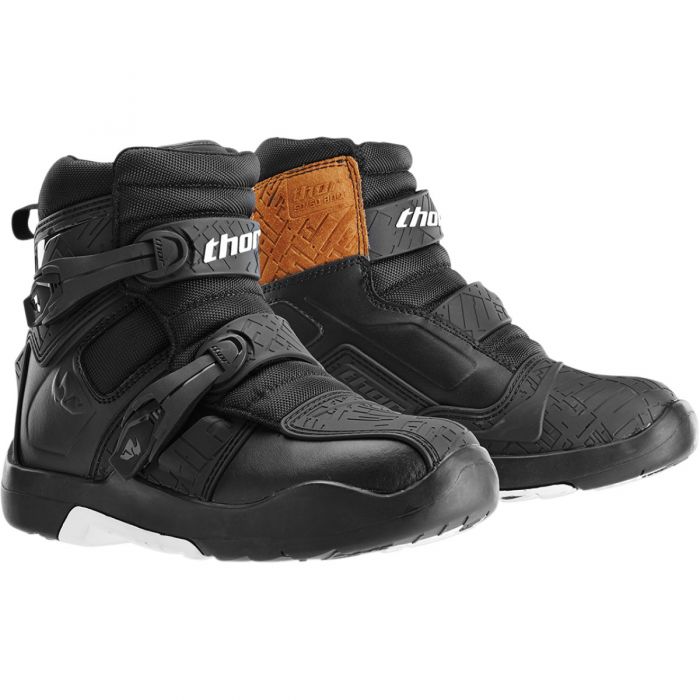 Thor Blitz LS Boots
Item # 292871
Description
Thor Blitz LS Boots
The Thor Blitz LS Boots are a little hard to classify. Perfectly suitable for riding pit bikes, dual sports, and even light moto, the shorter design style makes them instantly comfortable on the feet. The two buckle strap system is quite secure and with plenty of influence from Thor's full size motocross boots, they provide good protection for the ankle, heel and toe.
Features:
Lightweight injection-molded outsole
Injection-molded medial abrasion plate with integrated shift protection
Contoured gaiter for increased mobility and comfort
Adjustable positive-lock plastic buckles
Integrated toe shift panel
Plastic shank insert for foot peg support
Genuine split-grain leather chassis construction
Padded mesh interior promotes ventilation
Tested according to the basic requirements of Directive 89/686/EEC
Reviews
Rated

5

out of

5
by
Masterchief
from
I bought these boots last fall and I'm very glad I did. I have ridden from Aug to Oct of last year and Feb. 14 until April 10 in every weather condition possible. Thanks to an early and unpredictable riding season here in Calgary I have been able to put these boots through their paces. They stay cool in +25 and with a good your warm sock at -8 on the highway at 110. Go up one size from your normal footwear ,I took out the stock insoles and replaced them with a really nice aftermarket pair(wont mention any name brand but I'm not sure he's a real doctor :) ) Nice solid boot ,love the clips to keep them closed, easy in and out I wear them all day at work in a warehouse . I will be buying a second pair for when these wear out .Worth way more than the price and ive have a lot of boots in 25 years.
Date published: 2016-04-11
Rated

4

out of

5
by
Suzukirider
from
Happy with my purchase
I've only had a chance to wear these boots a handful of times as I work out of town for weeks at a time. But so far, I am pretty happy with the purchase. These boots look sick. I am very happy with the quality and design of them. They are a little stiff, as you would expect, but your foot definitely feels protected when you're wearing them. If you're going from wearing normal shoes to these when you ride your bike, expect to have to get used to them. I've missed quite a few shifts and find that it's awkward slipping my foot under the shifter, but it's getting better be more I ride. All in all, I am very happy with my purchase and would recommend these boots to anyone. Also, I ordered a size larger than what I normally would, (usually a size 10 in shoes, ordered a size 11) and they fit perfect. So keep this in mind when ordering.
Date published: 2016-05-16
Rated

3

out of

5
by
Nathan
from
Nice boots
I've got the Thor Blitz ATV boots, the latches on the LS boots are easier to close. They are a little narrow, hopefully they break in alright. One weird thing, the metal bit of the latches on the left boot arrived with some rust on the metal. The right boot has no rust. Overall they look good.
Date published: 2016-05-12
Rated

4

out of

5
by
Marc 4 20
from
The fit and finish of the boot is really good. Great structural support (not a floppy boot) Buckle system is neat and tidy. The boot is definitely a small fit. I always wear a size 9 but that same size in this boot was quite uncomfortable. Went up to size 10 and it fits perfectly.
Date published: 2016-04-18
Rated

5

out of

5
by
JoshHawk
from
High Quality, Low Price!
Got these in the mail today, very high quality and substantial boot. They slide on very easily due to a slight 'V' at the achilles and that they can open right up once the clips are detached. At first there was a little discomfort on the inside edge of my foot at the big toe, due to seam overlap, but after an hour in them it's not an issue. Sizing is bang on. I'm a 9.5 so went with a 10 and they just have a little room for me. Could maybe have squeezed into a 9 with thin socks but plan on being out in spring and fall in the Rockies so will appreciate some space. Right out of the box they have flexibility at the ankle for shifting but support in every other direction. Seems like an incredible deal, can't wait to get out on the bike in these. Plus they look b.a.d. a.s.s.
Date published: 2015-08-28
Rated

4

out of

5
by
STEF
from
Good and solid
I did find them very stiff and felt like ski boots but now after a couple of weeks riding they are getting more comfortable. Definitively well built and strong which inspires confidence. I use them on a bike and I did have to re-adjust the shifter to adapt to the thicker profile of the boot.
Date published: 2018-07-13
Rated

4

out of

5
by
Coyote
from
Bon produit
Bon produit confortable mais pas imperméable du tout.
Date published: 2019-08-28
Rated

5

out of

5
by
TheXchox
from
Great Boots
At first I was gonna rank them lower, but after breaking them in, the are great, and feel beefy enough to keep me safe. Sadly I got the white ones which I regret. Should have paid extra for the black, white shows everything.
Date published: 2019-08-02
Questions
is this boot ok for street bike, i am looking of a boot that will gave you little bit of height.
Due to it's style it's very versatile - it'll work well on cruisers and sports bikes. The sole on this will add about 1.5" of height.
Date published: 2017-03-01
I have a size 12 foot that is narrow. Will this boot fasten up snug enough without slop? Thanks.
Probably. I usually wear a 9 so I ordered that size and it was too narrow and hurt my feet. Sent them back and ordered a pair of 10's, much better. Just a touch too long but just right in the width for me. My feet are probably just a touch wider than average
Date published: 2017-06-27
Hows the water proofing on these boots??
There is 0 of it and if you do get them wet the hardware mounting the buckles and the pins will rust. If you get the white ones like I did (on sale) the rust will stain them...
Date published: 2018-09-28