Two Brothers M-7 Slip-On Exhaust
Item # : 155125
$428.07 - $783.19
$218.99 - $783.19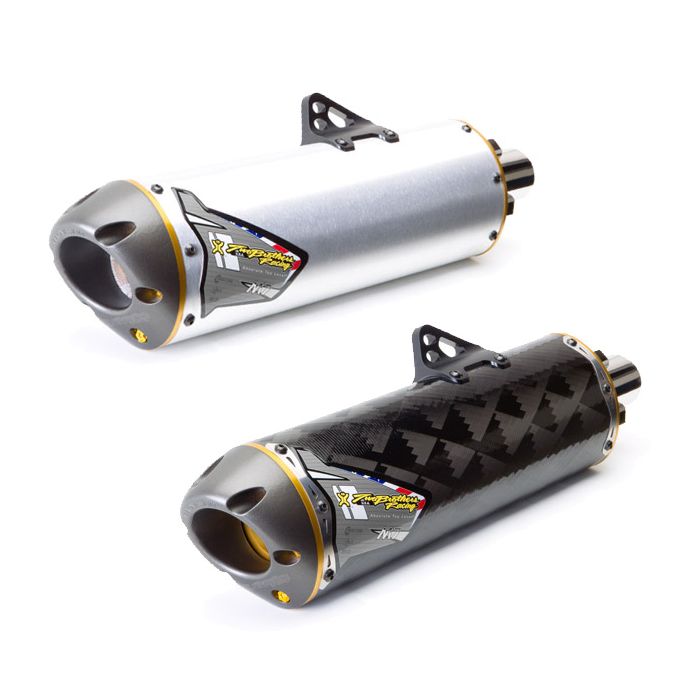 Two Brothers M-7 Slip-On Exhaust
Item # 155125
Description
Two Brothers M-7 Slip-On Exhaust
Features:
Using only the highest quality materials available, the M-7 is built to last.
Exclusive use of a stainless steel spiral perforated core, designed further enhances the sound attenuation properties of the muffler, while still increasing the HP and torque of each model.
M series exhaust canisters feature the highest level of quality construction and are designed to be fully serviceable in the event of damage, routine maintenance or the occasional repack.
The M-7 also features a removable Teflon coated magnesium end cap for easy removal of the Screen Type spark arrestor or for adding one of the optional sound suppresser sound tips. Allowing you to lower the decibels from 3 to 8 dbs depending on which P-Tip you choose.
U.S. Forestry Service approved spark arrestors are included with all aluminum M-7 V.A.L.E. off-road exhaust systems.
V.A.L.E.
V ariable A xis L ocking E xhaust. The V.A.L.E.™ system is TBR's revolutionary and patented method of attaching their muffler canisters to the exhaust tube without the use of springs or welding. Their V.A.L.E. systems allow the muffler assembly - exhaust tube and canister - to be positioned perfectly on the bike before all the mounting hardware is fully tightened. Once the canister and exhaust tubes are properly aligned, the V.A.L.E. assembly locks the muffler canister to the exhaust tube assuring a perfect, leak-free fit.
Reviews
Rated

5

out of

5
by
Big jay
from
Grunt master
The sound........its just amazing! The difference in power is very noticeable as well. Also a very sexy looking exhaust!
Date published: 2018-08-26
Rated

5

out of

5
by
Anonymous
from
KLR 650 - Great once broken-in
The pipe is very light, and easy to fit up to my KLR. There is a short break-in period before the pipe begins to quiet down, in which it is VERY loud! After about 100 km of highway riding the pipe began to mellow out, and now it sounds great!
Date published: 2014-04-20
Questions
Hi, Just wondering if this fits on a 2012 Aprilia Shiver 750, Just did a parts sort and this exhaust came up in my search. However just wanted to double check as the Shiver has 2 exhausts. I assume I would order 2?
No, the Two Brothers M-7 Slip-On Exhaust is not compatible with Aprilia Models.
Date published: 2019-09-09