Details
Yoshimura HONDA CBR1000RR/ABS Street R-77 SO SS-SS-SS with CAT
Stainless Steel Tail-pipe / Stainless Steel Muffler / Stainless Steel End-Cap
The popular R-77 offers outstanding performance, thanks to being developed in the heat of competition. It features a trapezoidal design, which allows a large volume of packing material and in turn delivers top performance with minimal sound increase. The R-77 muffler's front cap is MIG-welded, while the end cap is riveted using high-end 304-L polished stainless steel rivets and bands.
Emissions-Legal MotoGP styling
50-State Street-Legal Exhaust System (EO# K-004)
Produces fewer emissions and weighs 3.1lbs less than OEM muffler
Trapezoidal-shaped sleeve
Large volume of packing material
Innovative end-cap
Removable Low-Volume Insert
Stainless steel tail-pipe with integrated catalytic converter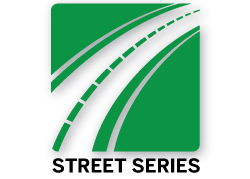 All Street Series systems are Slip-on/Bolt-on applications that do not require tampering with the vehicle's emissions control system, yet still deliver that special spirit the world has come to expect from the legendary company known as Yoshimura. Street Series applications cover all of the iconic profiles that Yoshimura has become famous for. From the legendary tri-oval profiles to the refined carbon fiber R-77 mufflers, and even R-55 angular masterpieces. Street Series exhaust offer street-legal options for almost everything on two wheels.
Manufacturer Part Number: 1202206-CAT