Details
Yoshimura HONDA GROM Signature RS-9 SO SS-AL-CF
Stainless Steel Tail-pipe / Aluminum Muffler / Carbon Fiber End-Cap
The Honda GROM has created quite a phenomenon in the motorcycle world and we're right on top it. We took the opportunity to try our new RS-9 muffler profile and it's been proven to be the perfect choice. The Parallelogram-shaped sleeve increases internal muffler volume, resulting in better noice cancellation and improved throttle response. Our system not only compliments the Grom's size and styling, it also significantly reduces weight, which is important for smaller machiens.
Parallelogram-shaped muffler
Light-weight muffler construction with carbon fiber end-cap
CNC machined muffler bracket
Reduced weight over OEM system
Stainless steel tail-pipe
This Yoshimura exhaust component or system meets EPA Noise Emission requirements of 80 dBA when installed on the specified motorcycle. Installation of this exhaust component or system on motorcycle models not specified may violate Federal Law.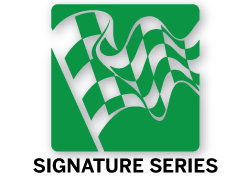 Introducing Signature Series by Yoshimura - an offering of exhaust systems that can be installed with confidence. Signature Series lineup is the answer for today's challenging marketplace. The applications for the Signature Series line cover the entire powersports spectrum, including many of off-road applications. Everyone of Yoshimura's Championship Winning Motocross exhaust systems and nearly all of out ATV/Side-by-Side applications are all members of the Signature Series Family. All Signature Series components are tested, documented, and marked as required by federal and state regulations.
Manufacturer Part Number: 12120EH320