AGV Sport CLX Pants
Numéro d'article : 671855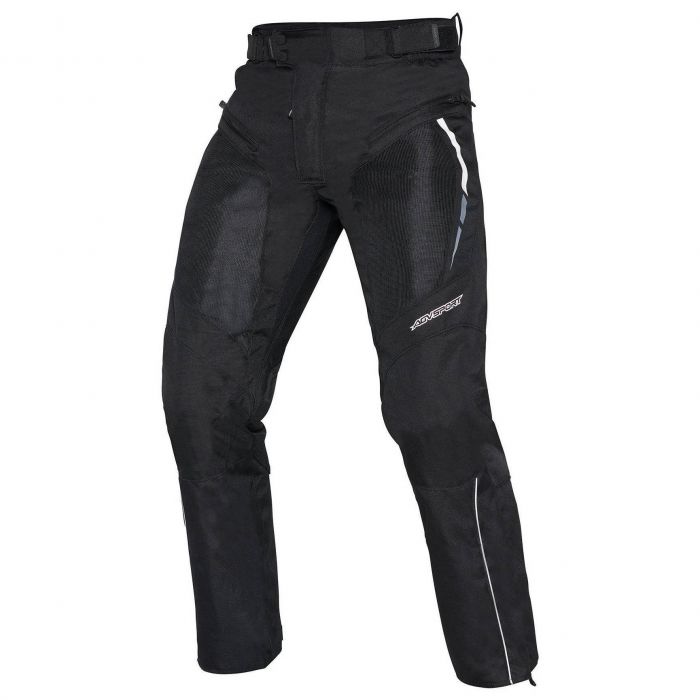 AGV Sport CLX Pants
Numéro d'article 671855
Description
AGV Sport CLX Textile Pants
The AGV Sport CLX has been one of our most anticipated products of the year. Who says you can't re-write the books on mesh textile? Our CLX does just that. Featuring Samtex 600D Cordura mixed with high grade mesh, Smooth Ways CE Level II soft armor, adjustable fitment, and 360° zipper, the CLX fits and flows.
Features:
Outer shell is constructed of DuPont Cordura polyester
CE approved level 2 Smooth Ways soft armor in knees
Reflective material and piping for night time visibility and safety
Comfortable full mesh lining helps wick sweat away from the body
Ventilation and perforation keeping the rider cool and comfortable in hot climates
Waist adjustment for custom fit
Two front hand warmer pockets and one back pocket for additional storage
Major seams are multi-stitched and triple-stitched for maximum safety with AGV Sport's Advanced Safety Stitching Construction (ASSC)
Belt loop snap attachment to securely fasten to jacket
360° pant to zipper turns garment into 2-piece suit
Reviews
Rated

5

de

5
de
Dean
par
Value for money
I am 5 9, 167lbs and usually wear a 32 waist pants. Based on costumer service recommendations I purchased a size 34--brilliant suggestion. Let's start at the top. The waist fits snug, but not tight and if you need to tighten things up a bit there are two Velcro straps to support this cause. The front snaps and zipper are quality and based on design would help to keep water out. Getting lower--the pockets. On either side is a front pocket with the left being shallower (wallet?) and the right not only being deeper but having a zipper that can be accessed with gloves on (phone?). In deference to the price point there is no hip armour, but I wear Bohn underneath so that was not an issue for me. Speaking of underneath, if you are planning to wear these as an over-pant (not sure why as they are not waterproof) I suggest going up 1 more size again. I tried them with jeans and while the legs had the space the waist did not. To the knees Jeeves!! The knee armour sits comfortably just below the knee when you stand (sit when you stand??!!) Which in turn means the armour sits just perfect on the knee when seated, albeit they do turn inside just a bit. I ride a sport touring bike and my legs are underneath me. Cruiser riding would differ but I sat on my track bike to see how a sport bike would feel and the armour/knee position was about the same as my sport tourer. To the bottom. There is 4 inches of hem to lengthen if necessary and I suggest you do. If you look at my photo the pant sits nicely above my foot when standing, but does indeed ride up a touch when seated. Wearing my touring boot revealed no concerns, but with my shorter sneaker style summer riding shoe I noticed the bottom of the pant sat awkwardly just above the shoe top. This does allow more air to pass through and by but also leaves a gap for stones and bugs to strike. Continuing with the bottom there is a neat Velcro strap to cover a zipper to expand the pant. It would be a stretch to think you would slide a riding boot through that opening and up the pant so I suggest taking them off. I did slide my riding shoe through but not without a few expletives to go along with the move. Final thoughts--the knee armour is price point (max CE1) so change in out. There is no hip armour or other protection offered. The ventilation is outstanding--my first use was in average 30 C for two hours and I felt no discomfort other than some heat build up in the knee area (which I might attribute to the armour). In terms of comfort on the bike I must say the pants were excellent. I wore nothing special underneath and was not uncomfortable (about the same as wearing stretchy jeans). But you could easily get away with shorts or tights and feel fine. For the price the visual quality is outstanding as is the fit and finish. There is nothing unseemly (pun intend) about the visual appeal and overall tailoring of this product. If cost is a concern for riding pants and ultimate versatility is not an issue then I would recommend these pants over the more expensive brands.
Date de publication: 2019-07-11
Rated

3

de

5
de
Bigevildoer
par
Not Bad, not great.
Read another review from another site saying they fit small. Wear a 36 pant, so I ordered a 38. Fit around the waist and legs isn't bad, but the knee armour is way too low and doesn't have a higher pocket to put them in. Stitching and assembly is very good.
Date de publication: 2019-07-25