AGV Sport Excursion - Pantalon Cargo
Numéro d'article : 193425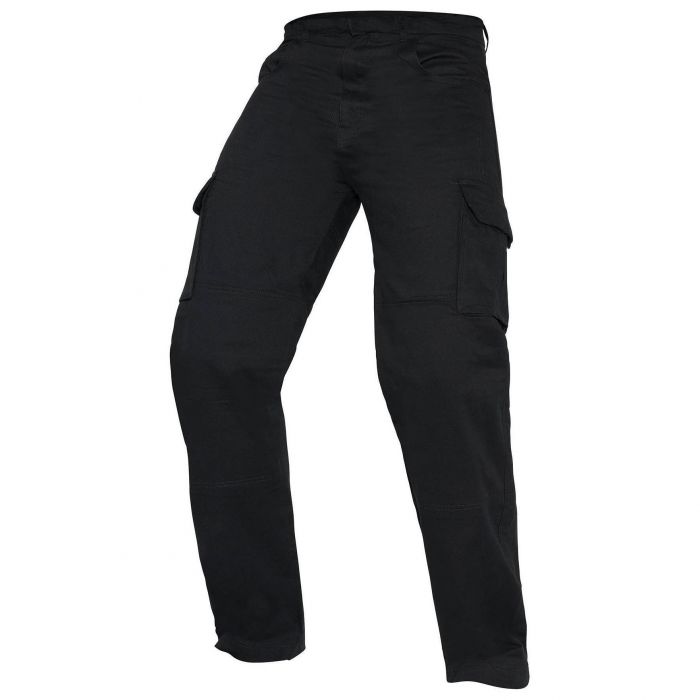 AGV Sport Excursion - Pantalon Cargo
Numéro d'article 193425
Description
AGV Sport Excursion - Pantalon Cargo
Caractéristiques :
Fabriqué à partir de tissu en sergé de coton de 9,2 oz de la plus haute qualité
Conçu pour n'importe quel climat
Coupe relaxe parfaite pour conduire une moto et idéale pour juste traîner avec vos amis lorsque vous ne pilotez pas
Boutons en plastique anti-rayures
Deux poches avant
Deux poches cargo latérales avec des rabats à boutons cachés
Deux poches arrière avec rabats à boutons
Parfait pour le port par-dessus bottes
Tailles semblables à celles des jeans à coupe relax populaires d'aujourd'hui
Lavage et séchage en machine
Fabriqué avec vraie fibre DuPont™ KEVLAR® aux hanches, sur les côtés de vos jambes, vos genoux et tibias supérieurs et à travers le siège et le haut des ischio-jambiers
Confortable et parfait pour une conduite quotidienne, mais offre le bénéfice de protection résistante à l'abrasion dans les zones critiques où les conducteurs ont besoin de protection
Reviews
Rated

4

de

5
de
mtemps
par
Excellent bang-for-the-buck
I was looking at riding pants that were much more expensive but decided to give these a go based on price. My expectations were low based on price. I have to say I have been presently surprised by them. They are very well built and comfortable. The khakis are actually a darker color then they look in the pic and look a little like tough duck gear. I like the extra length so they stay down on my boots while seated on the bike. Now for the bad: The knee pad pockets aren't the easiest to use and seem to be too high. With Icon field armor knee pads in, the knee pads come up too high when seated and pull the pants up from the bottom leaving a gap between your boot. These pants are also pretty heavy. They feel and look like they will do well in a slide however, the trade off is they are probably going to be a little hot in the summer. I can say they are perfect for riding 12*C to 23*C. I have not been in warmer weather yet.
Date de publication: 2017-05-04
Rated

4

de

5
de
Pgriz
par
Baggy, but....
This is a 3:1 review! These pants are great, but baggy as $%#€. That said, for a few bucks I got them hemmed AND narrowed below the knee... now they're awesome. I've got 3 pair of pants from ol fortnine, and they're all very different. Icon hooligan - feel like jeans, and I would think they only protect about as well as jeans too with knee pads removed. Scorpion covert - heavy! Super protective but there is too much material and they bunch around your [ uts] which makes long rides uncomfortable. These pants are sweetly right in between! I feel protected but not bunched and weighty. They also look saweet with the icon 1000 shoes. Great price and great pockets, just let a seamstress fix em up for you! Waist is bang on, it's the legs that are huge.
Date de publication: 2017-05-06
Rated

5

de

5
de
Anonyme
par
Excellant product!
I have found these pants to be of high quality and very good fit. I bought the 34x36. I am 6'3" and the fit was great. The fabric appears to be of high quality. Very comfortable. Great pants for the price!
Date de publication: 2014-05-31
Rated

5

de

5
de
SpecialWarr
par
Light, loose fit
Bought this pant at the behest (!) of my better half who thought I should have some leg protection. I ride city street and hardly ever get over 85km/h so more than basic protection isn't needed in my opinion. The fit is on the loose side, good tight seams and the kevlar is stitched all the way around the panel, there looks to be a spot to throw in some viscoelastic or hard armor if you want an upgrade. Length is "i'm-siting-on-a-bike" appropriate.... about an extra 1 and a half inches to two inches longer. Mine doesn't bunch up behind my knee like some pants I've worn.... Need a jacket next time so watch out.
Date de publication: 2017-05-04
Rated

4

de

5
de
Anonyme
par
comfortable but baggy
I like these pants. They look more casual than most of the other riding jeans and pants out there. I would like to see them with a narrower leg as they are quite baggy.
Date de publication: 2014-05-31
Rated

5

de

5
de
enzo
par
The pants are great can not wait to use them
Well many things to say. They fit great, feel great and I am happy. The delivery was stellar.
Date de publication: 2017-03-31
Rated

5

de

5
de
Lucas
par
Just great riding pants
The fabric and the way the are design is great comfortable and versatile. I highly recommend these pants to everyone.
Date de publication: 2017-05-11
Rated

5

de

5
de
Valiant
par
Comfortable, warm, well sized
I used these pants in both warm and cool temperatures, with rain pants when necessary. op
Date de publication: 2019-12-01
Questions
Can this pants be used on a sport bike?
No reason not to.  They are very thick material, and baggy.  Whether that's your style is up to you.
Date de publication: 2019-10-30
Do these pants come with armour? If not, do they have the ability to accept armour? ?
No armor but can fit a set if you purchase separately
Date de publication: 2019-09-30
I like them but not enough info.. all I hear is they're super baggy.. actual dimensions would be handy.
HI, I measured them sitting flat on the floor so sizing dimensions are off a bit but here it goes: I have the 36" waist and 34" length as per the label. the pants are 43" from the top of the hip to the bottom of the cuff, the inseam is 32" so that gives you a 2" drop. the hip height is 12" from the top to the top of the cargo pocket. The leg below the cargo pocket is 10 1/2" wide tapering down to 8 1/2" at the cuff. All in all the pants are roomy and have a roomy look to them, I have large quads from decades of mountain biking so I need the space but if you have a more natural build you will find the pants almost on the sloppy end. The crash pads are not thick but reasonable and well sized for their pockets, that being said, I wouldn't expect the pads to help much if the pants don't fit well. Christian
Date de publication: 2019-09-06
Do these pants have the capability to open the cuffs to allow them to be put on over boots?
No
Date de publication: 2017-06-21