Wiseco - Kit Haute Moteur
Numéro d'article : 187018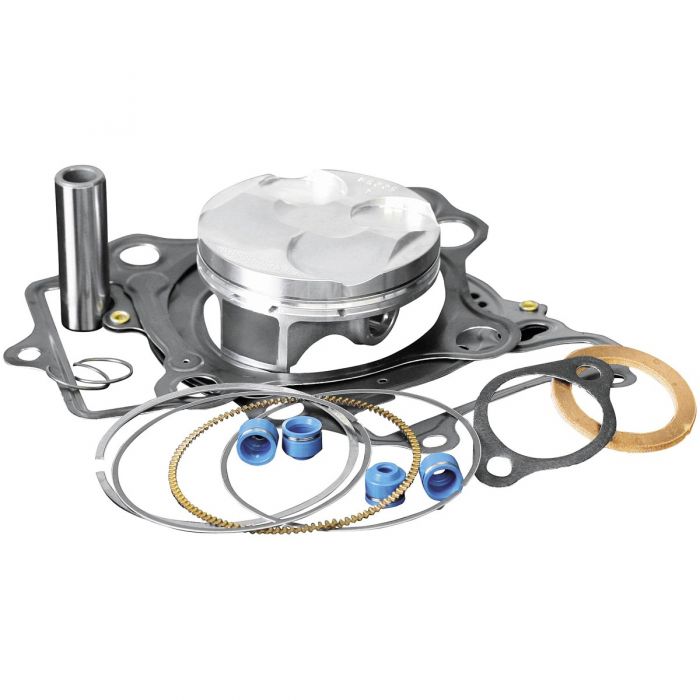 Wiseco - Kit Haute Moteur
Numéro d'article 187018
Description
Kit Haute Moteur Wiseco
Les pistons en alliage d'aluminium à haute teneur en silicium forgé Wiseco sont usinés à des tolérances rigoureuses
Conçu pour une plus grande résistance avec un poids réduit et un transfert de chaleur amélioré
Les kits de pistons sont livrés avec des pistons forgés haute performance (assez pour un moteur), des anneaux, des goupilles de poignet, des anneaux de blocage et un kit complet de joints d'extrémité
Les pistons de rechange comprennent les anneaux et les circlips
Selon le véhicule sélectionné, certains kits de joints incluent seulement la tête et la base.
Fabriqué aux Etats-Unis.
*Note: Il peut être nécessaire de recouvrir ou de remplacer les cylindres pour les surdimensions
Reviews
Rated

5

de

5
de
skittles
par
pound the ground power
With the new piston and rings the install was smooth and easy, now the ground is scared silly
Date de publication: 2018-06-06
Rated

5

de

5
de
Keego
par
Quality parts
With a bit of machine work this kit fit my xl100 nicely
Date de publication: 2018-03-27
Rated

5

de

5
de
Chris
par
Very happy, just wish it included the valve seals with this top end kit!
Date de publication: 2017-05-06
Rated

5

de

5
de
Sammie
par
ATV
Excellent service. Parts I requested were in stock. Will refer you to my friends
Date de publication: 2018-07-08
Rated

5

de

5
de
Rkos
par
Piston kit for 2013 RMZ 450
I got this kit a couple weeks ago to complete my bike and get it all together, awesome company they ship so fast and it deliver really quick! Kit cane with everything I needed, overall super content with my purchase!
Date de publication: 2018-07-07
Rated

4

de

5
de
Thomas
par
Great availability
I've been putting Wiseco pistons in all my 2 strokes for years now and they do the job well, If i was able to get OEM Vertex piston kits as easy as i can these i would probably go with OEM but that's just me, i like to keep it stock. BUT because i can't I've been using Wiseco! Nothing wrong with them and they work flawlessly!
Date de publication: 2018-03-05
Rated

2

de

5
de
Lemonhead
par
More work than expected
After receiving this kit for my 2002 CR250 I found that it is recommended to drill 2 small holes in the front of the piston to allow oil to lubricate the exhaust bridge. If I ordered again I would order a stock piston so I wouldn't have to drill holes in the piston. Forged pistons expand more than cast pistons which is why the holes are recommended.
Date de publication: 2015-02-07
Rated

5

de

5
de
Martine
par
Fits good and runs
Fits like oem. And it runs. Didn't use it much yet do to the snow.
Date de publication: 2019-11-20
Questions
Just want to know if there is 2 piston kit in those kit?? On the picture, there is only one!? Probably yess, cause there is two piston on my rmk!!
Yes, these kits come with the number of pistons required for the vehicle type you enter.
Date de publication: 2016-08-26
Does the standard bore 52.00mm make the 2000 cr80r a 102cc?
The standard bore is 47mm so to use the 52mm piston, cylinder sleeving is required. Then you would have 101.5cc. You will see it written down in the specification when you select the piston option and also on Wiseco's website.
Date de publication: 2019-09-19
Does the Wiseco Top End Kit for a 1996 VMAX 600 come with the pistons and gaskets needed for two cylinders?
i would say that it would if its a top end kit
Date de publication: 2017-01-08
I wanted to know what gasket come with the kit? I can buy piston and gasket kit for 240$ and the gasket kit include every gasket and oil seal, crankcase, transfer case, output shaft, shifter, waterpump, clutch, pullstart and starter.
I bought this kit for a 2001 xr200r. It came with the matching head gasket for the piston. I bought a separate oem honda gasket kit which included all of the other gaskets and o-rings i needed to rebuild my engine.
Date de publication: 2016-10-18