Acerbis - Kit de Plastiques Complet
Numéro d'article : 128673
116,99 $ - 243,99 $
58,99 $ - 243,99 $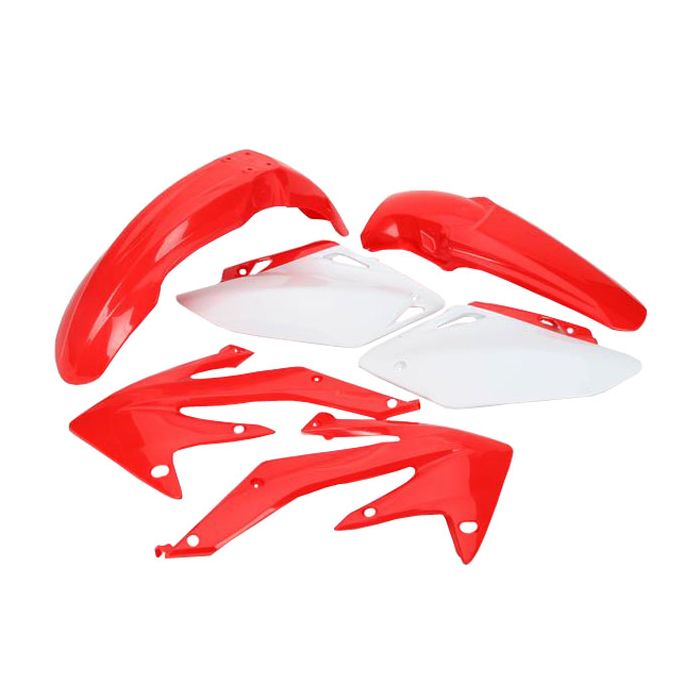 Acerbis - Kit de Plastiques Complet
Numéro d'article 128673
Description
Acerbis - Kit de Plastiques Complet
Caractéristiques:
Kit de plastiques de rechange de haute qualité
Tous les kits en plastique ont la forme d'origine selon le modèle de la moto
Le kit standard comprend: aile avant, aile arrière, panneaux latéraux, écopes de radiateur
Reviews
Rated

5

de

5
de
Broberts
par
I broke a rear fender practicing for Ice Racing only days before the first event. I would not pass Tech with a cobbled up fender. I ordered this kit and had it within 48 hrs. The fit was perfect an my bike looked like new. YZ450F. Thanks for getting my parts out quickly
Date de publication: 2018-02-08
Rated

5

de

5
de
Nate
par
Very good buy.
Bought this kit to black out my bike. Reasonable price and all parts fit good.
Date de publication: 2015-05-31
Rated

5

de

5
de
KTM rider
par
What difference this makes!
I bought this kit in white to update the look on my KTM, parts are well manufactured like OEM. With patience and being careful, these fit great.
Date de publication: 2017-03-10
Rated

5

de

5
de
Burger Boy
par
Great Fit
Fit and looks great! Came with everything listed in the details. Make sure to read the details and don't assume it comes with every piece of plastics for your bike.
Date de publication: 2018-07-12
Rated

4

de

5
de
Duffman
par
Good parts
Got this kit month ago. All fitted good. Would purchase again. Shipping was very fast.
Date de publication: 2017-12-13
Rated

5

de

5
de
Wayne
par
Ex
Perfect fit and colour match l would buy this again
Date de publication: 2016-08-13
Rated

5

de

5
de
Supermoto Crazy
par
Drz400 plastic kit
thanks alot ,,its a great product and you guys do good business
Date de publication: 2014-01-14
Rated

5

de

5
de
kyleole
par
Best seller
Awesome item! Great price crazy fast shipping and customer service for my spark plug was crazy!! Won't shop anywhere else!!!!!
Date de publication: 2015-12-07
Questions
So this will forsure fit a 2005 crf450r?
Yes, this item will fit a 2005 CRF450R. You need to enter the year, make and model of your vehicle on the product page to ensure that you receive the vehicle specific part for your application
Date de publication: 2019-07-03
Are these plastics exactly the same as the original stock ones? Im looking at getting the plastics for my 2007 Honda CRF250r and putting graphics on them. Do the plastics have the exact same shape so the graphics will fit correctly?
The Acerbis plastic kits for the 2007 Honda CRF250R are designated as the stock replacement in the original factory shape and dimensions.
Date de publication: 2015-08-06
Are fork guards and number plate included in the package?
Hi Chad, There are sometimes different kit assortments depending on which vehicle it is you have. ~Danielle, Customer Service, Canada's Motorcycle
Date de publication: 2018-09-16
Does the plastic kit for the CRF150R Expert 2008 include the fork guards and the front number plate ?
No, it includes front fender, rear fender, side panels, and radiator shrouds.
Date de publication: 2015-12-02
I'm thinking about ordering for my 2004 yz450f the picture is showing very modern looking plastics witch is what I want if I order these plastics will they come in the modern style or will they look like my original plastics ?
They will look like your originals without decals. 
Date de publication: 2016-10-20
does the plastics come with screws and bolts?
No it does not, u just use your old ones from your bike
Date de publication: 2016-10-12