Dainese Manis D1 G - Protection Dorsale
Numéro d'article : 469937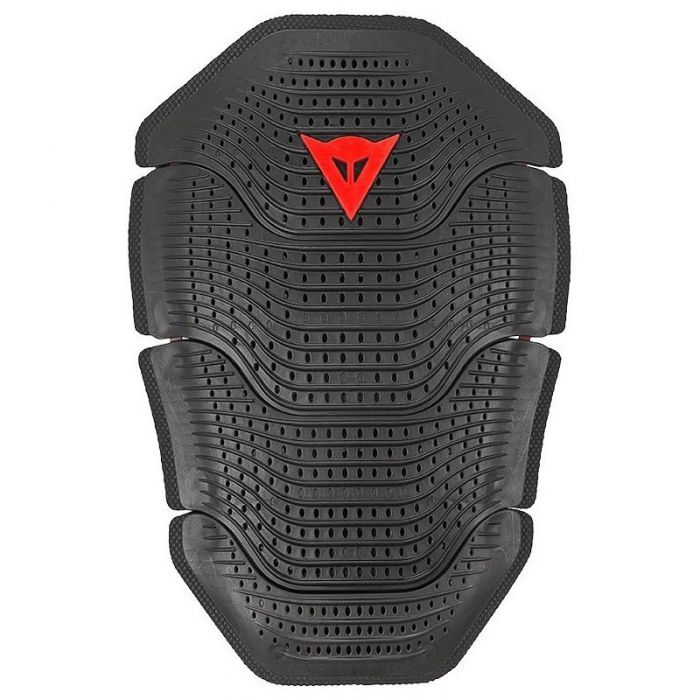 Dainese Manis D1 G - Protection Dorsale
Numéro d'article 469937
Description
Dainese Manis D1 G - Protection Dorsale
Protection :
Protection dorsale homologuée CE - Cat. II - Pr-EN 1621.2/2014 Niv. 2
Ergonomie et Confort :
Protection dorsale à 4 degrés de liberté :

Extensibilité longitudinale
Flexion longitudinale
Torsion
Flexion latérale contrôlée par un tendeur spécial

Plaques perforées extérieures
Matériau d'absorption perforé qui absorbe les chocs
Surface de contact réduite
Tailles :
G1 : Taille de manteau de 44 à 48
G2 : Taille de manteau de 50 à 64
Dimensions :
G1 : Largeur : 26,5 cm / Longueur : 40 cm
G2 : Largeur : 27,5 cm / Longueur : 48,5 cm
Reviews
Rated

5

de

5
de
Arnaud
par
Très satisfait!
Je ne l'ai pas encore véritablement testée dans un accident, mais elle ne me dérange d'aucune façon. La taille G2 rentrait tout juste dans ma veste de taille 50 (Dainese Dyno Textile). Je souhaiterais seulement que cette pièce soit un peu moins chère...
Date de publication: 2019-08-31
Rated

5

de

5
de
Domm
par
Perfect fit
I bought this back protector to put in my Dainese Sand Storm jacket size 50. I first contacted Dainese costomer service to make sure the G2 was the great choice. The referred my to their sizing chart which is more accurate than going only by the jacket size. I am 5' 7" and the G2 give me excellent protection. It makes my back a bit swetty when riding pass 25 degree C. It's the downside of being well protected.
Date de publication: 2018-06-24
Rated

4

de

5
de
The Benz Master
par
Good build quality, as expected from Dainese
Looks like great quality and is nice and thick to absorb impacts. It's a bit too wide for my girlfriend's jacket tho (Alpinestars size 36 , XS), was hard to put inside and is actually a bit too wide, you can see the protector sticking a bit wider than her back. you guys should at least put the actual dimensions so people can measure and figure out if it fits before buying.
Date de publication: 2017-12-18
Rated

4

de

5
de
dino5798
par
I feel protected
A bit bulky but your getting top end protection. Well ventilated my back does not get hot even after riding 2-3 hours. Daneise have great products. Cheers!
Date de publication: 2016-12-14
Rated

4

de

5
de
Canuckrz
par
Comfortable, solid quality.
I bought this to use with my D-Stormer jacket, build quality is great and the articulation built into the protector works well and makes it largely unnoticeable on the back. A couple downsides which is why I can't give it a 5 is that it is an almost concerning tight fit in my jacket and put a fair bit of pressure on the zipper despite of being both Dainese products designed to work together. Additionally its not the best ventilated compared to some of the other products on the market and thus interferes with my full back mesh panels functionality to some degree.
Date de publication: 2016-08-13
Rated

3

de

5
de
blackshadow
par
Flexible and wavy
Better made than the G1 model. I have a size 50 leather dainese jacket and the size and this way fits a bit too tight top and bottom. It really pushes the bottom and after you close the zipper the bottom sticks out a bit. As a result while riding with backpack, it hurts my lower back when standing straight at red light. Still a good product. Will recommend for size 52 and above.
Date de publication: 2016-05-09
Rated

5

de

5
de
ER6N Daily
par
Good price, very comfortable!
Hope I don't have to use it but its comfortable, light weight.
Date de publication: 2016-03-26
Questions
Does this fit the the D1 Jacket? https://www.canadasmotorcycle.ca/dainese-racing-d1-leather-jacket.html
Yes, this will fit the D1 jacket.
Date de publication: 2016-02-19
Will this fit a Dainese Mike euro size 44 jacket?
Yes, this is compatible with the Dainese Mike jacket.
Date de publication: 2016-12-13
Will this fit my dainese air frame women textile size 44?
Yes, the G1 size should fit.
Date de publication: 2019-01-08
What is the best fit with my superspeed d1 jacket, Manis d1G2 or pro armor G2. Tks
Yes it will, I have it in my D1 jacket! 
Date de publication: 2018-03-15