FMF Racing PowerCore 4 Slip-On - Pot d'Échappement Pare-Étincelles
Numéro d'article : 135920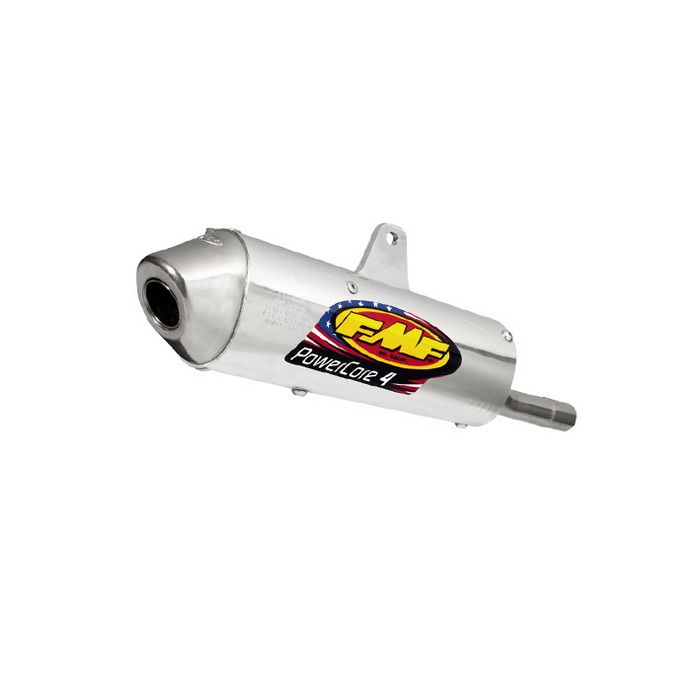 FMF Racing PowerCore 4 Slip-On - Pot d'Échappement Pare-Étincelles
Numéro d'article 135920
Description
FMF Racing PowerCore 4 Slip-On - Pot d'Échappement Pare-Étincelles
Caractéristiques :
Pèse plusieurs livres de moins que les pots d'échappements d'origine
Performance incroyable à très bon prix
Base en acier inoxydable Hi-Flo et embouts en aluminium modelés avec cartouche en aluminium de qualité aéronautique
Pare-étincelles inclus
Reviews
Rated

4

de

5
de
TAB10901
par
Sounds amazing!
I recently had a friend crash my bike causing the my stock muffler to be sandwiched to kingdom come, but I couldn't believe it when I saw the OEM replacement cost $791.00. So I got this on sale (430$ I believe) It was extremely easy to put on, ups the bikes value, performs better than stock (I could feel better throttle response), and it sounds Sooooo much better than stock. If you want to upgrade your bike for looks/performance/sound, I would absolutely recommend this.
Date de publication: 2015-11-04
Rated

5

de

5
de
Matthewberg689
par
Great exhaust! I don't think it was worth the $405 I paid for my bike but I still think it was a great upgrade. Awesome sound. It gave my bike a little bit more low end, But I wish it was still better. Very easy install and I am still happy I bought it!
Date de publication: 2015-08-12
Rated

5

de

5
de
PatD
par
Great Quality !
Perfect exhaust to replace the oem. Perfect Fitting and the sound..... PERFECT !
Date de publication: 2015-06-02
Rated

5

de

5
de
Peter
par
Sounds mean.
I just put it on two weeks ago and can feel the difference full performance bottom end to top.
Date de publication: 2017-05-08
Rated

5

de

5
de
James
par
Find power core 4
Easy install, great sound, changed throttle response, fast delivery.
Date de publication: 2018-11-05
Rated

5

de

5
de
badcoil
par
just awesome
motor breads allot better... i can feel the difference on my DRZ....
Date de publication: 2016-06-24
Rated

4

de

5
de
Rich
par
Très bon produit
On a installé ce produit sur une Honda CRF 250F 2019 , le procuit nous donne la satisfaction attendue par-contre un peu de bricolage a dû être nécessaire pour l'installation
Date de publication: 2019-09-02
Rated

5

de

5
de
Da dude
par
Excellent product
Bought it a few weeks back. Definitely gave my son's wheeler more power. Sounds great and works as its supposed to. I would recommend it to anyone.
Date de publication: 2019-06-12
Questions
Does this muffler fit on my f800r BMW ?
No, FMF do not make products for BMWs. If you enter the year, make and model of your vehicle on the product page, you will see if this item is a "Guaranteed Fit" or "Not expected to Fit."
Date de publication: 2019-10-11
I have a 2006 crf250r dual exhaust stupid question but does it come with 2 pipes if I order the muffler lol 
Hi, no the FMF PowerCore slip on pipe for your 06 CRF250R comes as a single pipe. Hope this helps! Dan
Date de publication: 2016-06-28
Does this muffler fit the stock head pipe, or is it made to fit the FMF power bomb header?
Yes it fits on my Xr 650l stock pipe it was easy install,sounds great.
Date de publication: 2016-09-18