FMF Racing Q4 Slip-On - Pot D'Échappement Pare-Étincelles
Numéro d'article : 136094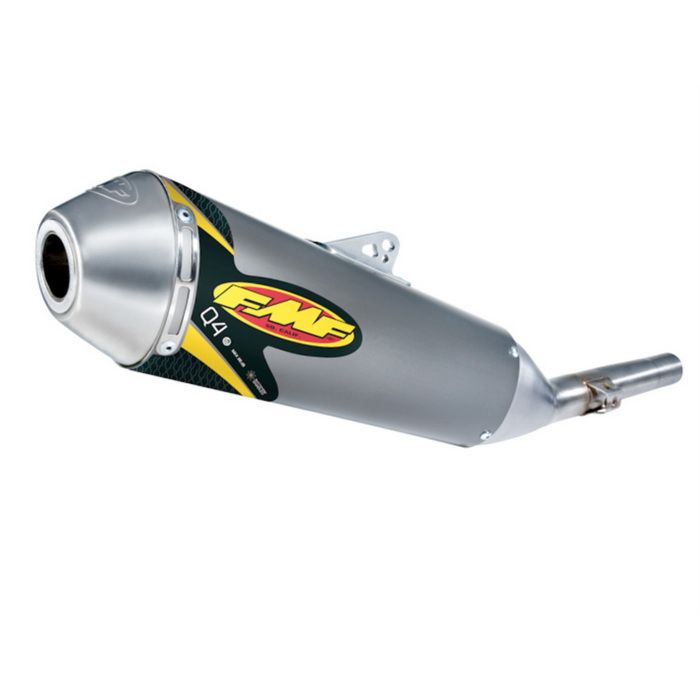 FMF Racing Q4 Slip-On - Pot D'Échappement Pare-Étincelles
Numéro d'article 136094
Description
FMF Racing Q4 Slip-On - Pot D'Échappement Pare-Étincelles
FMF est le leader en matière de technologie silencieuse de haute performance et notre Q4 est la prochaine évolution de systèmes d'échappement hors route. Le Q4 se constitue de chambres complexes, de chicanes et de matériel de conditionnement exclusif à plusieurs degrés qui en font le meilleur silencieux avec la meilleure performance disponible. Avec le Q4, plus besoin d'entendre la puissance, juste de la sentir !
Caractéristiques :
Développé au cours des années de championnat de course hors route
Sortie de son maximum de 96 dB ; la plupart des modèles ont une sortie de son de moins de 93 dB
Construit en aluminium de qualité aéronautique et d'acier inoxydable de haute résistance
À utiliser avec un Collecteur FMF ou OEM d'origine
Pare-étincelles amovible inclus
Reviews
Rated

5

de

5
de
Anonyme
par
Should come as a factory part
I installed the FMF Q4 with the FMF PowerBomb and FMF EFI Programmer on my WR250X and noticed a nice increase in power/responsiveness. Nice deep sound too. Not too loud though.
Date de publication: 2014-04-19
Rated

5

de

5
de
Gavo
par
Fits 2016 ktm 690 enduro r
Bought the newest model i think it was for the 2014 and it fits the 2016 ktm enduro r no problem. Sounds great. Alot louder but not to loud.
Date de publication: 2016-08-13
Rated

5

de

5
de
McQueen
par
Very pleased
No problems, happy happy. Quick delivery right to the doorstep.
Date de publication: 2018-06-06
Rated

5

de

5
de
Justin
par
Excellent
Very happy with new FMF exhaust much quieter than my old DG Bullet very good price as well
Date de publication: 2018-05-25
Rated

4

de

5
de
Durt Reynolds
par
Power without the noise.
I bought this to replace the FMF Powercore 4 that was originally installed. The Powercore 4 was way too loud, even after I repacked it. This Q4 pipe is much quieter and I did not notice much of a power difference from the Powercore 4. Same bite with less bark! Only gripe is the cheesy mounting hardware made of thin stamped metal where the header mounts to the frame. The Powercore has a proper threaded bolt on the header for installation to the frame. The Q4's clip stripped easily and now the pipe rubs on the rear shock. Strange that the more expensive Q4 hardware was not as good as the Powercore4. Going to have to contact FortNine or FMF to get a new clip.
Date de publication: 2017-08-14
Rated

5

de

5
de
Lenny
par
Perfect sound, perfect volume!
I bought this exhaust at the start of the summer (2017) and put it on my 2007 Yamaha YZ450F, as I enjoy riding bush trails and forest roads. I needed a spark arrestor type exhaust, and also wanted something quieter than stock so I wouldn't annoy all of my neighbours at camp. The Q4 ended up being the perfect choice. The power improved a bit on the bike, while the sound is great. It keeps the throaty growl and bark of the thumper we all love, while just reducing the overall volume to manageable levels. Definitely would recommend the Q4 to anyone.
Date de publication: 2017-08-10
Rated

4

de

5
de
Dirtrider
par
Awesome
Slip on exhaust fits 2017 Wr250r with very slight modification. However the included bolts were either to short or to long. Had to cut down factory bolt. Maybe you could add a couple more bolts of different lengths. Sounds awesome! Looks Awesome. Other than shipped with small dent very happy.
Date de publication: 2017-08-09
Rated

4

de

5
de
Gorick
par
Nice sound
I wanted something louder than stock. This is the answer. Love the sound and the fit was perfect. Woke the bike up a little too. Overall very nice.
Date de publication: 2017-05-04
Questions
Would it fit straight to the 2018 Suzuki dr650 or do I need to order something else? Thanks 
This will fit straight onto your stock or FMF header. There is nothing else that you need to order. Make sure you enter the year, make and model of your vehicle on the product page to receive the vehicle specific part for your application
Date de publication: 2019-09-11
What jet is recommended with this muffler?
It depends on your bike. Two stroke or four. I went up one size for both the main and pilot and adjusted the mixing screw. Best to check the forums for your particular bike. You may find that you don't need to rejet at all if it's running to your liking. Good luck. 
Date de publication: 2019-08-21