Icon Merc Battlescar Jacket
Numéro d'article : 639068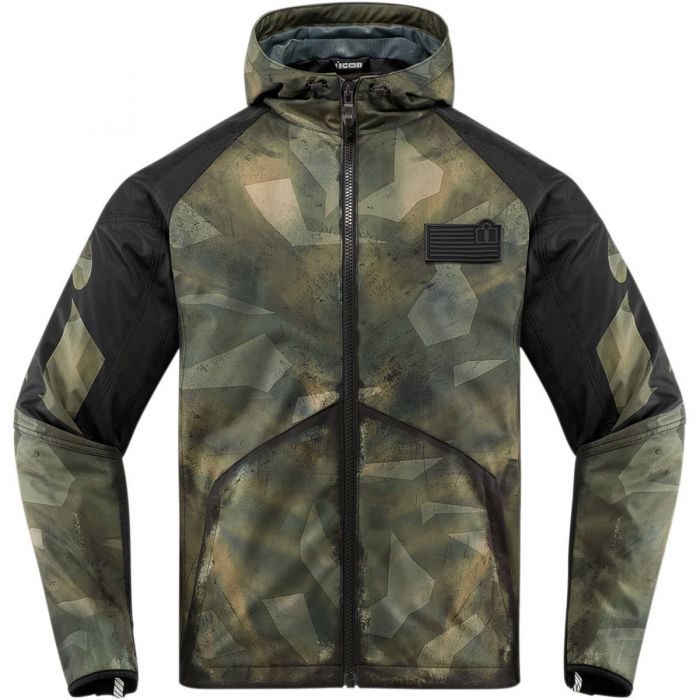 Icon Merc Battlescar Jacket
Numéro d'article 639068
Description
Icon Merc Battlescar Jacket
Join the reconnaissance squad of ICON's Exploratory Division in the Merc Battlescar. Durable Nylon paneling, a full suite of D3O® impact protectors, and the relaxed fit are what's needed for an active operator working in uncharted territory. Comfort is key to providing ultimate protection. The Merc's hood, oversized kangaroo pockets, pit zips, and Sportcuff prove you don't have to sacrifice comfort for defense.
Features:
ICON® relaxed fit
Softshell chassis, Nylon reinforcement panels
D30® removable back, elbow and shoulder impact protectors - EN 1621-2:2014 / EN 1621-1:2012, Tested and certified according to prEN 17092-4 Class A
Sublimated chassis, Underarm zippers for ventilation, Sportcuff™, headphone Pass through, YKK® zippers, Three position elbow protector pocket, Fixed liner
Reviews
Rated

5

de

5
de
Yamasaki Motovlog
par
Most comfortable riding jacket
Have other Icon jackets for comparison this one is for the cooler weather and the hoodie neckline helps keep things cozy. Overlord, Oildale, and Merc medium all fit me the same way re chest arms length etc so like that consistency of fit! Probably the highest quality looking made of my Icon wardrobe stitching is perfect everywhere etc etc very happy with that! Most comfortable to wear around with armor in or out of the bunch love the graphic black is so everywhere this is more fun goes with my BioSkull helmet looks awesome! Price is the best part of buying and free shipping adds to the value. Good job FortNine my cat loves the box as always...
Date de publication: 2018-01-02
Rated

5

de

5
de
Fisherpreiss
par
Nice jacket - warm and heavier than expected.
I picked this up for my 10 minute commutes to and from work in Saskatchewan. Perfect in the mornings when temps are low to mid teens. A bit warm in the afternoon without a lot of venting. Jacket is really comfortable to wear and has a casual look about it. No hood flap experienced, even in heavy winds and on the freeway. Nice, simple, heavy. Just what I was after.
Date de publication: 2018-06-08
Rated

5

de

5
de
nicole24
par
LOVE THIS
I bought this as I already have the Merc jacket in black/white, I went down yet another size as I feel like it bunches up a bit in the chest area when riding, all in all I love this jacket though and the shaguar is a sick collection to have!
Date de publication: 2016-12-16
Rated

4

de

5
de
mothmonty
par
Warm and comfortable
This jacket is warm (which I like) and the material is very comfortable. The elbow, shoulder and back padding is none impeding and sits properly. The arm length is a tad to short.
Date de publication: 2018-08-27
Rated

5

de

5
de
Wesley
par
Awesome for cooler days!
I bought this jacket looking for an alternative to my all-black, vented Icon Sanctuary for cooler weather as the included liner doesn't assist much to keep you warm, when it still allows all the cold air in! I'm a skinnier guy, 6'-1" @ 185LBS with a good chunk of my height coming from longer legs & narrower shoulders. I bought a medium (blue) and the jacket fits good for me, although it could be longer in the torso. I liked the jacket so much, I convinced my friend that I ride with, who also needed a cool-weather jacket to buy one. He bought a large (of the cloven design) - and being more evenly built - it fits him well. I would not recommend going a size up if you are thinner though - trying on my buddy's large jacket I found there was no way to get the shoulder and elbow padding in the proper place & stay there. With my medium, it's where it should be, with room for an extra layer underneath if needed. After riding with the jacket is temperatures below 10°C, I am very impressed. The wind is kept out very well by the high collar, the arm straps keep the cuffs with your gloves, and the hood doesn't fly around much (you can roll it into the collar if needed). I wouldn't recommend this jacket for temperature over 25°C as the only ventilation comes from two armpit vents (zipper to open/close). The main zipper is plastic, not metal - but the larger tooth size means it zips open and closed with ease - even with gloves on. No binding or jamming. If you want a second jacket for spring and fall - this is the one!
Date de publication: 2018-07-17
Rated

4

de

5
de
KingNoelie
par
Good value for money
Purchased recently. The jacket performed really well in a cool (13°) and rainy mountain ride here in the Rockies. I stayed nice and dry theough the rain, and I was plenty warm enough with a long sleeve shirt on underneath. The included protection (arms, shoulders & back) is great value-added. Couple of small knocks: 1. The arm cuffs are quite wide. Using the thumb loops helps, but I'd rather see a velcro cuff for self-adjustment. 2. The pocket sippers don't have tabs for easy opening/closing with gloves on. Not a deal breaker, but another touch that would have been welcomed. 3. On a warmer (22°) ride, I found that the venting was adequate but not great. It's a great all-around jacket at a great price point. I feel like I could easily wear this in very cold weather with a decent mid-level and be plenty warm. The hood hasn't bothered me at all when doing highway speeds. I purchased a size up to get a roomy fit for layering flexibility.
Date de publication: 2019-08-28
Rated

5

de

5
de
davephoto
par
Perfect commuter jacket
Clean, modern lines and styling reminiscent of Arc'teryx and TNF technical shells. Mostly true to size — sleeve length and shoulder width were fine — although I find the body is ridiculously roomy for my slim athletic small build. The jacket is warm enough for me to wear over only a t-shirt down to chilly 10°C morning city commutes in Toronto. It will likely take me to the end of the riding season, which would be perfect.
Date de publication: 2018-10-13
Rated

4

de

5
de
Hellbducati
par
Looks like a normal jacket
Great jacket. Perfect to go to work. It can be a bit hot, there are vents under the armpits but they're small.
Date de publication: 2018-05-22
Questions
Is the armour removable? Specifically the back armour
Yes, all armour can be removed for cleaning, etc.
Date de publication: 2018-08-13
How does the hood react to higher speeds? Does it flap around?
The hoods has a small velcro attachment that keeps it from moving around too much. It still flaps but not so much that it becomes annoying.
Date de publication: 2018-04-03