Icon ProShield - Visière
Numéro d'article : 30908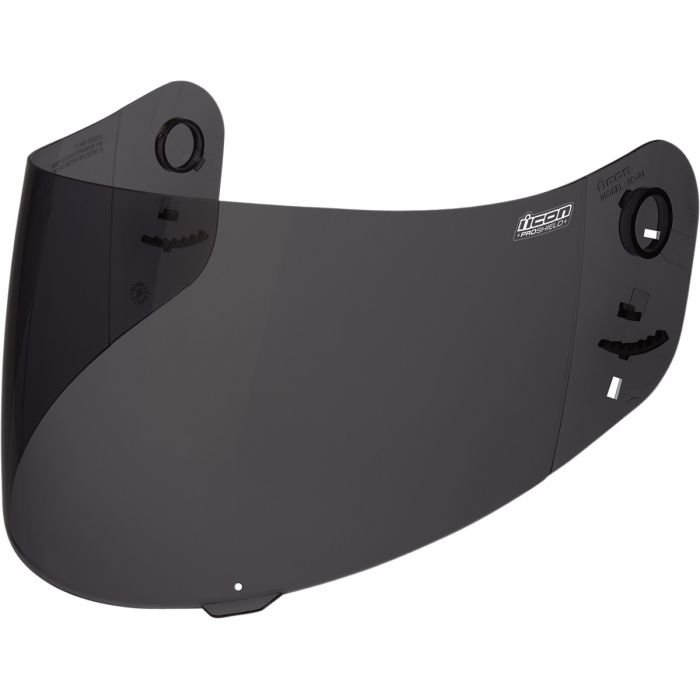 Icon ProShield - Visière
Numéro d'article 30908
Description
Icon ProShield - Écran
Caractéristiques :
Le ProShield d'Icon (IC-02) est équipé d'un système de verrouillage d'écran de casque pour garder ton écran fermé sûrement.
Le ProShield est conçu pour être compatible avec les casques Domain 2, Airframe, Alliance et Alliance GT.
Numéros de Pièce Fabricant :
0130-0392 - Bleu
0130-0215 - Transparent
0130-0389 - Fumé Noir
0130-0391 - Or
0130-0216 - Fumé Légèrement
0130-0394 - Caméléon RST
0130-0393 - Vert RST
0130-0390 - Argent
0130-0499 - Jaune
0130-0639 - Rouge RST
Reviews
Rated

3

de

5
de
RougeRocket
par
Somewhat satisfied
Been using this for about a month now. Installation is easy and took about 2 minutes. However, I find that when there are any bugs or other objects that get on your visor, that cleaning them off properly (not just like a maniac) removes the coloring of the visor itself. Also, just by using bare hands to handle the visor, I've noticed that the inside of the visit has scratched very easily? Not sure if this is a user fault somehow but.. Never experienced this problem before. Other than that ! The visibility is stellar for the blue color and helps combat glare. Plus it catches people's attention. Would be 5 star if not for aforementioned.
Date de publication: 2017-05-05
Rated

3

de

5
de
davcos1990
par
Good shield, bad colour
I thought the purple visor would look great with the flat black helmet and flat black bike. Got it today and although its decent, it is much less purple than I thought and looks nothing like the picture. In person on most angles it looks/reflects a gold finish. Kind of wish I had just went with the silver/chrome finish
Date de publication: 2018-03-23
Rated

5

de

5
de
PerryJack
par
Exactly as ordered
Bought this pro-shield two months ago, arrived in perfect condition, happy with my purchase, need to get that clear visor now as it's going into fall weather.
Date de publication: 2015-09-01
Rated

3

de

5
de
Cornish
par
Looks nice but....
Got the Silver Proshield for my Alliance Dark. Visor looks great and I was really impressed until... bugs. First time I washed the visor (being SUPER careful mind you) it scratched like crazy. I'm not even sure how. It seems like if anything touches the visor it will take off the colour. Doesn't matter how careful or gentle you are with it, it's gonna come off. Washed it twice and its bad enough that I am currently ordering a Dark Tint Proshield to replace it... Too bad.
Date de publication: 2019-06-01
Rated

2

de

5
de
TylerC
par
Nice but colours are off as pictured
I purchased the purple shield thinking it was purple but the picture is way off. I'd say it is closer to a pink. Aside from the colours it seems to be a decent shield but i wish the pictures were actually of the shield so you know what you are getting especially at $60
Date de publication: 2019-03-09
Rated

4

de

5
de
CrossFoe
par
Looks absolutely stunning
I just got this and have only ridden with it a couple times, but so far I'm extremely happy with it. It looks amazing when you're just looking at it looks perfect when wearing it. The tiny doesn't affect your vision at all. Only warning is it is extremely easy to scratch, I took a wet paper towel to clean off bugs and then made the mistake of using a dry paper towel to dry it, scratches are hard to see but they are there. Overall amazing visor.
Date de publication: 2018-07-25
Rated

5

de

5
de
Wickj
par
Looks great and perfect tint.
This shield looks very sharp. The tint is perfect and the first few days I could see my reflection as other stated but now I either can't see it or I don't notice it. Kind of like wearing new glasses for the first time. You see the frame for the first few days and then you don't. Great product. Highly recommend! And the shipping was super fast! Thank you!
Date de publication: 2018-06-06
Rated

3

de

5
de
zacharylacroix
par
Nice colour but scratched easily
Fits my Icon helmet great. I've been very careful with this visor trying to keep it from scratching. After gently pre soaking and lightly going over it with a micro fibre cloth i've got many small scratches.
Date de publication: 2018-05-16
Questions
Hey I have an icon airframe construct pro, will this fit?
The Icon Pro-Shield for Icon Helmets is compatible with Airframe, Alliance, & Domain 2 helmets.
Date de publication: 2016-02-01
Are there no different size shields? i have a 2xl Alliance are they just 1 size fits all?
Yes, these shields are one size fits all.
Date de publication: 2018-09-20
I have a  Icon torrent helmet(alliance) this Icon Pro-Shield is for my helmet?
Yes, the Icon Pro-Shield will fit your Icon Alliance Torrent helmet.
Date de publication: 2017-01-17
Is the gold prosheild visor like a mirror tint to it or not, cause thats what i am looking for.
The gold is mirrored, yes.
Date de publication: 2017-10-30
Will this visor fit my old icon mainframe subhuman helmet? If not do you have a visor that will fit that helmet?
Unfortunately this shield is not compatible with the Icon Mainframe helmets. The shield compatible with that helmet would be the IC-01.
Date de publication: 2018-06-07
Will this fit my icon death or glory helmet ?
Yes, it is compatible with Icon Airframe helmets.
Date de publication: 2018-06-07
I'm looking at buying the icon thriller helmet, does this shield work with that helmet? 
No, this shield would not be compatible with the Icon Airmada Thriller. The compatible shield can be found below : https://www.canadasmotorcycle.ca/icon-optics-shield.html
Date de publication: 2017-10-20
Would this fit the airframe pro?
No, the appropriate shield for the Airframe Pro can be found here: fortnine.ca/en/icon-optics-shield
Date de publication: 2018-07-04