Maxima Chain Wax/Clean Up/MPPL - Combo d'Entretien de Chaîne Ultime
Numéro d'article : 84998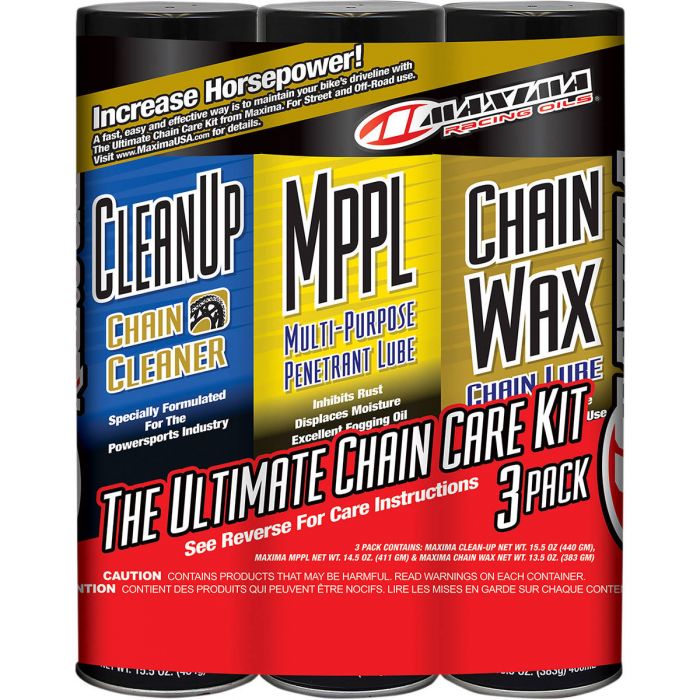 Maxima Chain Wax/Clean Up/MPPL - Combo d'Entretien de Chaîne Ultime
Numéro d'article 84998
Description
Maxima Chain Wax/Clean Up/MPPL - Combo d'Entretien de Chaîne Ultime
Caractéristiques :
Augmente la puissance et le couple au niveau de la roue arrière
Offre une durée de vie extraordinaire de la chaîne et des pignons
Sécuritaire pour joints toriques et chaîne sans joints toriques
Vient avec une bombe aérosol large de chaque : 1 Nettoyant à Chaîne CleanUp, 1 Lubrifiant Pénétrant Tout Usage MPPL ; 1 Lubrifiant à Chaîne Chain Wax
Processus en 4 étapes réduisant sensiblement la résistance au roulement :
Pulvériser le Nettoyant à Chaîne CleanUp
Passer au jet avec de l'eau
Appliquer généreusement le Lubrifiant Pénétrant Tout Usage MPPL
Lubrifier la chaîne avec le Lubrifiant à Chaîne Chain Wax
Numéros de Pièce Fabricant :
Reviews
Rated

4

de

5
de
HolySpark
par
Great Product - Bad Packaging
The product in itself works great and I'm using it pretty much everytime I clean my bike. Make sure you give some time to the wax to "stick" on your chain before driving off otherwise you'll get your bike dirty real fast. The only reason I'm giving this only 4 stars is that I received a product that had clearly been opened before as the plastic packaging was broken and 2 bottle caps out of 3 were damaged. One was seriously cracked and the other one was just shattered and laying at the bottom of the plastic wrapping. So at this point nothing tells me that this is not a refurbished product that has been used and the cans might have already been half emptied and I'll never know but hey, it's still a nice product so I'm not gonna be a d*** about it.
Date de publication: 2017-09-18
Rated

5

de

5
de
Ben
par
best combo
very easy to use great product love it
Date de publication: 2013-07-25
Rated

4

de

5
de
Tombonombona
par
Good stuff
Good product. Cleans well, and protects for a decent amount of time. I havent taken my bike through a ton of mud yet so I'm not sure how it will work there but it holds up to general trail and city riding not a problem. Gets my thumbs up.
Date de publication: 2013-06-21
Rated

5

de

5
de
blaze125
par
Works great
I can't compare it to any other product since this was my first time ever cleaning\lubing\waxing a chain. Though I can say it does work. Just look at the before and after pictures. The after does not show the wax applied, the shot was taken after rinsing off the cleaner.
Date de publication: 2018-05-27
Rated

5

de

5
de
Rob00
par
Wax stays right on the chain
Great product. The wax is much better than a grease. No mess after riding.
Date de publication: 2019-08-30
Rated

5

de

5
de
Carlo
par
Wicked 3 Pack
I used Honda products for a bit, but they are garbage compared to this. The same can ( 1 ) of the Chain Wax alone, is $ 22 bucks locally, at any dealer... This is a great deal. The Clean Up worked awesome with my Motion Pro brush, the MPPL got the water and rust off, and the Chain Wax worked great. A little goes a long way with the Chain Wax. so don't over soak. There is no fling with this lube, but if you over spray, you will see it coat some parts down low. This 3 pack is worth every cent. When you have a streetbike that is capable of 300 km / hr, this 3 pack will make sure that your chain can withstand the torture and abuse it goes through. I will absolutely buy this again,
Date de publication: 2019-05-15
Rated

5

de

5
de
Seabass
par
Very easy to use
I used this product for the first time today and I found it very easy to use took about 5 to 10 minutes to do PROPERLY let the wax sit for a few minutes before driving off for more effective results
Date de publication: 2019-03-29
Rated

5

de

5
de
cooliocor
par
awesome
really happy with the product and works amazing would recommend
Date de publication: 2018-11-05
Questions
There is one other similar bundle to this. The only difference is this one comes with chain wax and the other is with chain gaurd. Whats the difference between the two?
The chain guard is a permanent application as of the wax you would have to clean.
Date de publication: 2019-09-06