Michelin Pilot Power 2CT - Pneu Avant
Numéro d'article : 26398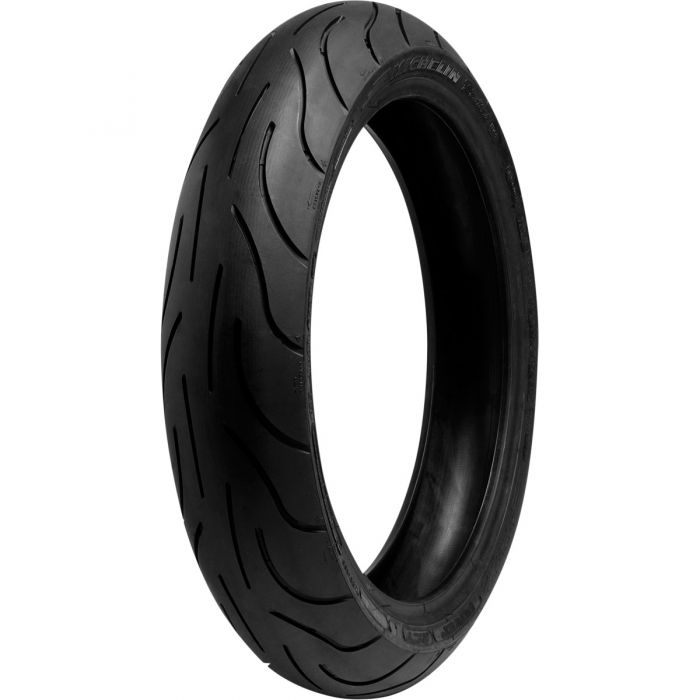 Michelin Pilot Power 2CT - Pneu Avant
Numéro d'article 26398
Description
Michelin Pilot Power 2CT - Pneu Avant
Les Pneus Pilot Power 2CT ajoutent la technologie bi-gomme (2CT) à la gamme Pilot Power déjà renommée. Tandis que la technologie 2CT trouve ses origines dans la compétition MotoGP, les Pneus Pilot Power 2CT sont quant à eux destinés aux conducteurs de motos sport les plus exigeants qui utilisent leurs motos autant sur la voie publique que pour les journées de piste. Sa surface de bande de roulement est divisée en trois zones séparées, incorporant deux différents composés de caoutchouc. Ceci permet d'offrir de nombreux bénéfices en matière d'adhérence sur sec, d'angle d'inclinaison, de maniabilité et d'accélération et freinage progressifs sur surfaces mouillées.
Clique ci-dessous pour voir les différences entre les divers Pneus Route de Michelin.
Tableau De Positionnement Des Pneus Route De MICHELIN
Section Transversale Du Pilot Power 2CT De MICHELIN
Caractéristiques :
Pneu de journée de piste qui se sent aussi à l'aise sur la voie publique
Réelle technologie MotoGP de la compagnie de pneus qui a introduit les pneus bi-gomme aux compétitions GP
Mélange de caoutchouc plus souple de 20% sur les bords de la bande de roulement qui offre une adhérence en virage phénoménale
Angles d'inclinaison allant jusqu'à 51.2° tels que mesurés sur la piste d'essai de Michelin
Maniabilité et rétroaction précises
Une extension de la ligne Pilot Power, et non un remplacement
Temps par tour dans les 7% des pneus lisses MotoGP de Michelin quand ils sont fixés à la moto MotoGP de Yamaha de Colin Edwards au circuit Sepan en Malaisie en Février 2006
Reviews
Rated

5

de

5
de
Steve
par
Best Tire
2ct is by far the best tire I have ever used, period. Does everything right, and wears well. Complete confidence boost in wet conditions. Changed the way I ride. I don't even look at anything else.
Date de publication: 2015-08-10
Rated

4

de

5
de
Anonyme
par
Good traction, short treadlife
Tire grips really well and is good for regular riding around town and some twisties. The problem I had was these tires are no good for long distance highway. I did a big trip and 1000km into the trip I noticed a flatspot forming. I wore the tire all the way down to the chords in the center and there was little to no wear on the sides. Bottom line is that these are not good for extended highway use, but great for performance like putting down power and cornering, and maybe a bit of both at the same time ;)
Date de publication: 2014-06-09
Rated

5

de

5
de
Sportbike604
par
No Complaints, Like my old PP originals but better
Just got these, have about 500km on them so far. No problems. Tire arrived well. I guess the only hardship was they don't put heavy side marks on the edge anymore to help with mounting. But reading around that's because they're supposed to be quite consistent out the factory. I just mounted and balanced and it's fine. Don't have a whole lot to compare to on the current Yamaha R6 I ride. I've always been on Michelin. However, I've ridden this in rain and at speed on pavement and seems slightly better than my old Pilot Power originals.
Date de publication: 2015-08-22
Rated

5

de

5
de
Steve
par
My favourite
This is the tire that changed it all for me. I always thought Michelins were a bit pricey, but after making the switch, I've never been happier. I love the predictable traction, and the wet weather performance. These tires also wear well.
Date de publication: 2015-10-17
Rated

4

de

5
de
Hazy
par
I would recommend and buy this product.
These tire stick to the road as if they are having claws.
Date de publication: 2013-07-22
Rated

5

de

5
de
The Assassin
par
What a dual compound tire should be
I've been running race scrubs on my litre bikes on the street since the late 90's. I can't always find the time for the frequent tire changes because it takes 2 hours to get out of Toronto to some decent roads and I'm a bit tired of lumpy tires that aren't even round half the time so I thought it might be time to try some street rubber. The Michelin 2CT's were surprisingly good during hot temperatures, even when pushed they stuck pretty much everywhere I'd hoped they would. They're only OK in cooler spring and autumn temps, they'll step out a little under hard throttle in the stiffer middle part of the tread, say at a quarter lean coming off corners but you know where to expect it. All in all, a good tire with predictable turn in and tons of stability. Mileage was way better than my scrubs obviously, I'm on my third set this season but I've been rabid about getting out more this year! I can't say I've sacrificed much in the traction department, street asphalt is a bit too smooth in southern ontario to be sliding both ends consistently. Try a set of these in hot weather and you'll be pleasantly surprised.
Date de publication: 2015-11-03
Rated

5

de

5
de
MasterLi
par
Great service
The site was easy to use and ordering was a breeze. I ordered a front and rear tire which arrived nicely wrapped within days. Great service and I'll definitely use them again.
Date de publication: 2016-08-13
Rated

5

de

5
de
robbieboy
par
great tires
I bought this tires a month ago alredy put on ans bike feels great, michelin tires are the best love it them !!!
Date de publication: 2019-09-06