Motion Pro Spoon Type Tire Iron
Numéro d'article : 122130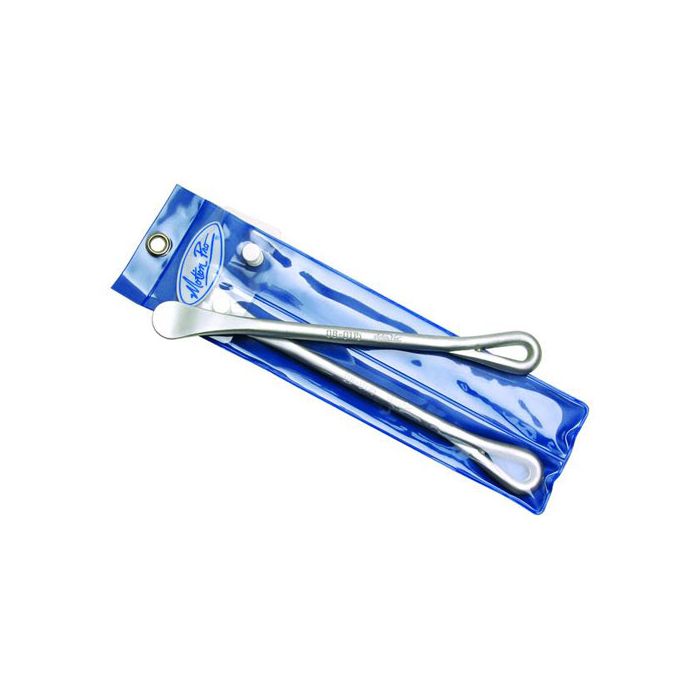 Motion Pro Spoon Type Tire Iron
Numéro d'article 122130
Description
Motion Pro Spoon Type Tire Iron
Curved end fits securely in the hand
Hard nickel pewter finish
Each lever is 10 inches long and weighs 7.1 ounces
Width at spoon is 25 mm
Includes a handy vinyl carrying pouch
Manufacturer Part Numbers:
08-0115 - Single
08-0409 - Two
Reviews
Rated

5

de

5
de
Gary
par
Great spoons
I've been using these spoons for years and they work fantastic. Very strong with what I feel to be the perfect shape spoon on the end. I have absolutely no complaints with these.
Date de publication: 2019-06-27
Rated

5

de

5
de
Joe66r
par
Motion pro tire spoons.
Vaught the product based on the review and that didn't let me down. I used them on both back and front tires for my friends bike and they worked perfectly. No pinched tubes as I have struggled with in the past. OverAll a great product did not bend or break, and the lip is perfect for getting in between the tire and rim for the last couple of tricky manuevers.
Date de publication: 2017-12-10
Rated

4

de

5
de
Daniel
par
Good tools ; Bon outils
I've done two tire changes with these and they work pretty fine .. althought it could be a little longer but fine. J'ai fait deux changements avec ceux-ci et ils vont bien .. le manche pourrait être un peu plus long mais bon.
Date de publication: 2017-08-09
Rated

5

de

5
de
RedSeal
par
The Only Ones You Need
I purchased 3 of these and they work great. Perfect size for dirtbike tires.
Date de publication: 2017-06-25
Rated

4

de

5
de
yves
par
Works great
These spoons work great, I bought a 16 inch iron with these after reading other comments and im very satisfied with my purchase. Fast delivery..
Date de publication: 2017-05-09
Rated

4

de

5
de
PeetieWeetie
par
Perfect Bare Bones Tool
Light and nimble, no bells and whistles tool that gets the job done.... No rubber nonsense on the handle end allows for it to be easily slipped under spokes and held in position, freeing both hands to position the next spoon.... I bought 3 spoons just to have the extra one for the tougher jobs...
Date de publication: 2017-04-03
Rated

5

de

5
de
Kyle
par
Great invesment
These tire spoons work great! Makes changing a dirt bike tire much easier compared to using big tire irons. I also recommend a third tire spoon for easier tire changes.
Date de publication: 2016-08-13
Rated

5

de

5
de
domar57
par
Good Durable Tool
These spoons really worked well. That and a lot of elbow grease. But I had never changed motorcycle tires before and these sure did the trick. I suggest that you buy three though.
Date de publication: 2015-11-08