Progressive Suspension 412 Series Shocks
Numéro d'article : 148829
377,99 $ - 575,99 $
266,99 $ - 537,99 $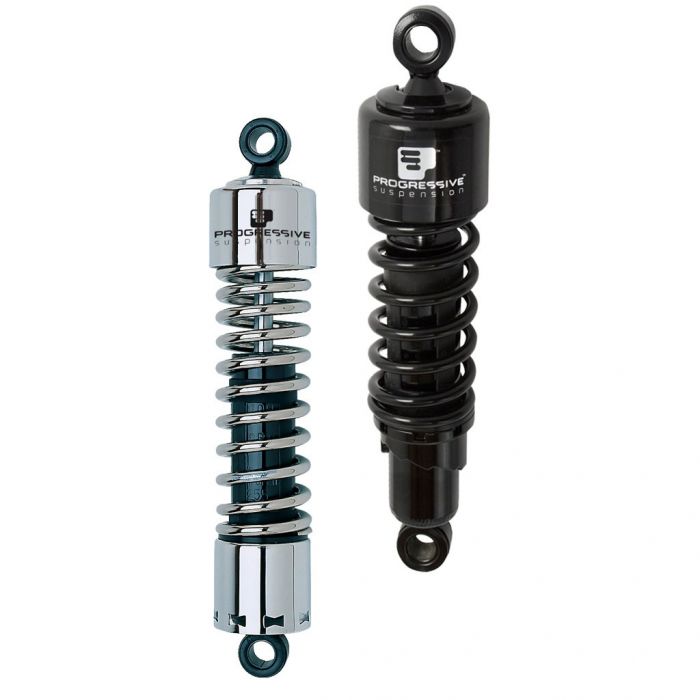 Progressive Suspension 412 Series Shocks
Numéro d'article 148829
Description
Progressive Suspension 412 Series Shocks
The 412 Series shocks are simply the best value shock on the market today. The 412s simple, durable design means they will be an improvement to your motorcycle's suspension performance for as long as you are riding it.
The double-wall steel body construction with nitrogen charged, multi-staged velocity sensitive valving gives you smooth, consistent damping. A five position cam style preload adjuster lets you dial in your ride whether you're a light rider or heavy hitter. With multiple options like full show chrome or black covers, chrome or black springs in progressive rate, and lengths from 11" to 14.2", there is sure to be a 412 that's right for you and your bike.
Features:
Nitrogen-charged shocks with multi-stage, velocity-sensitive valving automatically adjusts to riding conditions
Complete shock assemblies include chrome springs and covers
Designed specifically for cruiser and touring bikes
Progressively wound steel spring provides superior ride and handling
A five-position cam-style preload adjuster allows you to dial in your ride
Some or all shocks listed have TUV approval. Refer to the most recent TUV certificate for current listing
Shocks are available in several lengths for custom applications
Available with either a standard or heavy duty progressive spring rates
Sold in pairs
Made in the U.S.A.
Notes:
All shocks are measured center-of-eyelet to center-of-eyelet.
A shock which is slightly longer than stock may alter the head angle slightly and provide somewhat quicker steering.
Reviews
Rated

5

de

5
de
RCN_Sailor
par
Smooth Ride!!!!!
Ordered yesterday, arrived today! Unbelievable improvement in performance over stock shocks! Not to mention they look fantastic!
Date de publication: 2015-05-13
Rated

5

de

5
de
dewywin
par
The whole lowering so I can Flat foot, had me so stressed out. I tried these shocks and was so relieved when it dropped 1and 1/2 inches . However not enough for my short legs. Easy to install and excellent quality.. Now to order Front fork lowering Kit
Date de publication: 2017-07-12
Rated

5

de

5
de
DSC
par
Good product
Used these to replace the stock shocks on a 2005 and 2008 S50. No complaints, made the ride much smoother and improved handling.
Date de publication: 2014-01-17
Rated

5

de

5
de
Bigdog
par
Great shocks
I just put them on a week ago and very pleased with them and the service was great got them on time and would recommend them to any one looking for parts thank you
Date de publication: 2016-08-17
Rated

5

de

5
de
Bulldog
par
big step up from stock
Bike only has 14000 km on it but decided to try new shocks ..what a difference...recommend them .
Date de publication: 2016-03-23
Rated

3

de

5
de
stevo1
par
good shock for single rider not 2 up
The shocks work ok but the springs could be a bit stronger since I got the heavy duty model . I was expecting a bit stronger spring , 2 up riding they just don't seem to have the strength to stop bottoming out even when adjusted to the 5th (highest)setting , one up no problem but if your riding 2 up a lot don't use these .
Date de publication: 2015-08-09
Rated

5

de

5
de
Abominog
par
Equivalent to OEM
Purchased a set to replace the stock shocks on my 2005 Vulcan 1600 Classic, because the air bag on of them had blown. The replacement cast of the OEM was up around $560USD, so I took a chance on these. I also replaced the tires at the same time- original rear was bridgestone 170/70/16 and I replaced it with shinko 170/80/16. The next day, I went on a 3-day 1700 km road trip. I didn't notice much of a difference in ride comfort, but the handling seemed much improved- more nimble.
Date de publication: 2015-07-15
Rated

4

de

5
de
07RGCanuck
par
A good product and great price.
It was a good buy and would use the company again.
Date de publication: 2014-06-01
Questions
Are these sold as a set?
Yes, these are sold as a pair.
Date de publication: 2019-07-15
How long is the warranty on the shocks
These shocks are covered by a 1-year warranty.
Date de publication: 2019-05-17
How do I choose the enclosed design as opposed to the open spring design?
The closed design is only available for certain applications. Once you enter the year, make and model of your vehicle on the product page, all of the options we stock for your vehicle will be listed
Date de publication: 2019-08-05
What's the difference between the standard and the heavy duty?
The key difference is the spring rate of the heavy duty being heavier. Heavy Duty Applications are recommended for bikes that are operated at or near the manufacturer's maximum load rating over 50% of the time
Date de publication: 2019-02-04
Le prix affiché est-il pour un amortisseur ou pour la paire ?
La paire
Date de publication: 2018-09-11
Will going from 13 to 11.5 on a 2003 road king require any adjustment to the bags or the drive belt Bags are hard leather covered